Pontoon or Fishing Boat: The Better Boat for the Big Catch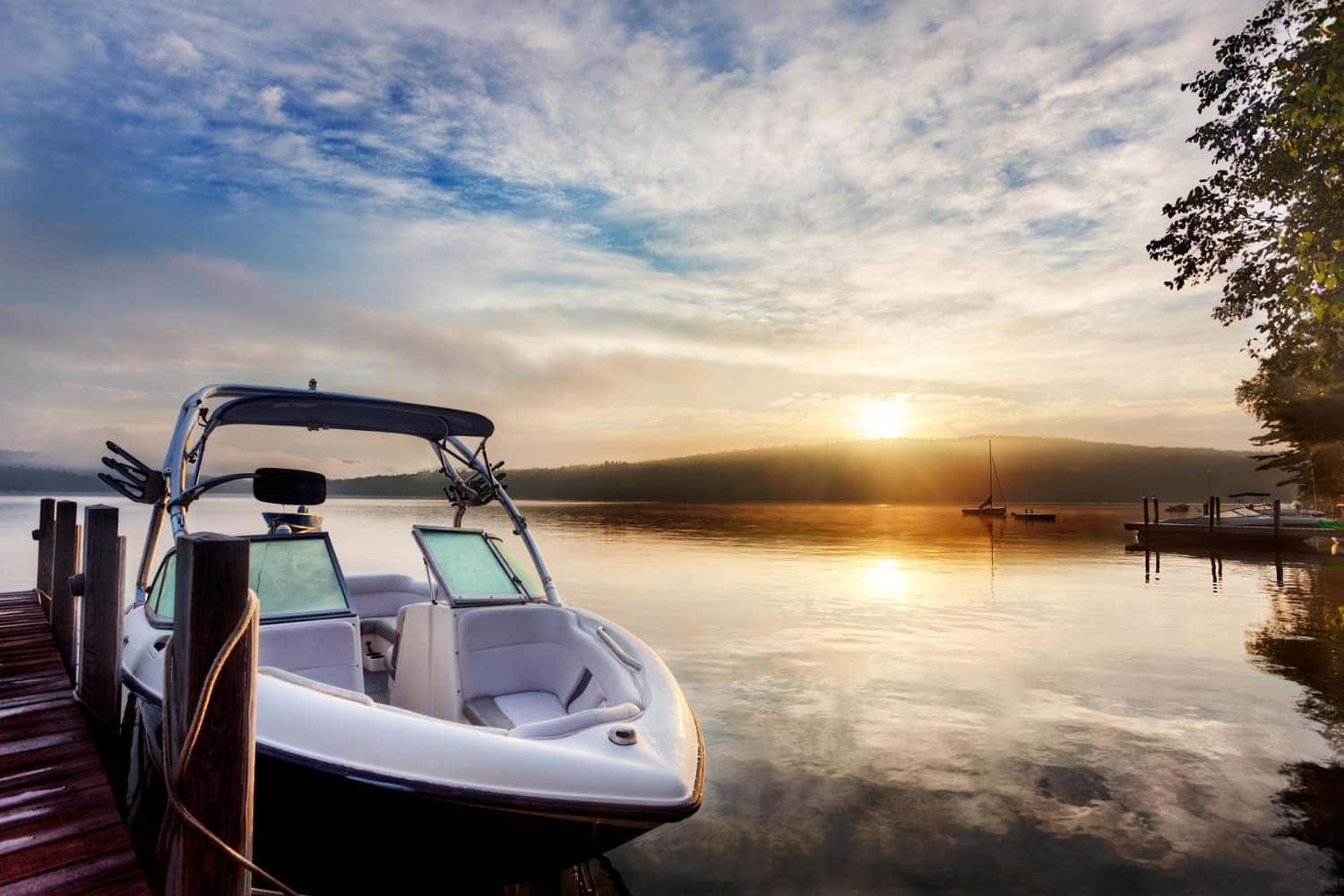 Pontoon or Fishing Boat: The Best All-Around Boat for the Big Catch
There are over  29 Million licensed fishermen and women in North America right now.
That's a lot of people who need a lot of boats.
But choosing the best all around boat for fishing is heavily dependant on a lot of different factors.
Many fishing enthusiasts today are finding themselves in a toss-up between choosing a traditional fishing boat or a pontoon.
Yes, pontoon boats have become serious contenders for sportsmen today, but there are still some fishermen out there who are still hesitant to jump on board (pun intended).
So which boat is best? Both types of boats have many pros and cons. The good news is that whether your a bass head, salt-water snob or river fiend, read on.
Why Are People Torn Between Buying a Pontoon or Fishing Boat?
Pontoon boats were born in the 1950s  as large family-style weekend vessels. Up until the last decade, they were not highly regarded by fishermen. There is a long history of the stigma attached to pontoon boats from the eyes of sportsmen.
But it's 2019! Pontoon boats have come a long way in nearly 70 years.
Customers want an all-encompassing vessel that family and friends can all experience together. However, fishing families also want a boat that won't just act as a massive floatation device. They want to be able to be active and go faster than a scoot.
And the industry has taken notice. Pushing the limits of what a pontoon is, and offering more features that better suit different lifestyles. Not to mention that average pontoon boasts a less expensive price tag when compared to fishing boats.
Today, fishermen and women are taking a second look at the pontoon boat. Both types of boats on the market are now known for their versatility, deck space, and storage capabilities. They are both toe-in-toe in these features.
Leaving the final decision typically coming down to purpose, lifestyle, the types of passengers and crew that will be aboard, the experience of the captain, budget and brand.
Location and Types of Fish: Deciding On Lifestyle
A pontoon is seen as more of a leisure craft, where a fishing boat is more of a utility vessel.
With that said, don't expect to be out ravaging through the open ocean, slicing through waves catching bluefin tuna on a pontoon boat. While these boats are surprisingly stable in choppy waters (up to a few feet), they are best used in lakes, rivers, and bays.
There are many different types of fishing boats that are typically designed to suit different terrains and types of fishing.
The average, recreational fisherman or woman who's looking to relax and have a good time would most likely find that a pontoon delivers what they need. However, a more serious fisherman who's on the hunt to chase down the toughest fish on earth might be better suited for a fishing boat.
The Right Boat for The Right Passengers and Crew
As mentioned earlier, the size, storage, and versatility of a pontoon and fishing boat are pretty comparable. That's why purpose plays such an important role in the decision making process.
It's important to keep in mind the relaxed nature of a pontoon when thinking about who will be aboard.
A pontoon is more or less rectangular, with seating along the two long sides of a boat and a large open deck. Meaning passengers will face one another while sitting. This creates a great space for socializing.
The large deck space and community seating style are one of the reasons pontoons are often thought of as the best family fishing boat. Smaller pontoon boats can fit about eight passengers, where larger sizes can fit up to 15.
It's easy to visualize a relaxing day with family, friends, a small grill and a few fishing lines bobbing off of the side of the boat.
Now, fishing boats can take a different approach. They typically fit fewer people, with seating facing forward. So it can create less of the communal feeling of a pontoon.
While there are many easy and cost-effective ways to add seating to a fishing boat, a fishing boat isn't made to be a party, and its V-haul style isn't as stable when trying to cram more than a dozen people on board.
A fishing boat is a better choice for smaller groups who are focused on fishing and less focused on entertaining while out on the water.
The Best All Around Boat for Handling
While some pontoons like the Bennington QR27 10 Wide and the Berkshire Sport RFX9 3.0+ sport impressive engines like a Twin Yamaha F250 250 hp four-strokes or Mercury 300 hp Verado FourStroke, joystick controls and easier maneuvering: these boats also cost an upwards of $100,000.
More "average" non-luxury pontoon boats can typically max out at speeds around 25 mph and aren't going to be passing every other boat on the lake or making sharp turns.
However, part of the reason in popularity for pontoon boats is because of how easy they are to drive and handle, as long as you are a cautious, safe captain. They are great boats for beginners, and overall easy to handle at slow speeds. As mentioned, they are also incredibly stable, which is perfect for large groups, children and beginner adults when it comes to fishing.
While pontoon boats handle differently than traditional V-hull boats, the basic engineering and controls are the same.
Fishing boats tend to have a sleeker or more rugged look to them than a pontoon boat, and this comes from their core handling purposes: getting through tough terrain and reaching high speeds.
For example, the 2019 Lund 1775 Adventure Sport, which was a Minneapolis Innovation Awards 2019 winner, can reach speeds of 46 mph. It also comes equipped with features like a Mercury analog Prerig with gauges and no-feedback steering.
Or the 2019 Lund 1625 FURY XL, which is a smaller 16-foot fishing boat, that can still reach speeds of 36 mph. Although it's small, it's mighty and completely designed for fishing, with an IPS haul design, and built-in live well/ bait well.
While making tight turns and hurling a higher horsepower can more exciting, these boats can require a bit more skill and knowledge to man and fish from safely. Experienced boaters know how to utilize handling for a better, safer and more economical day on the water.
This makes fishing boats a great choice for experienced boaters and fishers, and also beginners who won't be distracted by the part aboard their vessel (like on a pontoon boat) and are interested in pursuing boating and fishing as a technical new hobby.
Which Type of Boat Is Better Made for Fishing?
Historically, people who wanted to use a pontoon boat for fishing had to also plan to add a lot of missing features to their boat to make it fishing friendly.
Today, some pontoon boats are now being marketed with these key features for fishermen. For boats still missing the features, it's becoming somewhat easier to add on wanted features. This is a benefit for fishing boats; they're made specifically for fishing, and often include many of these features and then some.
These are the key features good fishing boats or pontoon boats will offer:
Livewells: Built-in tanks with water onboard that keep bait and fish living.
Marine grade stainless steel: That won't rust.
Raw water washdown: A  water source used to help clean-up a boat.
Rod holders: For your fishing rod.
Fishing-friendly deck layout: Pedestal seating is ideal for pontoons. Where fishing boat decks are designed with fishing in mind.
Storage: Compartments that can lock, and offer space for large items.
Shade: Not just for enjoyment, but for boat sun damage protection.
High volume fuel-tank capabilities: For longer trips.
This all ties back into how serious a person wants to get with fishing. A family that goes fishing a handful of times a year will probably care less about the "fancy" fishing features. Whereas the passionate hobbyist will often mark these items as top on their shopping list.
Choosing the Right Boat Brand
Choosing the best boat for fishing and family, and lifestyle is only half the battle. There are many boat brands to choose from, but luckily only a handful of great brands, which makes the decision-making process easier.
When it comes to pontoons best made for fishing and fishing boats, Bennington, Lund, G3 and Hewes all produce superior products.
Here's a quick breakdown of each:
Bennington is one of the most luxurious boat brands on the market. Bennington produces high-performing pontoon boats that can be completely customized and come with the 10-year bow and stern warranty. These boats are made with family and comfort in mind.
Lund creates pontoon and fishing boats and is all about performance and is made with how to best service fishing and other leisure activities as a priority. The company touts a F.I.S.H. philosophy with all of their boats: fit and finish, IPS hulls, storage, and high resale. This is what separates them.
G3 Boats is a Yamaha Boat Company that makes a wide range of boats, including fishing and pontoon boats. They offer a lot of fishing-focused vessels including their Sportsman, Angler V, and The Bay Series lines of aluminum fishing boats. They also offer a pontoon boat designed for fishing called the V Series.
Hewes is a humble flatboat company, with two affordable models made for versatility, easy care, and an ABYC certification. Both of their models come packed with a laundry list of fishing features.
Buying A New vs. Used Boat
Overall, a major appeal to choosing a pontoon boat over a fishing boat is price. Simply put, the average pontoon boat is a great deal for the versatility, storage, and deck space. However, customizations, add-ons, and more luxurious brands can carry a hefty price tag.
A new boat is a great choice for someone who has a spacious budget and doesn't want to have to worry about any mechanical or aesthetic problems that may have developed with previous owners. A new boat is completely customizable and also usually comes with a warranty.
Used boats typically end-up costing the same as new boats over time, except with a lower initial price tag. A used boat is also a good option for someone who is entering boating as a beginner, or as someone who plans to boat leisurely a dozen or so times yearly.
Whether buying a new or used boat, be aware of the maintenance costs associated with owning any type of boat like registration, insurance, storage, fuel, and repairs.
So, Pontoon or Fishing Boat: Which is Really Best?
There is no clear cut best all around boat or worst when it comes to choosing a pontoon or fishing boat. It depends solely on the purpose of the boat and the lifestyle of its passengers.
However, there are a couple of conclusions that can be made from this article.
Pontoon Boat: Best for families and leisure fishermen and women who plan to host many guests aboard their vessel.
Fishing Boat: Best for smaller families and groups of people who only make it to the water when there's the prospect of a great catch.
Have questions about buying a pontoon or a fishing boat? We are a family owned and operated business with more than 85 years of sales and service experience. Contact us by phone, email or via chat on our website! Or, join the conversation on social media, and send us a tweet or follow us on Facebook to be the first to see our latest offerings.