Boat Winterization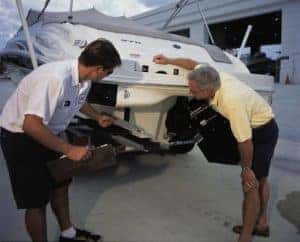 Almost all boaters in Manitoba don't get the option of choosing whether or not to winterize your boat/watercraft. With the cold Manitoba winters, unless you have a reliable heated garage or storage facility, you are required to winterize your boat to prevent expensive repairs.
Westshore Marine specializes in Boat Winterization and Boat Repairs with extensive experience with inboards, sterndrives, and outboard motors. Some of the most common asked questions we receive in regards to Boat Winterizations we answer below.
What Does A Boat Winterization Include?
Every marine dealership has a different process for winterizing a boat and what's included but here is a list of what we include in our Boat Winterization Service. The process is similar but different depending on the style of boat or watercraft. When winterizing your boat we don't like to just do the minimum as some dealers do, we check a few additional things because no one wants issues next season with the short boating season.
An Outboard Boat Winterization Includes:
We Run and Flush your Engine

If you have a 4-Stroke, we change your engine oil and filter

We change your gear/lower unit oil

We check your charging system
Check Shifter and Throttle Cables

Stabilizer your Fuel

We charge/disconnect your batteries

Visually Inspect Prop (while it runs and once it's stationary)

We Fog Your Boat Engine

Grease Shaft & Prop
Check Your Gauge Operation
Inspect Water Separator Filter / Change if needed

Inspection of your boat trailer, wheels, bearings
An Inboard Boat Winterization Includes:
Run up Engine
Change Engine Oil & Filter
Change of Lower Unit Oil
Check Charging System
Check Shifter & Throttle Cables
Replace Water Separator Filters (If Required)
Check Belts & Pulleys
Fog Engine
Stabilize Fuel
Check Gauges
Charge/Disconnect Battery
Grease Stern
Remove Drain Plugs in Block & Manifold
Check Cooling System
Remove Water Pump Hoses & Drain Water
Pour Antifreeze in Block

Inspection of your boat trailer, wheels, bearings
How Much Does Boat Winterization Cost
We charge the following for our boat/watercraft winterizations
Boat / Engine
$149.99 – 2-Stroke Outboards
$229.99 – 4-Stroke Outboard
$229.99 – Inboard Engine Boats
$299.99 – Dual Engine (Add $100 if has ballast system)
$179.99 – Personal Watercraft (Seadoo / Waverunner)
*Parts & Lubricants Extra
Is A Boat Winterization Necessary?
Yes, almost always. Living anywhere in Manitoba the weather gets below freezing which can cause serious harm to your engine block and components. Without proper precautions being followed before storing your boat it can lead to a really expensive spring/summer boating season.
If you store your boat in a heated garage or storage facility, you can get away without winterizing your boat. You should still do your regular boat service and oil change.
How Long Does a Boat Winterization Last?
If done properly a boat winterization should last until spring or your next use. If you are planning on winterizing it and putting it in storage for a longer period, it should be fine. When bringing it out of storage after a year or more of storage make sure you check the hoses for dry rot which happens to some rubber parts from lack of use. Also, remember to change your impeller before you launch your boat as it can experience dry rot as well.
For long periods of storage/winterization make sure your boat is in a well-ventilated area to avoid mold and mildew from growing. Also periodically check on your shrink wrapping to make sure it's holding up to the weather.
Another issue you may run into is bad or expired gas when you bring it out of storage, so make sure you use fuel stabilizer before storage and check the gas quality before you launch your boat and start drifting away and get to call for help.
Boat Shrink Wrapping
Boat Shrinkwrapping is also available. It is based on the boat style (Pontoon, fishing, Cabin Cruiser) and is based on the overall size of the boat is measured by the foot. Call us with the style and size of your boat for a quote. 1-204-376-3660
Why Choose Westshore Marine For Your Boat Winterization
If you're looking for boat winterization in the Winnipeg, MB or Interlake area, Westshore Marine is the service center you have been looking for. Westshore Marine is one of Manitoba's largest Boat Dealerships located just north of Winnipeg Manitoba, in Arborg. We sell and service many of the great manufacturers including Lund Fishing Boats, Bennington Pontoon Boats, Berkshire Pontoon Boats, Evinrude BRP, Mercury Marine, Yamaha Outboard Engines, and Inboard Engines, and Jet Drives.
Besides all the great marine products we sell and service we also do Polaris and Yamaha ATV's, Side by Sides, and Snowmobiles. Contact us below or give us a call at 204-376-3660.