New vs. Used Boat – Deciding What Type of Boat is Right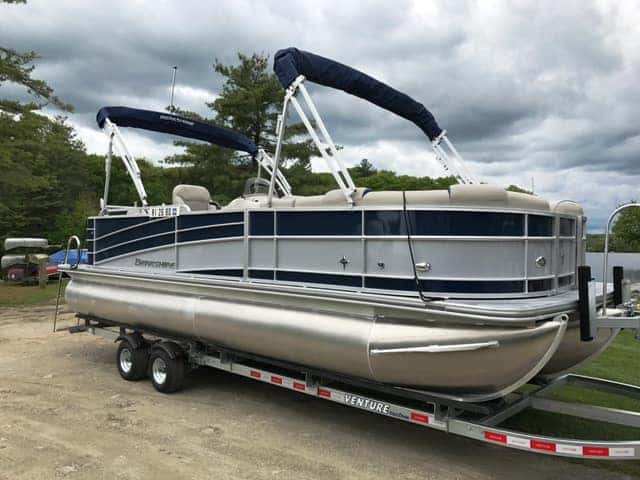 If you love being in or around the water, at some point in your life, you're going to want to go boat buying. You may have grown tired of watching boats from a distance at the beach or lakeside, realizing that the people out on the water are actually having a lot more fun than you!
Or you may simply want to take a more commanding charge of the leisure time in your life. In this way, you'll be able to experience the freedom and enjoyment that only owning a boat will bring.
Owning a boat can be great fun! Lots of people own boats, and owning a boat can be a super way to meet new friends and others who love to go boating as much as you. You'll be able to spend time outdoors cruising around sailing, fishing, racing, or even hanging around with close friends.
What to buy?
Now that you've decided to buy a boat, you're probably going to ask yourself two questions: What would be the right boat to buy, and, what's the difference between buying new vs. used?
For a first-time buyer, ask yourself what you intend to use the boat for. Are you going to be sailing the seven seas exploring exotic, far-away ports, or are you going to take it out twice a year for a family weekend? Will you be spending your vacation camping on the boat, or is your fishing boat or pontoon boat going to be sitting in the marina waiting for your next adventure.
Talk to boat owners about owning one for yourself. Get some boat-owning friends to take you out on their boats. All boaters love being on the water, and they all love to talk about their boats.
Ask them why they bought a particular boat and what they like or don't like about it. And if you don't already have some boating friends, make some! Call some local boating or yacht clubs. Ask if they have social memberships available. Offer to be part of a crew the next time they go out on the water. This way you will get some additional feel about how you might want to use your new boat.
Of course, always check the internet. The web can be an excellent source of information about every aspect of boat ownership. Check boating forums or bulletin boards, and ask questions. The more you know about how you can make the best use of your boat, the better off you'll be when you are finally ready to buy one.
New or Used?
Now it's time to decide whether you should buy a new or used boat. This can be a tough call for any boat buyer, and an especially hard one to make for a first-timer. There is never a right or wrong answer to the question. It always depends on your personal tastes, budget, and your mechanical aptitude. Should you be looking for a brand new prize that will be the talk of the neighbourhood or a cleverly purchased bargain with a slight scratch on it?
New boats
Here are a few great points about buying a new boat:
When you go to your local boat dealer and purchase a new boat, you never have to wonder about how it's been used or misused over the years. There's no history to uncover because you'll be the one who writes it. And getting a boat loan is as easy as getting a car loan.
With a new boat, you can pretty much buy exactly what you're looking for. You can rig it with the latest and greatest gear available on the market today, specifically selected by you for your boating purposes. Your friends and fellow boat owners will be amazed and envious of your new prized possession!
And, if something doesn't work the way it should, you will have the manufacturer's new boat warranty to cover the costs of fixing it. Just like with new car warranty coverage, repairs or upgrades will be taken care of by the dealer that sold you the boat. This is an excellent reason for you to buy the boat at a location near to where you live or will be boating.
Used Boats
The cost of owning a used boat is similar to what you will pay with one that's new except with one big difference: The actual purchase price. Just like with cars, a pre-owned boat will often cost you far less than a new one.
With a used boat, you don't need to worry about the depreciation that takes place when a new boat leaves the dealer's lot. And a used boat will give you more boat for the money you spend. There's also a lower cost for each year you own it. And, with less equity in the boat, there will be less chance you'll worry about whether a different size or style might have been a better buy.
If there were any initial problems with your used boat or the motor, the private seller would have dealt with them many years ago. But just to be sure, you can have a marine inspection done on the used boat you're planning to buy. A marine surveyor can search for places where you can't, or don't want to look. And, it won't cost you a great deal to have the survey done. Especially considering the peace of mind, you'll have when it's completed.
Check the internet. If there has ever been a problem with the used boat or motor you're considering, someone will have written their thoughts and complaints covering it. They'll share their experiences from beginning to end and forewarn you to stay away from the purchase.
Additional costs with both new and used boats
With both a new and used boat, there are additional costs that you will need to consider other than just the purchase price. Here are just a few of them:
Registration — Like with most motorized vehicles, you will need to register your boat before using it. The cost is usually a relatively nominal cost, but it can vary widely by the province or state where you live.
Insurance — Insurance for both your new or used boat is comparable to many other forms of motorized recreation. The cost will vary according to the coverage you want. Be sure to get physical damage protection (collision, theft, storm, etc.), and, of course, liability insurance. If a discounted rate is offered by the insurer if you taking advantage of attending a boating safety course, considering it might be a good idea.
Storage — It will cost you nothing to keep your boat in your garage or driveway, or even at your own dock. But if those options aren't available, you'll probably consider docking at a local marina. The rate you pay will vary by the size of your boat, the location of the marina, and often even the season of the year.
Fuel — Your fuel is going to be an obvious expense. But by planning ahead, you can often substantially lower the cost you will pay. Whenever possible, buy your fuel ahead of time before you get to the water's edge. The per-gallon charge will nearly always be much lower at an off-site location.
Fuel may actually not cost as much as you think. Many new owners are often surprised at how little fuel they burn while using their boat. In most cases, much of the time you spend out on the water will be at lower speeds, or with the engine turned completely off. So, your fuel consumption may be a lot lower than you anticipate.
Maintenance — Simple upkeep can also help you substantially lower the maintenance costs on your boat. Be sure to flush your engine whenever you've gone out on saltwater to keep it from being damaged. Remember to keep your boat completely covered when it's stored so it will continue to look new and not become weathered unnecessarily. And, stick to the manufacturer's suggested time frame when you do routine maintenance. Always change the engine oil at the recommended intervals.
Family Matters
Boating helps to draw any family closer together. Boating will allow you to spend more time with your text-obsessed teenager. If you, your spouse, and your kids ever need a reason to learn to work together as a team, purchasing a boat will probably be an excellent idea that will help you do it. And, if you're looking for a new method to connect with friends or even your sibling, boating can often start you off on the right track.
One other thought. Some may say that there's a "sweet spot" in making the decision whether to buy a boat that's new or used. The idea is that you should decide on a boat that's only a few years old, and make sure you purchase it from a dealer that you have absolute trust in dealing with. It might be an idea worth considering.
Whether the boat you buy is new or used, becoming a dedicated boater may be one of the best decisions you'll ever make. By living part of your life on the water instead of always being stuck on dry land, you'll experience the happiness that only a very few are lucky enough to enjoy.
Westshore Marine & Leisure
Westshore Marine & Leisure is one of the largest power sports dealers in Manitoba and the Prairies. We are one of Canada's only Tri-Line outboard motor dealers and specialize in Evinrude, Yamaha, and Mercury outboard motors. You can also take advantage of the industries best Marine VIP Service to take the initial worry and maintenance out of your ownership experience. 
Package this with Lund fishing boats, Berkshire pontoon boats, and Thunderjet fishing boats, no matter what your brand or power preference is, we have you covered.
Get the boat and motor package you want at Westshore Marine & Leisure, centrally located just north of Winnipeg, Manitoba between the big lakes. We look forward to serving you soon! Contact Us today with any questions, and we will be happy to assist!