Why Bennington Pontoons Outsell the Competition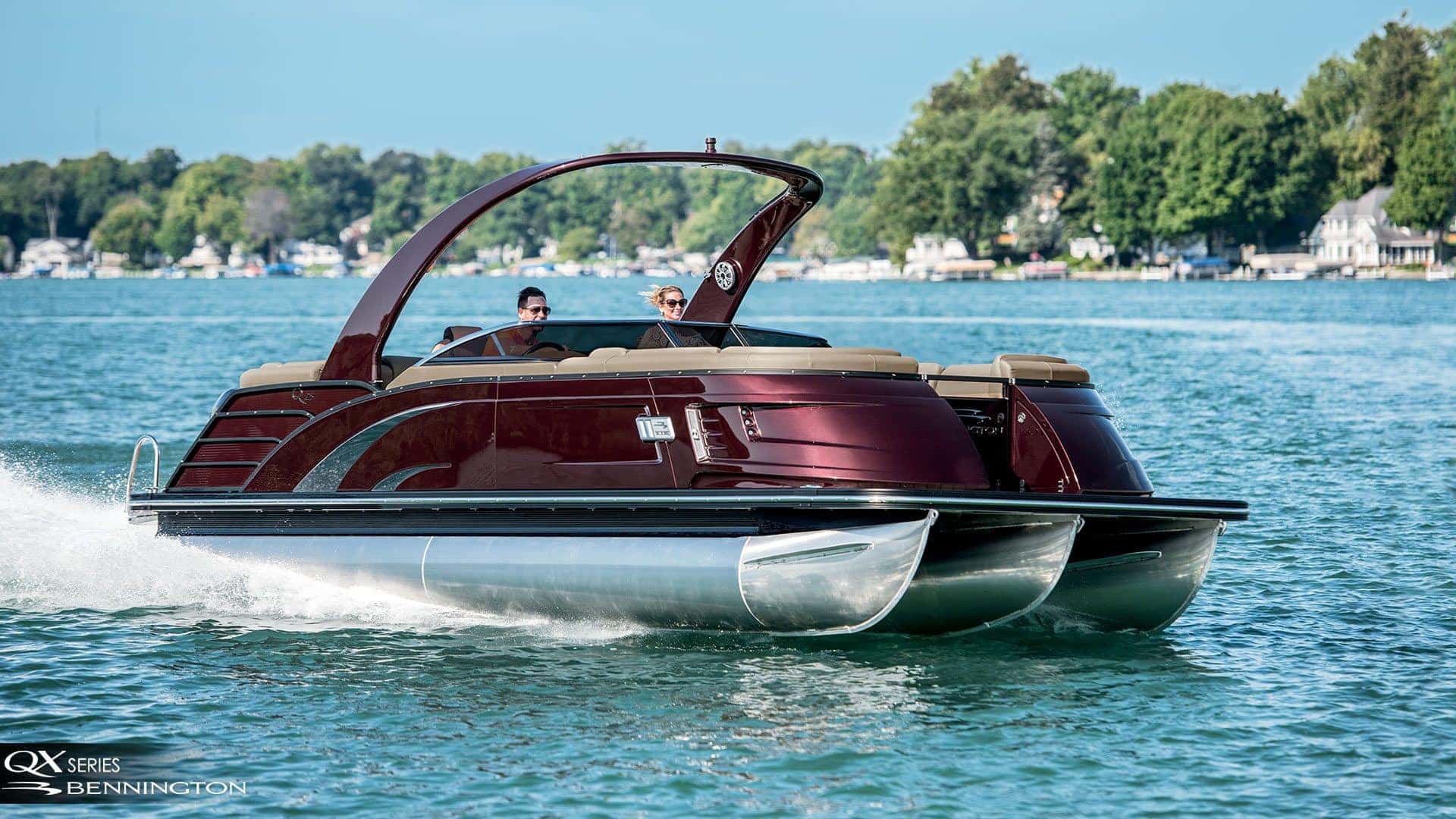 In 1997, a small group of industry veterans set out to build a boat brand that focused on being the best built and never the largest. The brand they built is Bennington. Today, those same founders and values are still the core of Bennington Marine. The company felt then and still believes, that when you do the right thing, everything else falls into place.
What Makes a Bennington?
When it comes to pontoon boats there are so many reasons to purchase a Bennington versus the competition you need to understand the culture of the company first. Every Bennington Marine pontoon boat is designed, engineered and hand-built with the same high level of attention. Today, one out of every five pontoon boats sold in US & Canada is a Bennington.
All of Bennington's pontoon boats are crafted using the highest quality materials and workmanship. From the entry-level S Series to the magnificent flagship QX models, Bennington's attention to detail is unmatched in the industry.
Bennington offers over 20,000 colour options to allow buyers to customize and create their own unique boat. Bennington offers the industry's widest variety of stern lounge seating options, fishing features, Bimini tops, privacy enclosures, and even an onboard sink.
With uncompromising value and quality, Bennington's craftsmen combine comfort, style, and function in a wide choice in models ranging from 16 to 24 feet in length that will suit the most discriminating buyer. Take a look below at some of the many comparisons between Bennington and other manufacturers, and you'll soon discover why there's never been a better time to own a Bennington:
Structure
Many Bennington competitors use short cross members and deck screws that do not make adequate contact with the cross member. Bennington uses thicker and heavier cross members to provide boats with much stronger construction.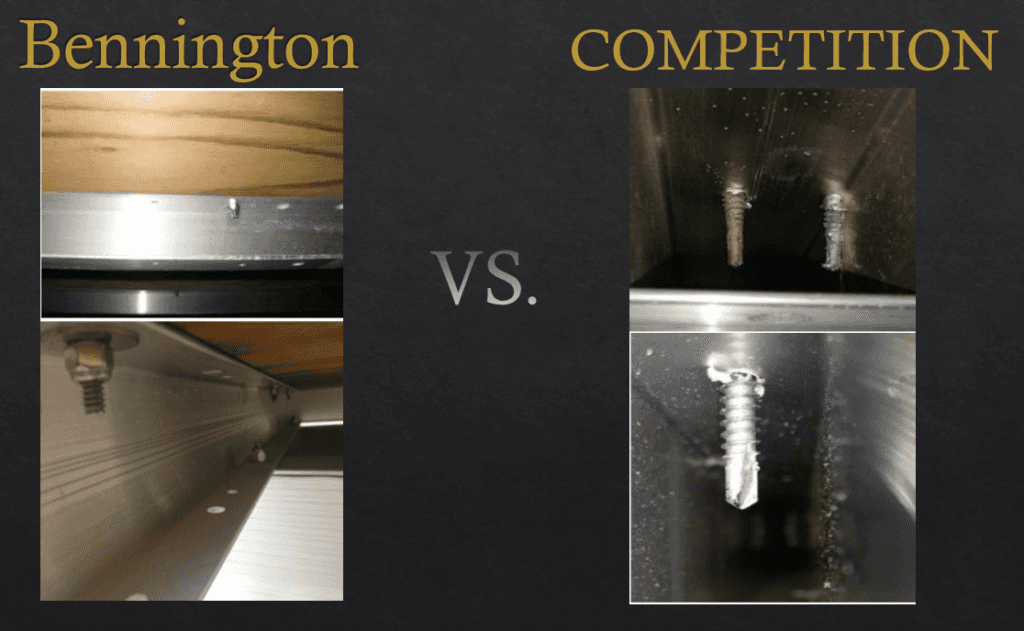 Baffled Safety Chambers
Every Bennington pontoon boat tube features at least 3 safety chambers that are separated by a bulkhead. If one chamber were to become damaged, the boat will continue to stay afloat. Many other manufacturers use tubes that are open all the way through so that is a leak occurs, the entire tube will fill with water.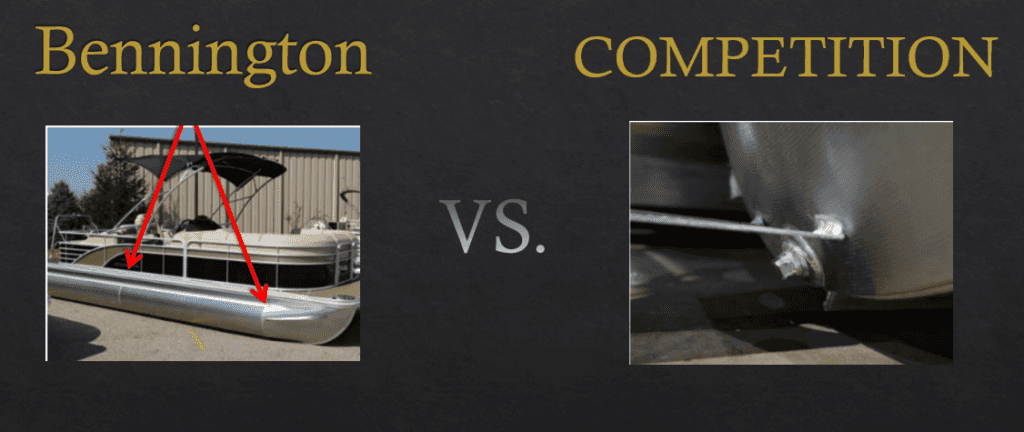 Wiring
Under deck wiring problems are the number one cause of dissatisfaction in boating. All under deck wiring on a Bennington pontoon boat is routed through protective conduit. On other manufacturer's boats, these wires are exposed underneath the boat and subject to damage. The holes that the wires feed through are sealed with silicon.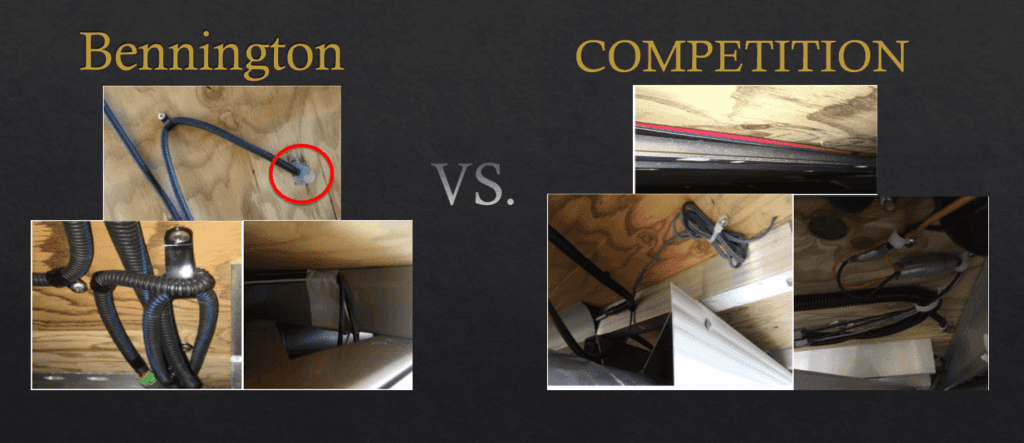 Fencing
Bennington fencing is bolted through the cross channels as well as the deck. This gives the rails and fencing unrivalled rigidity and is why Bennington includes their fencing as part of the structure and covered by a lifetime warranty. Other manufacturers bolt fencing only through the wood deck and, over time, the wind and wear on the fencing will cause it to loosen and rattle.

Rail Construction
Bennington fencing is welded wherever possible and anodized after the welding to ensure a long-lasting finish. Other manufacturers use pre-anodized aluminum fencing which is then welded. Welding after anodizing creates a weak weld and also unsightly black marks on the weld.

Rail Construction
Bennington's panels are recessed behind their extruded rail system to protect from any objects banging or rubbing up against them, such other boats when tied up to each other, or while moored to a dock.
Seat Construction
The Bennington seat bases are all one piece with drain traps for water and moisture to exit the storage areas. There are no seat bases or drain traps in many competitor's boats making it impossible to have any kind of dry storage for towels and life jackets, making them more susceptible to mold.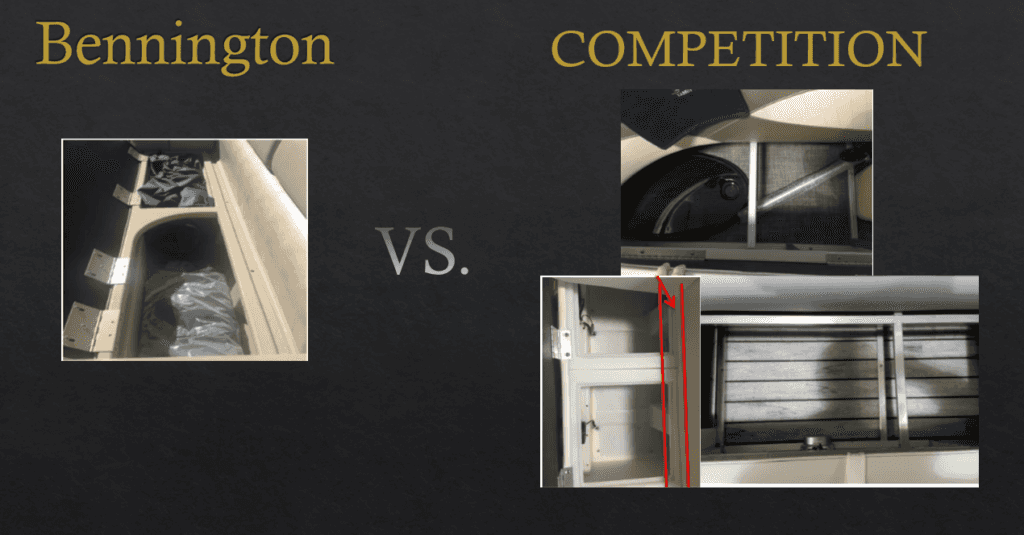 Seat Construction
Bennington uses two sturdy metal hinges that secure the seats properly. Other manufacturers use plastic fittings that are awkward to open and over time will come loose or break.
Rattle Free Panels
Bennington's rail system is a solid, rattle-free structure thanks to supportive aesthetics and a resilient sealing strip that's placed between each panel and railing touch point. Other manufacturers' panels have metal to metal contact which creates excessive noise and can lead to damaged parts.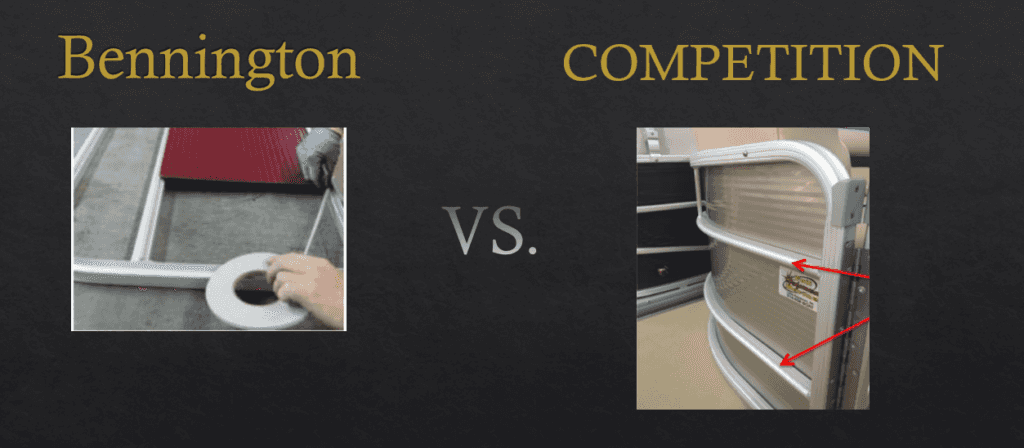 Gate Hinges
Bennington pontoon boats use high-quality piano style gate hinges which provide more support and last longer. Other manufacturers may have as little as two small, fragile, gate hinges which can easily bind or break after time. Others may use a lever to secure their gates. This lever is easier for young children to open and can create a safety hazard.

Furniture
Bennington furniture is all one-piece making the seats stronger, last longer, and easier to clean. Other manufacturers' seats are modular which aren't nearly as strong, provide no lumbar support, are harder to keep clean, and provide less room for passengers.

Seating
Bennington uses five foam densities for the perfect combination of support and comfort. A satin texture weave backing allows for smooth, tailored, instant-recovery upholstery with no puckering or bagging. On other manufacturers' boats, there is much worse bagging especially after only a few years use.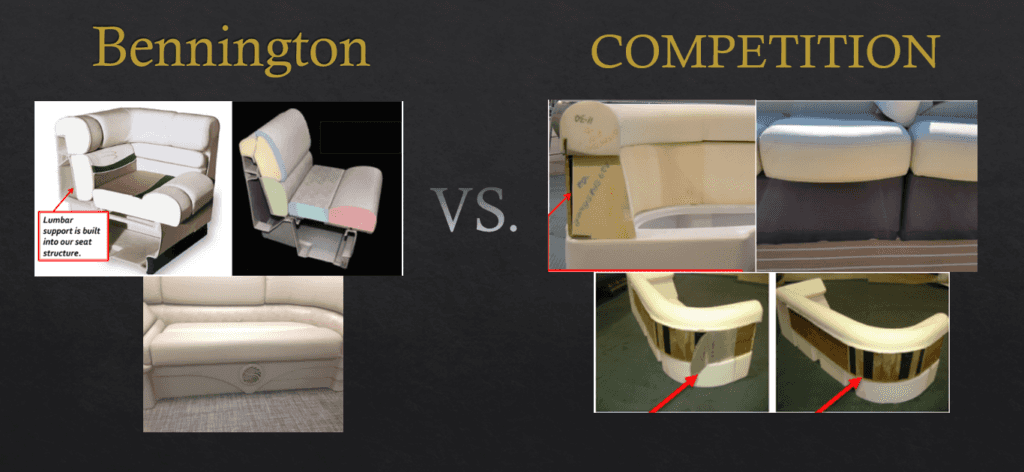 Helm
All Bennington consoles feature a lockable door, great for when docking at unfamiliar places or restaurants. Most other brands of consoles do not even have a door.
Fasteners
Bennington uses stainless steel flanged elevator bolts with nylon laced locking nuts. Other manufacturers use self-tapping screws that strip easily after time and are less reliable than bolted screwed.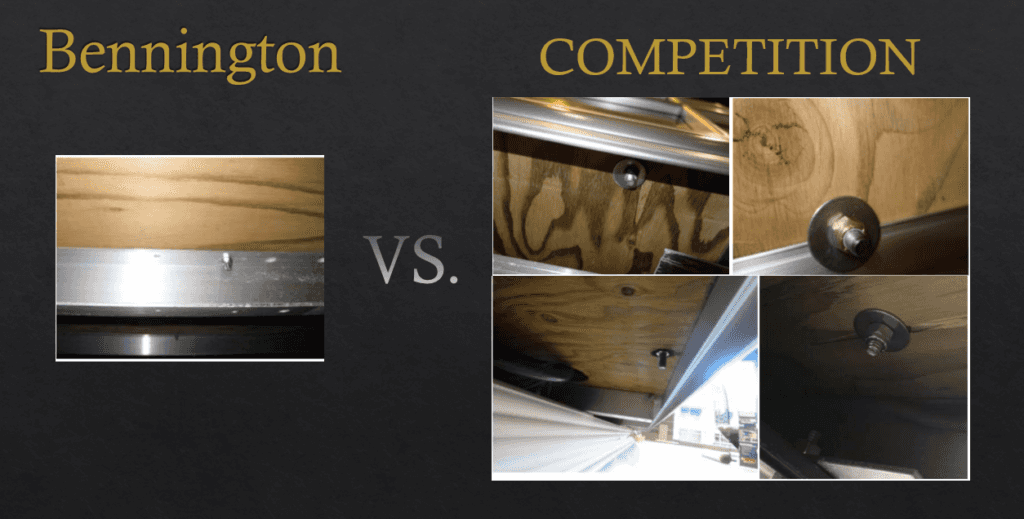 Deck Brackets
Bennington uses extruded M-shaped brackets that are 2-inches tall and spaced widely across the tube to provide additional deck strength. Other manufacturer's deck brackets are made of sheet aluminum with only two points of contact that are closer together. This results in less deck strength.
Construction
Bennington welds their tubes at the end of the cap, the strongest part of the tube. Other manufacturers use a cap where the weld is only a few inches into the tube, which is NOT the strongest point.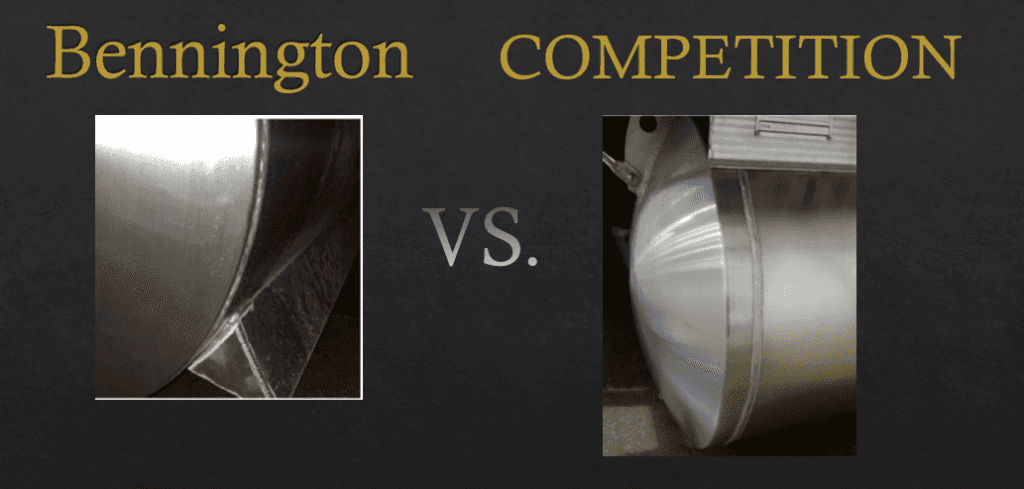 Corner Castings
Bennington's stainless steel castings are three times stronger than aluminum castings and are included in the Bennington lifetime warranty. The weak aluminum castings used by other manufacturers will pit, corrode, and discolour over time.

Bow Construction
Bennington uses a full .250" bow radius channel that reinforces the deck trim from inside out. Other manufacturers have zero structural bow corner protection. An aluminum casting is used to conceal the plywood deck.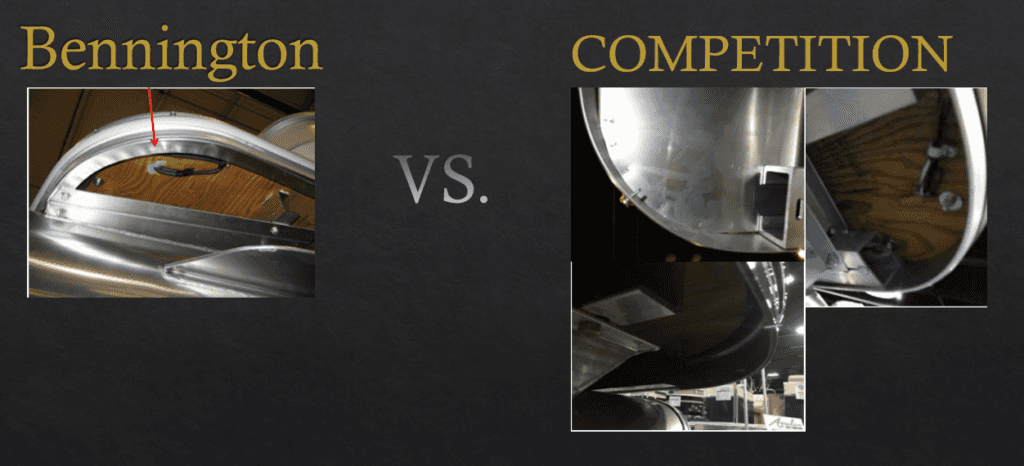 Bow Deck
Bennington decks extend over the pontoons, creating more deck space and eliminating the safety risk of kids tripping on them. While most other manufacturer's decks come over or close to being over the pontoons, many models have zero bow deck space that makes it difficult to board.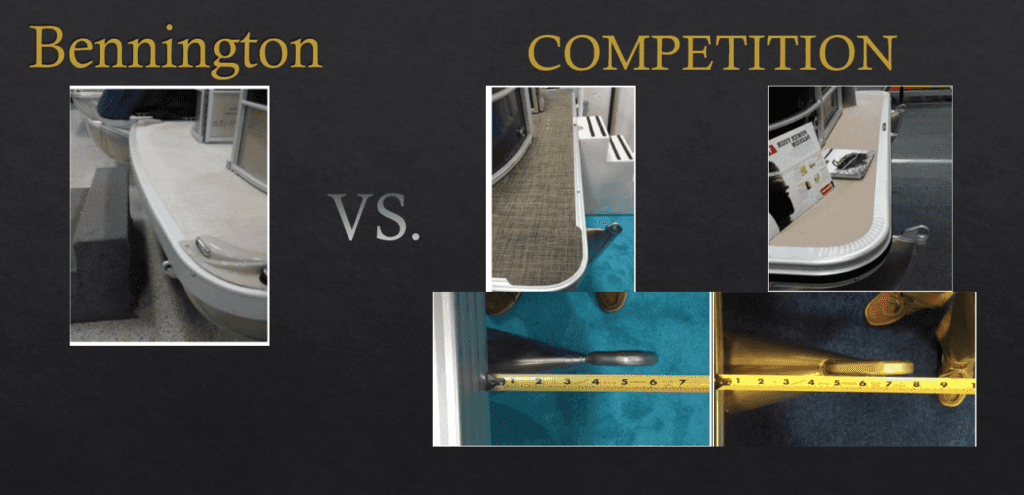 Skirting
Bennington uses extruded aluminum skirting that fits snug to the pontoon and is not susceptible to being snagged. On many other competitors' models, they leave large gaps that increase the chance of the skirting being snagged and also leaving an unfinished look.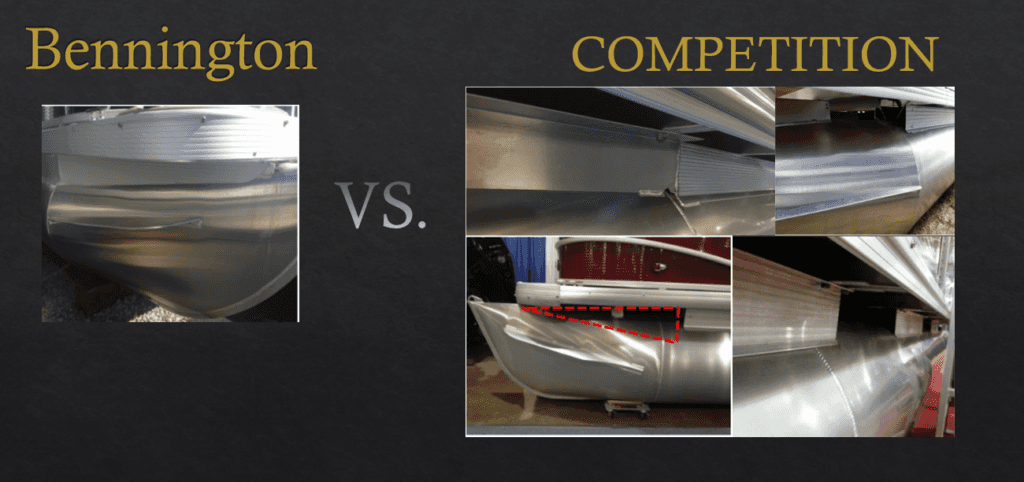 Pontoon Keels
Bennington's full-length keels protect the tubes in shallow water and improve tracking when you're underway. Other manufacturers may often not offer a full-length keel which will lead to damage to the tubes and impede tracking.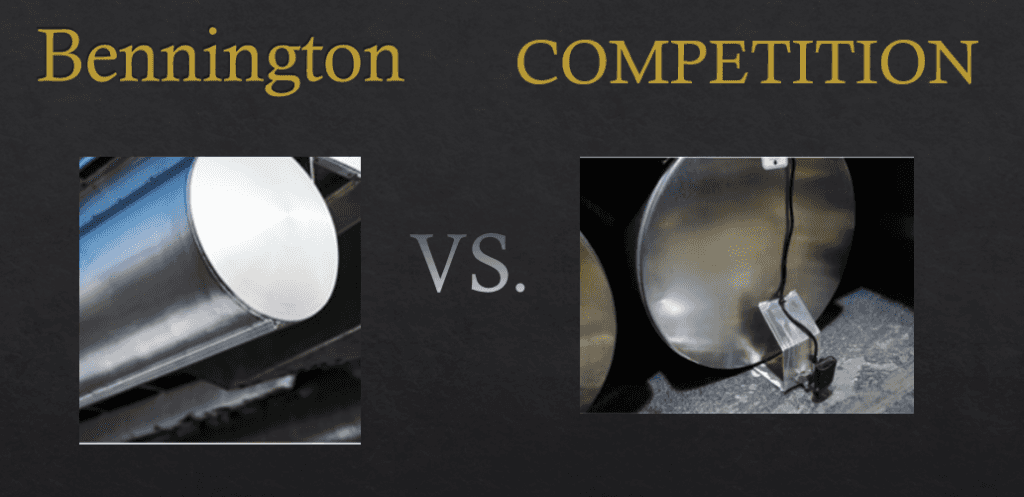 Bimini Top
Bennington's quick-release Bimini tops raise and lower in seconds with patented quick-release fittings designed to eliminate all rattles. Other manufacturers use a stainless fitting that fits loose and may rattle when underway. To extend the front legs, a pin release is used which will also rattle and may pinch fingers.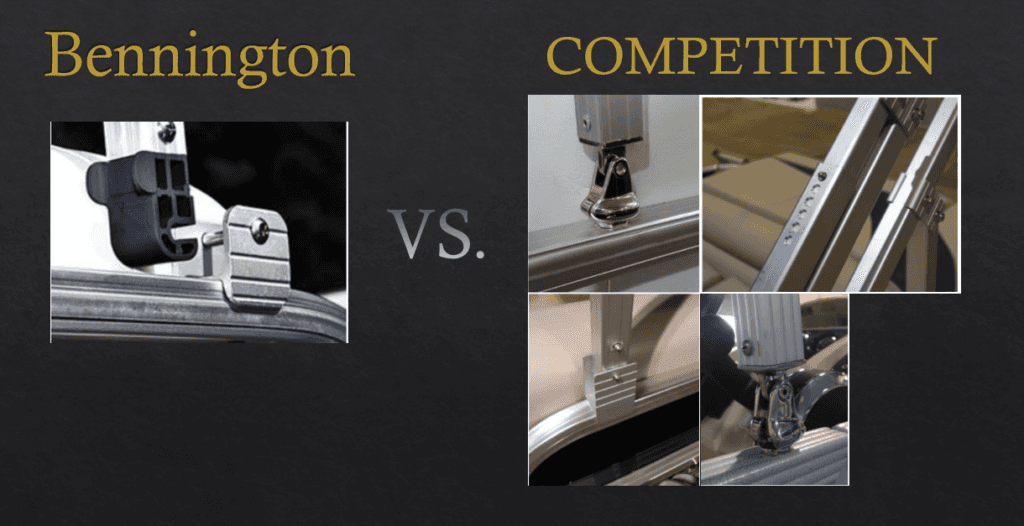 Mooring Cover
All Benningtons come standard with a full mooring cover that is covered by a 7-year warranty. Other manufacturers may have covers available, but the cost can be an additional cost plus the cost of dealer installation.
Fuel Tanks
Bennington fuel tanks are protected from the sun's ultra-violet rays. Other manufacturers' well-mounted fuel tanks are not covered. Exposure to the sun promotes microbial growth in fuel systems leading to costly engine repairs. Many competitors' models have their fuel filler mounted on the aft deck where fuel can spray out or leak from the hose onto the flooring causing expensive repairs.

Safety
Bennington models feature a rear gate that is designed to keep boaters safe and secure. Other manufacturers use just a single chain to keep boaters inside. This is a cost-effective solution, but does not take into consideration that a small child could easily get underneath from a serious safety hazard.

Performance
Other manufacturers extend their outside lifting strakes to the end of the tube. This decreases performance in the boat's ability to bank into turns, makes the boat heavier, and causes a rougher ride. Bennington sets the engine closer, protects wires and cables, places the fuel filler more conveniently, and makes your experience much more pleasurable.
Entry Level
On Bennington's entry-level boats, no corners are cut to ensure the safety and comfort of you and your passengers. On other manufacturers' boats, corners are often cut to get to the boat's price point. The seating offers zero support, the console is very basic with limited instrumentation, and the steering wheel is small and made of fragile plastic. Carpet can be standard but when exposed to the elements, mold, and mildew will cover the aft section of the boat.
Fish Model
Many competitors have a fish station located far in the rear of the boat with no livewell, no rod holders, and very limited counter space. Benningtons fishing models are designed specifically for the needs of all anglers.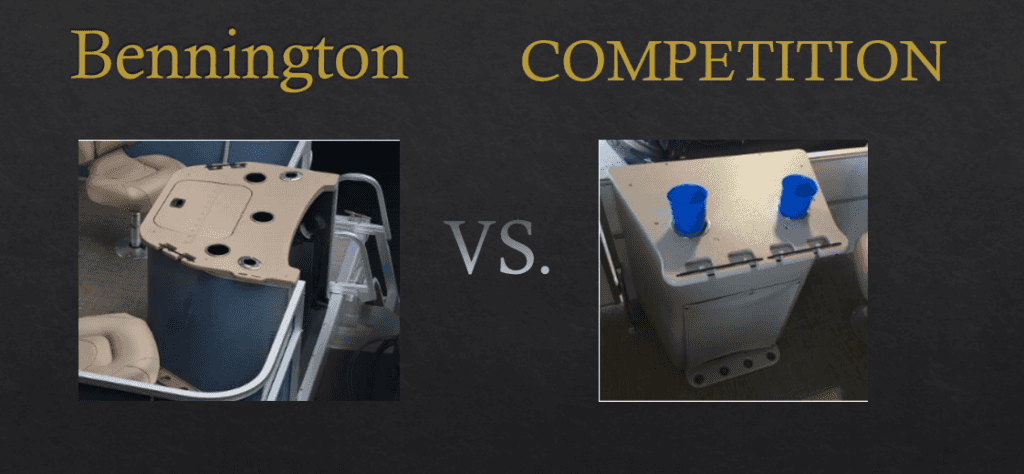 Salt Water Applications
Bennington offers the only true salt water ready pontoon boats with SEALED lifting strakes, SOLID keels, and ALL STAINLESS hardware and fittings. Other manufacturers may market a salt water series boat, but some models will still have open strakes and keels where zebra mussels and other organisms will grow and greatly reduce performance.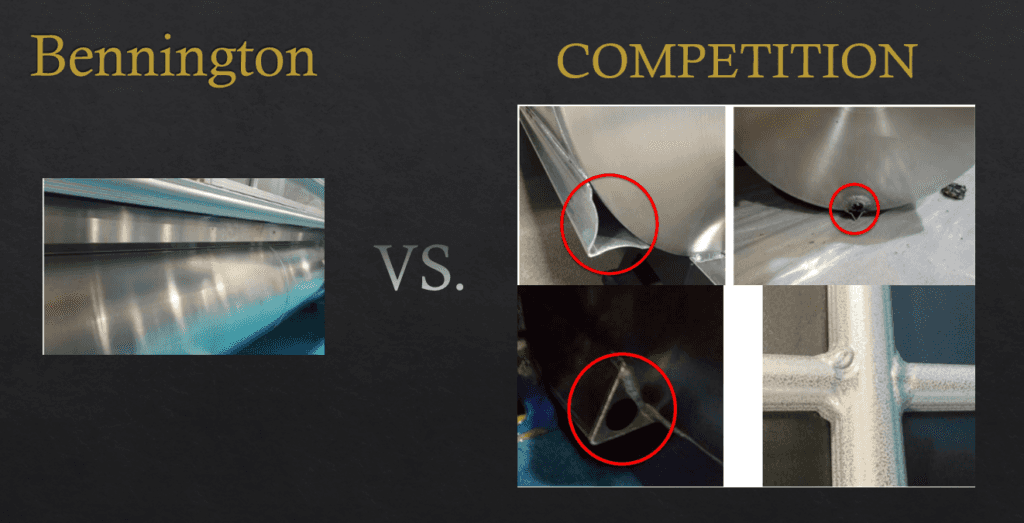 Ski Tow Bar
Bennington spreads the ski tow bar base 18-inches apart, creating a sturdier bar. This is why Bennington can test their bars at 1,800 pounds without failure. Other manufacturers' ski tow bar base is HALF of the distance that Bennington spreads theirs, making it more susceptible to bending or breaking.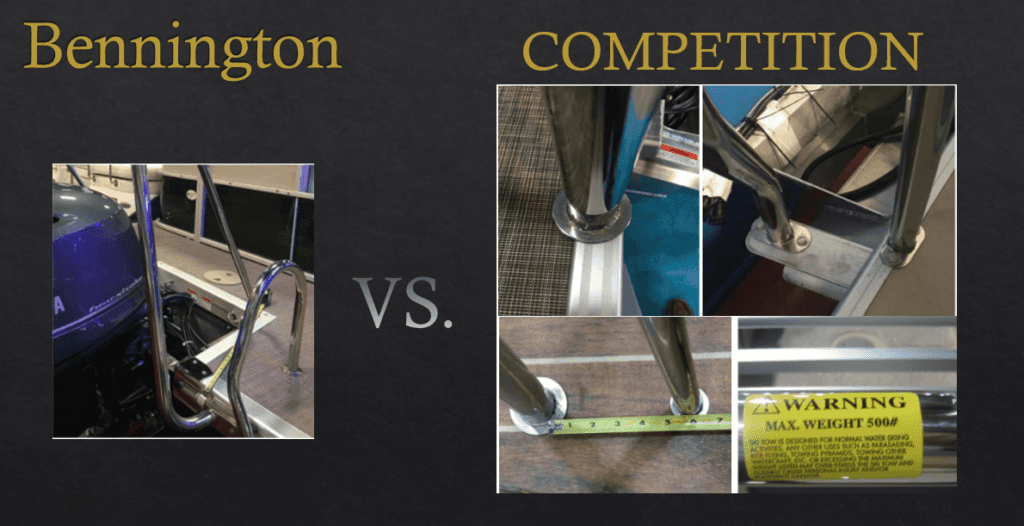 Dinette Model
On dinette model boats, Bennington's port dinette model has four chars that sit around the table, 3 cup holders, and a lighting option. Other manufacturers' port dinette only have 3 chairs and the back two are usually in fitted in extremely tightly against the rear galley.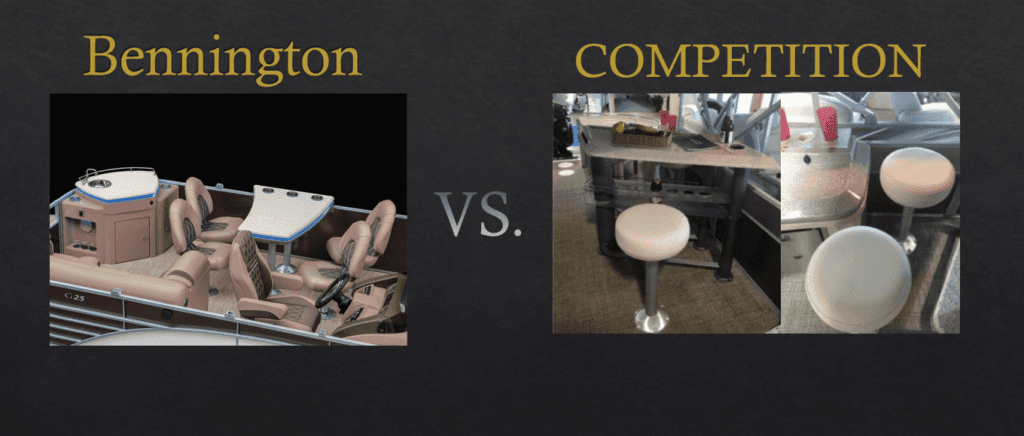 Windscreen
Bennington's windscreen is elegantly curved to give it a sleek and sporty look. Other manufacturers' windscreens are generally large and boxy, making the boat look less stylish.

Fit and Finish
Cheap chrome is used on many other manufacturers' products. Although this has lots of bling, and looks nice on a showroom floor, it will not last in the real boating world.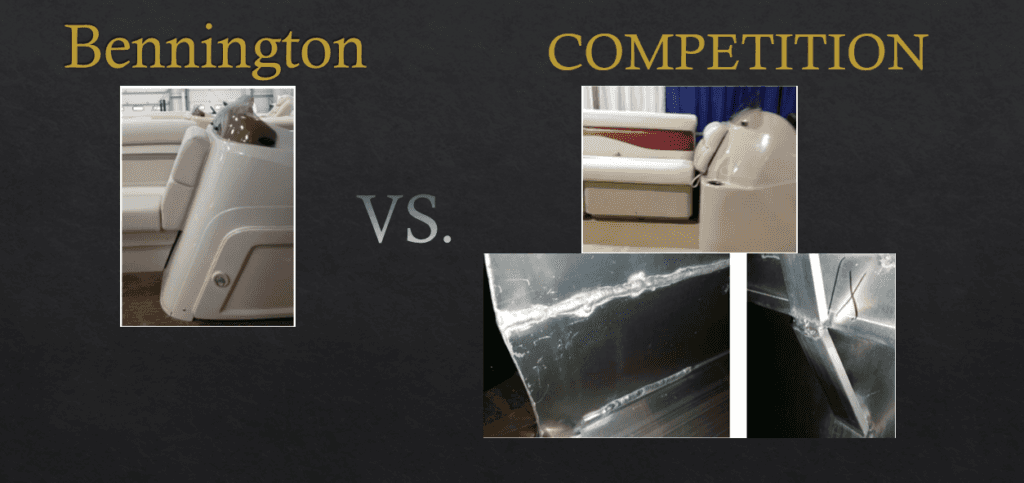 Overall Quality
With a Bennington, you can be assured of the finest quality with no evidence of cost-cutting or inferior materials. With many other manufacturers, even on their premium models, cost-cutting is rampant. Plastic gate hinges hold gates together, and cup holders are made with cheap plastic housings and are tucked underneath the seat where they are difficult to access. Even docking and navigation lights are in plastic housings mounted with visible, non-stainless screws.
Warranty
Bennington carries a full lifetime warranty on parts and labor for tubes, structural metal, decking railings, and many general items. This warranty is transferrable for up to 10 years. Seat frames, seat vinyl, flooring, canvas, and other components carry a 7-year warranty transferrable for 5 years. No other manufacturer carries a more complete or comprehensive warranty.
Westshore Marine & Leisure
Westshore is one of the largest power sports dealers in Manitoba and the Prairies. We are one of Canada's only Tri-Line outboard motor dealers and specialize in Evinrude, Yamaha, and Mercury outboard motors.
Package this with Lund fishing boats, Berkshire, Bennington Pontoon Boats, and Thunder Jet fishing boats, no matter what your brand or power preference is, we have you covered.
Get the boat and motor package you want at Westshore Marine & Leisure, centrally located just north of Winnipeg, Manitoba between the big lakes. We look forward to serving you soon!