11 Reasons to Purchase a Bennington Pontoon Boat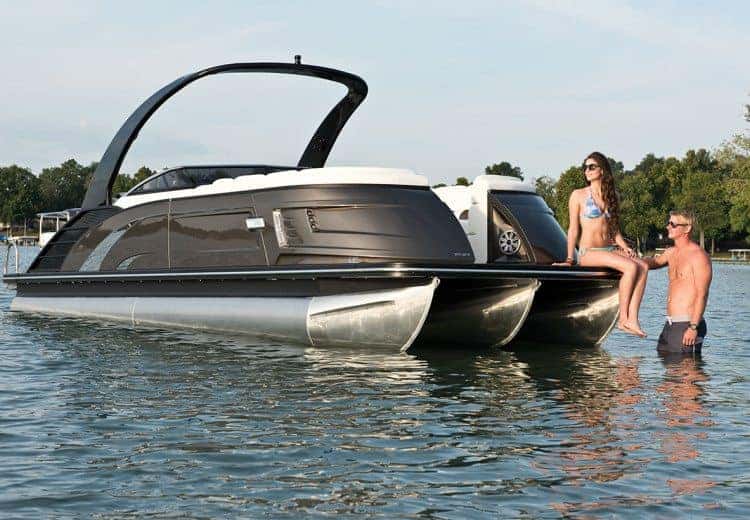 In 1997, a small group of boating industry veterans set out to build a boat brand focused on being the best built and never the largest. Those same founders and values continue to be the core of Bennington Marine. Today, Bennington is the best selling pontoon boat manufacturer in the world, offering pontoon boats for cruising, entertaining and skiing.
What Makes a Bennington?
Every Bennington is designed, engineered and meticulously hand-built with the same level of attention. Below we've put together eleven great reasons you should purchase a Bennington Pontoon boat.
Reason #1 – Top Craftsmanship
From the entry level S Series to the flagship QX models; every Bennington boat is crafted using the highest quality materials. Whether choosing an ultra-premium vinyl, using stainless steel hardware, or scrutinizing the selection of the raw materials, every detail matters with a Bennington.
Reason #2 – Exclusive THRU-BOLT Technology
While other manufacturers screw their hulls together, Bennington uses an exclusive THRU-BOLT™ technology on each and every boat hull. This system ensures far less flex, and provides a stable ride for years of boating pleasure and safety.
Reason #3 – Thicker Cross Channel Construction
Benningtons are constructed with thicker cross channels to provide more vertical strength than the typical channels found on most other pontoon boats. This type of construction minimizes twisting and provides the most solid, quiet pontoon ride in the industry.
Reason #4 – Premium Furniture
Bennington offers the industry's most sophisticated seating, providing you with unmatched comfort on the water. The company's ergonomic design and a blend of five compressions of high-density foam provide customers with the perfect combination of support and comfort. From design elements like integrated self-draining channels to the selection of materials, the boat furniture from Bennington is not only comfortable, but engineered to resists moisture and mildew.
Reason #5 – Luxurious & Durable Interiors
With the finest craftsmen and first-class upholstery, Bennington is known for durable and luxurious interiors. Bennington's exclusive two-tone Simtex vinyl is richly contoured with detailed stitching, and coupled with dense foam underneath, the lounge seating is super plush.
Complementing the seating vinyl is the woven-vinyl floor covering. Extended aft decks are often roomy enough for watersports and lounging, and stainless-steel ladders make getting off and back aboard easier
Reason #6 – The Industry's Best Warranty
Not only does Bennington build the highest quality boat in the industry, it's backed up with the industry's strongest warranty as well. With a lifetime structural and decking warranty and an additional 10-year warranty from bow-to-stern, Bennington boats will provide many years of carefree enjoyment.
Reason #7 – The Elliptical Sport Package
Bennington's Elliptical Sport Package offers customers the top of the line performance package for boats with 8′ 6″ beams. Boats equipped with this package benefit from enhanced stability and water displacement, with quick planing and handling characteristics that rival fibreglass sport boats. Designed for high horsepower applications, ESP is optional on outboard models and comes standard on all I/O models.
Reason #8 – Reinforced Keels
Bennington's reinforced guides placed at the bottom of the tube are designed to protect it in shallow water and improve tracking while underway. Optional solid keels are recommended for use in saltwater.
Reason #9 – Performance Foils
Similar to a wing of a plane, these foils are placed on the bottom side of the tubes to provide hydrodynamic lift. Improved acceleration, top speed and stability are added benefits. SPS, ESP and ESP-10 models will also dramatically increase in the boat's turning performance especially during heavy banking.
Reason #10 – Under Deck Wave Shields and Lifting Strakes
Bennington's under deck wave deflects water from the bottom of the deck to reduce "surging", while lifting strakes add lift, decrease splashing and increase top speed as much as 4.8 miles per hour. Both of these enhance your boat's soft, quiet ride in rough water.
Reason #11 – Seastar® Hydraulic Steering
Bennington's Seastar power-assist hydraulic steering eases steering effort with higher horsepower engines. An electronically controlled hydraulic pump connected to the SeaStar® system "does the work for you" so the driver can expect incredible handling and turning with little effort.
Five complete series of pontoon boats
Bennington offers five distinctive series of pontoon boats:
The new QX performance boats display Bennington's exceptional attention to detail with a fresh twist on a timeless design. You'll find a raw and striking profile that is inspired by the universal appeal of sleek lines and distinct handcrafted styling. Bennington's new line of fibreglass boats offers over 20,000 color options to create a boat that is completely unique to each customer.
The head-turning Bennington Q Series pontoon boats will take you there in ultimate class and luxury. Custom platforms from 23'-30' and a vast selection of design enhancements, optional equipment and color choices allow you to express yourself like no other boat on the water.
The R Series Performance & Luxury Series
The Bennington R Series of performance & luxury pontoon boats offers the company's broadest selection of models 20'-28' for the most discriminating buyer. Your boat can be customized both above deck and below with an array of seating, performance choices, optional equipment and more.
The Bennington G Series of pontoon boats offers performance, styling and quality with a payment you can swing and craftsmanship you can appreciate. In a selection of models from 18'-25', you'll open a new world as you design your own boat.
The uncompromising best value and quality of the Bennington S series combines comfort, style, and function with an affordable price tag. The SX Series offers even more value for the money. And, because your boat is highly customizable with an abundance of options, it can be personalized to fit your individual lifestyle.
You CAN Own a Bennington!
Go from dreaming of a pontoon boat to actually owning one. The uncompromising value and quality of a Bennington pontoon boat is hard to beat! With a combined experience of over 100 years, the Bennington team lives by the philosophy of using the best materials and never cutting corners. The company proudly stands behind each and every boat with a no hassle factory-backed 10-year bow-to-stern warranty while covering the deck and hull for a lifetime.
Westshore Marine & Leisure
Westshore Marine & Leisure is one of the largest power sports dealers in Manitoba and the Prairies. We are one of Canada's only Tri-Line outboard motor dealers, and specialize in Evinrude, Yamaha, and Mercury outboard motors.
Package this with Lund fishing boats, Bennington and Berkshire pontoon boats, and Thunderjet fishing boats, no matter what your brand or power preference is, we have you covered.
Get the boat and motor package you want at Westshore Marine & Leisure, centrally located just north of Winnipeg, Manitoba between the big lakes. We look forward to serving you soon! Contact Us with any questions.