Can You Take Pontoon Boats Fishing?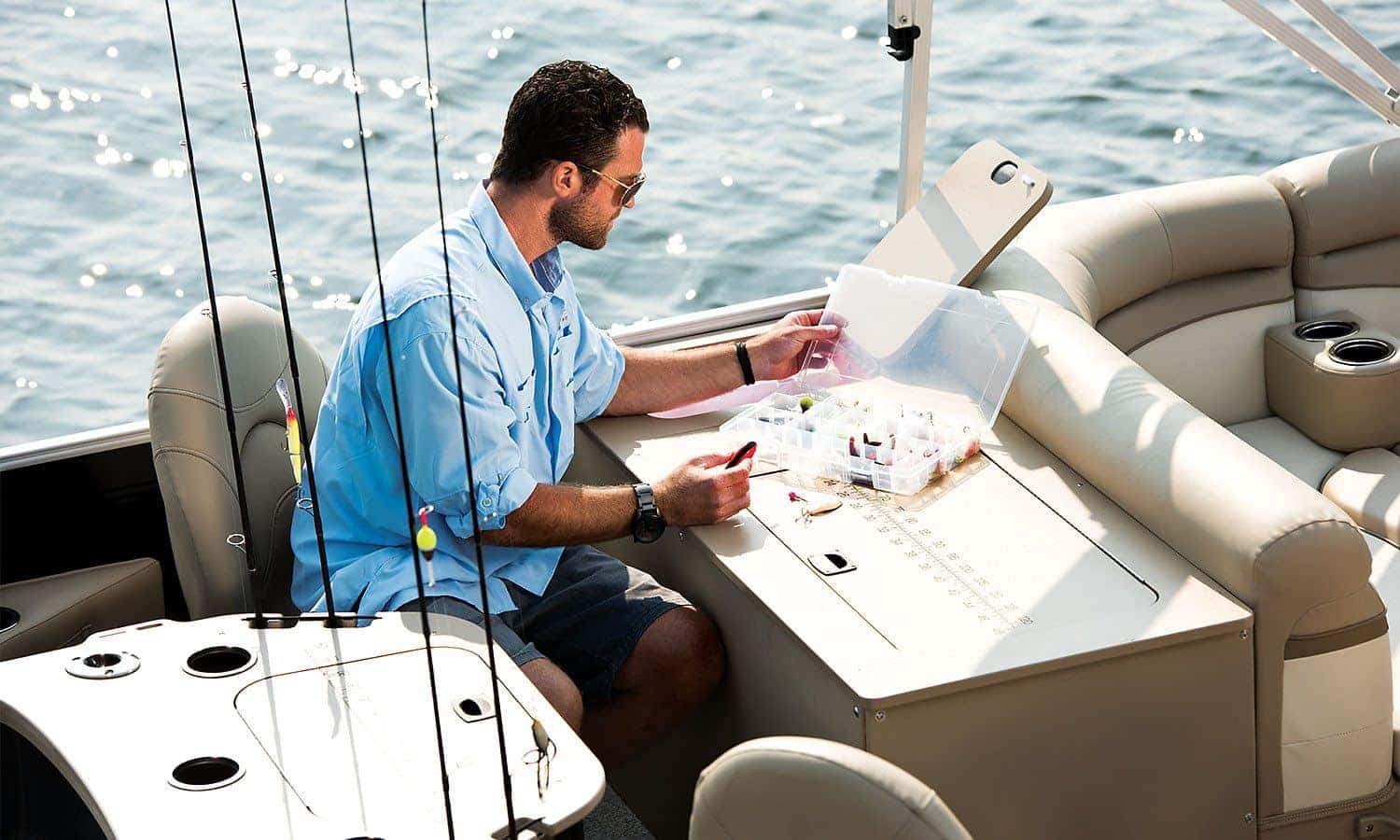 Pontoons are great boats for entertaining and relaxing on the water, but what about fishing? We explore the benefits of taking pontoon boats fishing and how it compares to a Lund Fishing Boat or other comparable models.
The marine industry continues to boom with over 260,000 new boats sold last year. Of those, pontoon boats hold a major share at over 50,000 boats sold.
Traditionally, taking pontoon boats fishing isn't what comes to mind. But this is a mindset that is quickly changing.
As pontoon boats become more popular, makers are responding. Anglers are discovering that fishing from a pontoon boat is excellent.
Livewells
Boats for serious fishermen need to have a few specific things, such as livewells. These are the tanks that fill and flush with water to keep bait and caught fish alive.
There are plenty of pontoon boats that come with a livewell built in. Just prepare for them to be smaller than the ones on center consoles.
Some pontoon fishing boats have dual livewells to make up for the lack in size. Pontoon owners may have the option to add an additional livewell.
Raw Water Washdown
You will be hard-pressed to find a pontoon with a raw water washdown option. This is the "clean" water source that is used to rinse down the boat of muck and grime.
If yours doesn't have, it will be hard to install. You need to have a hard mounted water pick-up.
Freshwater fisherman may not care. The saltwater fisherman will find this to be a major drawback.
Rod holders
Rod holders on v-hull boats get molded directly into the gunwales. Pontoon boats don't have these, so no built-in rod holders.
Sometimes you can find them built into the surface of the modules. Other pontoon manufacturers offer ones that attach to the rail.
This is another feature that freshwater fishers may not care about. Saltwater fisherman may have a problem with this feature missing.
The add-on holders are not designed for heavy saltwater use. They also do not provide the stability that gunwale ones offer.
Deck Layout
The key to a great fishing pontoon is to find the one with pedestal seating. This gives those fishing 360-degree access to the water.
The flat broad deck will allow for more people to be fishing at the same time. This is where V-hulls tend to lack.
Do not go for the pontoon with large seating modules lining the fencing. They are designed for recreational use, and will make fishing more difficult.
Storage
A large amount of deck space makes for a large amount of storage space. Those fishermen who enjoy gadgets and equipment will appreciate the extra space not found on a center console.
This extra space also works well for the fisherman who brings the family. The family's belongings can be on the boat without hindering the ability to fish.
Shade
Sometimes you just want to get out of the sun. This is where center consoles drop the ball.
Pontoons can have a bimini top added. These provide a large amount of shade coverage.
Side Fencing
The fencing itself may be hinderance depending on the size of fish you intend to catch. Most pontoons have the fencing completely wrapping the perimeter of the pontoon.
This means you'll be hauling your catch up several feet to get it in the boat. To address this, look for a pontoon with an unfenced bow.
This will give you a place to bring the big catches in. Of course, if you only plan on catching the little guys, this won't be an issue.
Another consideration is the amount of wind you expect to encounter. The side fencing can act as a sail.
If you plan on drift fishing this is going to make it difficult to fish a particular spot. It can also make anchoring, docking, and pulling onto a trailer a challenge.
Performance
When it comes to fishing pontoon boats, the power is impressive. Large outboard motors can be set up easily on tri-toons.
These will give you speeds of 40 to 50 mph. Models designed for these large motors handle like a V-hull.
They are a pleasure to drive, especially with the way they bank and carve in the water. Their draft is similar to other boats so your wallet won't feel the pain either.
Seaworthiness
Pontoon fishing boats excel in protected waters with a light chop. They perform better than v-hulls in a chop of 1 to 2 feet.
In these conditions, the pontoon's hull, size, and weight smooth the bumps out. The boat stays level with the chop coming at the nose or beam.
This means less rocking and rolling that v-hulls can experience. For those fishermen who enjoy drifting this is a major advantage.
Where a fishing pontoon boat tends to struggle is out in open water. Once large waves are a part of the picture, the pontoon loses performance.
A V-hull has an upswept bow. This allows them to ride up and break a wave.
Pontoon boats do not have this. So a large wave is going to wash over the bow and across the deck.
The other problem comes in when the waves are large and rolling. The underside of the deck is going to crash into each peak as the boat moves from one wave to the next.
This is going to make for an uncomfortable ride. To make this more uncomfortable, there is going to be more spray with a pontoon. You can buy fins or fails to help reduce the amount of spray though.
Pontoon Boats Fishing Verdict
It's definitely doable to take pontoon boats fishing. Just like with any other boat, you need to find one tuned for fishing.
The first decision to make is how serious are you about fishing. If you are not a hardcore angler a general purpose pontoon will work perfectly.
If you are a serious fisherman look for a pontoon that has all of the features installed. A pontoon is going to be a great choice for freshwater fishing.
Saltwater fishermen who stay in the inlets are going to appreciate them. Fishermen offshore or in unprotected waters will find they don't fit their needs.
Start browsing fishing pontoon boats for sale now.