Off-Road in the Great White North: Best ATV Trails in Canada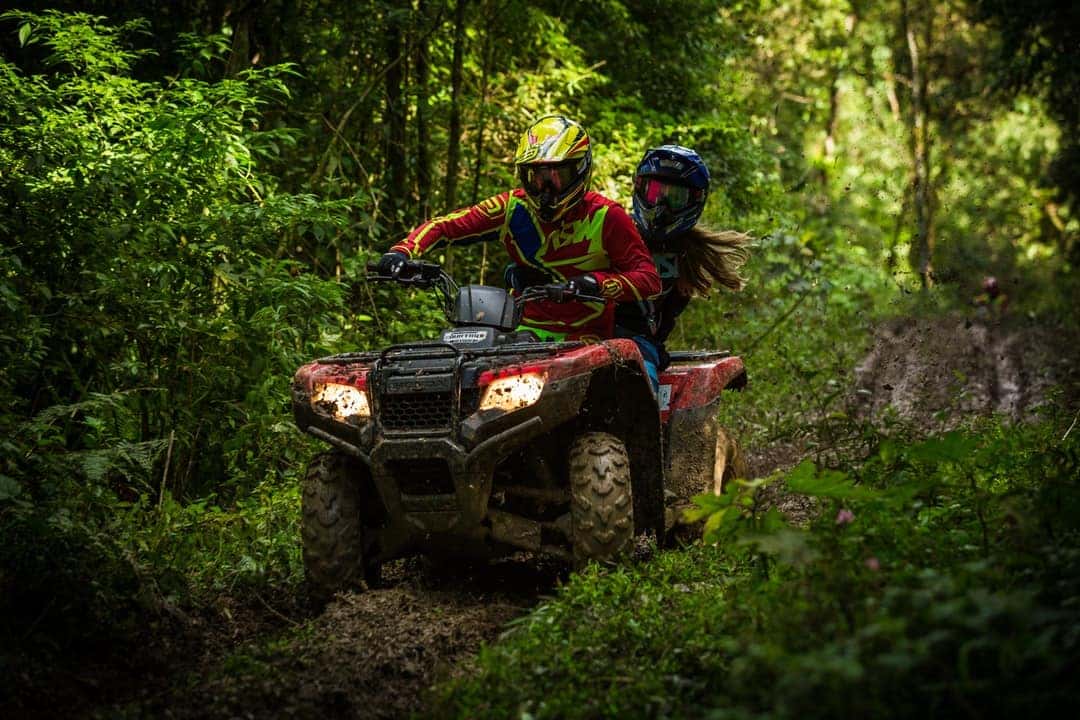 ATVs are small vehicles designed for use on any off-road terrain.
In the 70s, vehicles with three-wheel drive (trikes) were manufactured and put into fashion. They become increasingly popular in the late '80s and early '90s to be known as the ATV (All-Terrain Vehicle) of today.
There are two types of well-differentiated vehicles: ATVs and Quads.
Usually, they mount very powerful motors that make them overcome any obstacle: sand, mud, water, snow, etc… with relative ease.
This fact makes ATVs the perfect choice for adventuring to different places.
So, do you want to know the best ATV Trails in Canada? Keep reading and find out!
A Sudden Need For Adventure
Oh yes, you woke up one day, saw out of the window, BOOM:
Warm weather!
Finally, the long winter is over and its time to hit the trails.
And, Canada is such a beautiful place to begin a new adventure.
As with all the locations where you can ride your ATV, it is obvious that the best ATV trails are those that don't have a dense population, that have the most incredible sights.
Of course, Canada has all of these qualities.
But as there are several trails to discover, it can be difficult to choose where to go first.
Canada is a land of amazing geography where its inhabitants have the opportunity to enjoy some of the oldest, largest and most beautiful park systems in the world.
Bear in mind that the difficulty of the road, the experience you require and equipment you need are factors to consider before setting out in one of the National Parks.
Always ride your ATV wearing a full-faced helmet, and never adventure out into a national park by yourself. Take supplies of food and water with you in case you do get lost, along with a map and compass of the National Park you are visiting. After all, SAFETY FIRST.
The Bowbay Lake Trail
Bow Lake is a lake West of the Canadian province of Alberta. It is located within Banff National Park, in the Canadian Rockies.
It is situated at an altitude of 1,920 meters above sea level, has a length of about 3.2 km and a width of 1.2 km.
The total area it occupies is 3.21 km². In its surroundings, you can find: to the North, Bow Summitt; to the West and South, the Waputik Range, from the lake, you can see:
The Wapta Ice Field
Bow Glacier
Bow Peak
Mount Thompson
Crowfoot Glacier
Crowfoot Mountain
And to the East, you can also see:
The Dolomite Pass
The Dolomite peak
The Cirque peak
Bow Lake is located along the icefield road, called "Icefields Parkway," which runs through Banff National Park, as well as Jasper National Park
This one is linked to the former, and it's in the North of it.
Bow Lake is perhaps not as well known as other lakes in the area, such as Lake Louise and Peyto Lake, but it shares many features with them, such as the colour of its waters and the proximity of glaciers.
This gorgeous ATV trail begins at the 31km mark of the Wedeene FSR, also know as The Saunders Road.
From there, the trails take you for over 10km to the Lake.
This road gets overgrown in some places and narrow in others, so you must be careful and take every precaution needed to ensure a safe trip.
At the beginning of the trail, you will have to pass over an old bridge, and after that, the entire road is covered by a lot of washed-out boulders.
The Orofino Trails
The Orofino Trails are found within the Canadian Rockies.
The Canadian Rockies is a mountain range located in North America.
This sector of the Rocky Mountains is in Canada, running through the provinces of Alberta and British Columbia. A part of this sector also runs through the northern part of the states of Idaho and Montana in the United States.
Within the Canadian Rockies, five national parks have been established, four of them intertwine and form the Canadian Rocky Mountain Park.
These four parks are:
Banff National Park,
Jasper National Park,
Yoho National Park and
Kootenay National Park.
The national park that is not included in the World Heritage Site is the Waterton National Park, which is not linked with the others (it is located further south, along with the international border).
The site includes 3 provincial parks in British Columbia that unite the four national parks:
Hamber,
Mount Assiniboines and
Mount Robson.
All of these national and provincial parks were made a single Unesco World Heritage site in 1984.
Here, you can also find fossils.
This ATV Trail forms a network surrounding Orofino mountain.
This beautiful trail will take you over 3 separate lakes:
You will also go through the Orofino mine areas, where you will have the chance to discover a lot of the mining history of the area.
This trail shouldn't be attempted by novice riders, as you will find several difficult climbs all over it. SAFETY FIRST!
Gold Bridge Trails
This one is one of the best ATV trails in British Columbia.
The trails have beautiful scenic views.
Do you want to see some picturesque sights?
Here you will be able to see:
Cliffs that overlook beautiful lakes and mountain peaks full of snow.
Abandoned mine sites are similar to the ones you can find in Orofino.
Creek draws.
Scenic sights of flowers all over the road.
Animals all over the place, and so much more.
As it is such a huge ATV Trail, you should take some time to discover all of its beauties and secrets.
Gros Morne
Gros Morne can be found on Newfoundland island. A touristy unknown place but it has all that any traveller could ever dream.
And what is best, not many people know that you can find an ATV trail there. Due to its difficult terrain, if you are a newbie in this sport, is it best if you find someplace else until you are confident riding an ATV.
Spectacular landscapes, incredible geological formations, and varied fauna and flora are some of the details of this unique corner.
Experts say that the curious geological formations of Gros Morne gave life to an ancient continent and ocean millions of years ago. Something that is easily appreciated in the winding and unsettling valley of Western Brook Lake.
A postcard of this enclave would lead us wrongly to the Norwegian Fjords. It impacts greatly when in winter as it appears completely frozen.
World Heritage Site by UNESCO since 1987, it is the second-largest national park in Canada (although it was not declared as such until 2005). You can drive completely by car through Route 431, a scenic path from which you can discover a wide panoramic view of the landscapes of this park.
But what really characterizes Gros Morne are the successive fjords, glacial landscapes, and waterfalls that descend from the Long Range Mountains to the lowlands of the Gulf of San Lorenzo.
These almost unknown ATV trails are recommended ONLY for more experienced drivers, who will have the opportunity to discover a universe of estuaries, beaches, steep cliffs, and dunes. Ensure your ATV is driving well and has been checked before you set out.
Enclaves where most of the fauna and flora of this park live. In the waters of the lakes sometimes even whales appear in early summer and even seals.
As for the flora, the pine and yellow birch forest is very typical, which gives it a very particular colour with the arrival of autumn. The Gros Morne National Park may not be one of the main tourist destinations in Canada.
However, for nature lovers, it will be a corner of unusual beauty. There are more than 20 marked trails.
Narrow Hills Provincial Park in Saskatchewan
Going off the beaten track is the slogan of the traveller who lets himself be surprised.
The Canadian province of Saskatchewan is an outstanding area of natural beauty.
Here, you can
Ride through endless grasslands,
Navigate crystal clear lakes,
Go after indigenous legends and
Taste the delicacies of an almost unknown land.
Waterton Lake Trails
The Waterton Lakes National Park is a national park of Canada located in Alberta, near the border with Montana, United States. Waterton was the fourth national park of Canada, created in 1895 and named in such a way by Lake Waterton.
This park is administered by Parks of Canada, Waterton is open all year, but the main tourist season is during the months of July and August.
The only commercial facilities available in the park are in the town of Waterton Park.
The park goes from an elevation of 1,290 m, in the town, to 2,910 m on Mount Blakiston.
It offers many picturesque trails, including Lake Crypt. In 1979 it was named a Biosphere Reserve and in 1995 a World Heritage Site as part of the Waterton-Glacier Peace International Park.
ATV Trail in Thousand Islands National Park, Ontario
Very popular with sailors and people who like to row, the Park is made up of 12 small islands and lots of water in between.
It is ideal for all those adventurous at heart who like the outdoors and camping under the stars.
ATV Trails in Fundy National Park, New Brunswick
The biggest attraction of this park is the Bay of Fundy, where many will enjoy watching the highest tides in the world, as well as exploring the bottom of the sea at low tide.
A wide range of experiences can be found if you decide to camp in Fundy National Park and if you do not like to camp this is one of the few Canadian national parks that has accommodation for overnight stays.
ATV Trails in Bruce Peninsula National Park, Ontario
The East Coast, composed of eroded stone, is the biggest attraction for visitors to Bruce National Park.
On its Westside, the park is crisscrossed by the Niagara escarpment and slips into swamps, beaches, and Lake Huron.
It is ideal for birdwatchers and nature lovers in their purest form; You can find here 300 species of birds that migrate through the peninsula.
In your visit, you can not miss the cedar trees that cling to the cliffs and that are more than a thousand years old.
ATV Trails in Cape Breton Highlands National Park, Nova Scotia
The locals refer to Cape Breton as "the place where the mountains meet the sea."
Hikers from all over the world visit this park to admire the cliffs and spouts of the deep rivers that are carved into the wooded plateau that borders the Atlantic Ocean.
You will be able to find some of the most impressive animal species of the Canadian fauna such as the Linx of Canada (protected species), moose, hares, and many more.
Let's Get Riding on the Best ATV Trails!
Canada is known for its natural beauty and what better place to ride your ATV then in one of its National Parks.
So what are you waiting for?
You have A LOT of places to visit and discover while riding on the Best ATV Trails in Canada.
If you are planning to hit these trails in winter, then maybe it is best to consider a snowmobile instead. Although at ATV can drive through some snow and ice, you will have more fun on a snowmobile during heavy snow.
If you would like to know more about ATV's, snowmobiles or discovering Canada, get in touch with us today.