ATV Gear Checklist: Don't Ride Without These Essentials!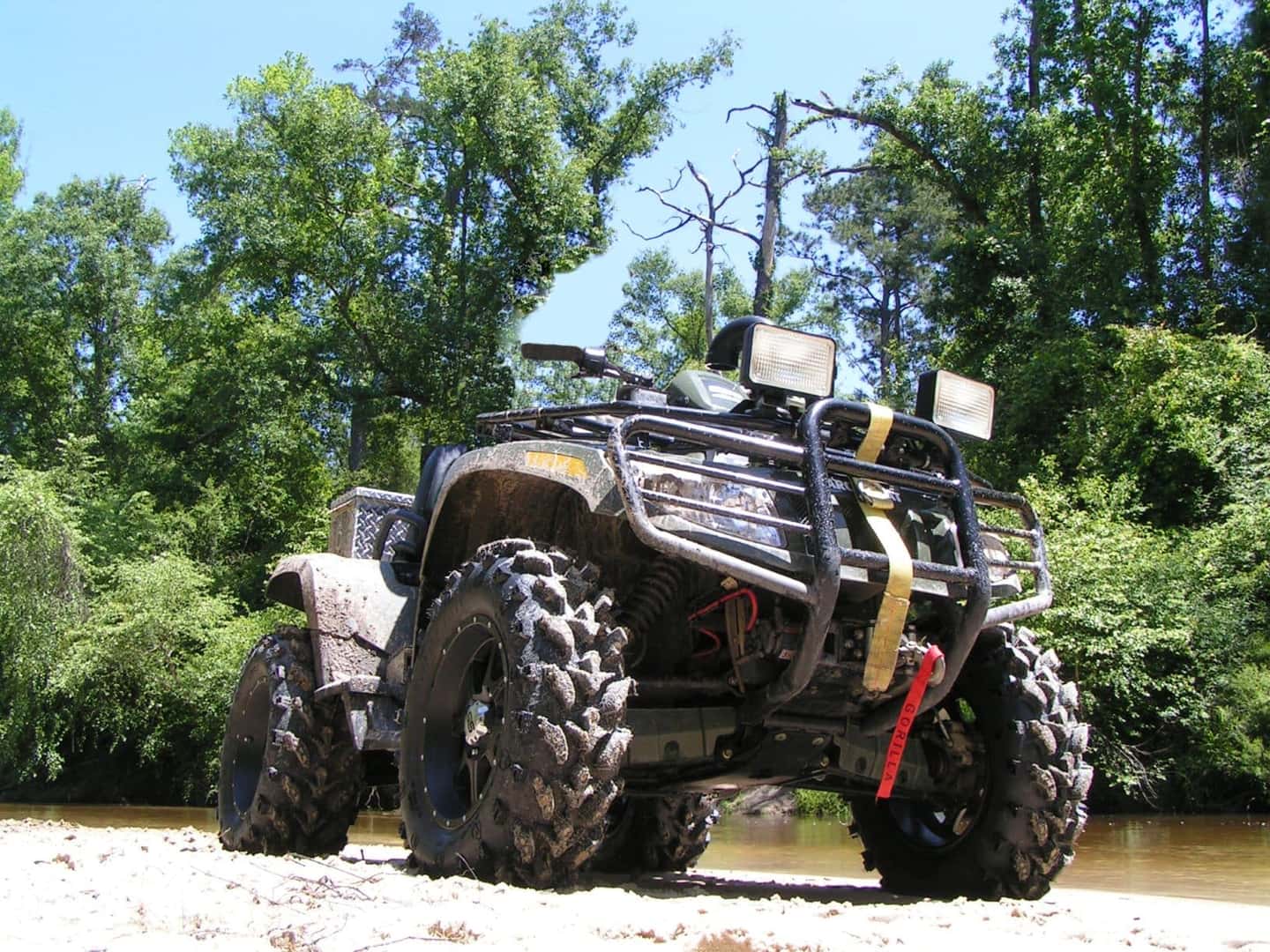 Planning to ride an ATV for some fun?
It's one of the most popular recreational vehicles out there, but you may want to take some time and make sure you have sufficient ATV gear first. Safety is a priority!
According to the U.S. Consumer Product Safety Commission, 337 ATV-related accidents occurred in 2016. The number of cases is going down. Back in 2015, there were 484 accidents and 581 in 2014.
However, it's not like the use of ATV has decreased. This is good news; it means people are more conscious about their safety.
A huge part of being safe out in the wild is having the right ATV gear with you at all times. The list can be long, but it is similar equipment you would pack with your Polaris Ranger or other side by side and it's worth having every single ride.
Dive in and let's show you the essential things you need to bring in each of your trips.
Tow Strap and Winch
If you ride out often, your ATV or someone else's in your group is bound to get stuck at one point. This is where a tow strap in your ATV gear comes in.
Not only that, but you can also use it for other purposes. For example, you can use it to drag a deer, move a fallen tree, remove trail obstacles, or much more if you're a creative thinker.
A winch also comes in handy if you get stuck in the snow or mud, which is what a winch does better than a tow strap. Furthermore, you can also use it to load the ATV into your truck or trailer.
Extra Fuel
Mechanical issues, getting stuck in the mud, a flat tire – all of these are problems you can handle outside. If you have the right ATV gear and some friends, you can still get back on the trail. However, running out of gas is another matter.
You won't find a gas station in the middle of the trail or anywhere in it, so you can't top up when you're running out. Even when you think you're only going on a short ride, and especially in an unfamiliar trail, pack some extra gas cans and keep it in your ATV compartment.
It will not only save you from having to walk back to camp or your truck. It will also save your engine from potential damage. Keep in mind that a dry gas tank is dangerous for your engine.
Enough Food and Water
After packing fuel for your ATV, pack some fuel for yourself as well. Bring food items that don't need much space yet pack more energy per bite. Don't forget to bring water, even if you're only going for a short ride. Bring enough for your drinking, cooking, and cleaning needs. Even if you're going to a place with a water source, it won't hurt to be sure you'll have clean drinking water whenever you get thirsty.
When you're going to be out hunting, fishing, or camping for a while, bring the equipment for cooking as well. Here's a checklist:
Beef jerky/trail-mix/power bar
Cup ramen/canned goods
Bottled water for the ride
Water for everything else
Waterproof matches/lighter
Cooler with ice
Firestarter tinders
Utensils
Can/bottle openers
Salt/pepper/sugar
Coffee/tea/powdered milk
You can expand this list or strike out some items depending on your trip.
Map, GPS, Cellphone, and Charger
ATV trips require a lot of planning, and that includes mapping out your trail. Bring along a map that marks your trail and shows you how you can get to there. The Forest Service has a map you can get for free or for a price, which is worth your safety no matter the cost.
However, while a map is very useful, it doesn't hurt to take advantage of technology. Invest in a GPS, which can undoubtedly do more things than a map. This can be the difference between survival and getting lost forever!
A GPS can pin down your coordinates and help you find your way out. It also allows you to pin down where you parked your truck, for example.
On that note, a smartphone with GPS is useful too. Plus, it's your lifeline when you get lost, or you need somebody to pick you up.
Map with trails
GPS
Cellphone
Extra power source
Charger
Compass
Store these essential ATV gear in your Ziploc baggies to protect them from the water.
Body Protection
While the items above will help you survive in the wild, the following ATV gear will help you survive the ride. Authorities recommend wearing protective clothing when riding a bike or a motorcycle, and that's on concrete roads. How often did we hear about deaths that riders might have avoided if they only wore the proper gear?
Riding through uneven surfaces with protruding rocks will make riding even more dangerous. That's why it's important that you protect yourself from head to toe because you can be sure that you're not getting off with a slight injury when you hit a tree.
Helmet
State laws don't require using a helmet when riding ATV, but common sense encourages riders to do so. It protects the most important part of our anatomy when riding through rough terrain. According to statistics, helmets reduce fatality by up to 42 percent.
Goggles
The eyes are the softest part of the body with the most exposure. It's susceptible to dust and debris, so you should have the proper goggles that provide protection even from the sides. Sunglasses won't do because it will only protect the eyes from the front, and it can drop.
Gloves
Good quality gloves will protect your hands from flying debris, rocks, and branches that you might hit along the way. It also absorbs most of the vibration, which would make for a more comfortable ride.
Long Sleeve Shirt and Pants
Covering the entirety of your skin will protect it from abrasions, cuts, and even bug bites. Most importantly, it reduces injuries if you happen to fall while riding.
An added bonus is that it also protects your skin from the harsh sun. In hot weather, wear breathable clothing with moisture wicking features to ensure you're comfortable.
Shoes
Don't wear slippers and sandals that will expose your toes to debris and branches. We recommend wearing closed-toe shoes. Tennis shoes are okay, but the better choice is hiking boots that cover your ankles as well.
If you have it, ATV boots are optimal. They give you a better grip and support, and they have the added protection from the heat coming from the ATV's motor. A pair also comes with much better ankle support.
First Aid Kit
Your ATV gear is not complete without a first aid kit. Accidents can happen, and even if you dress yourself up from head-to-toe with protective clothing, injuries may still happen when you're out of it. This is especially true when you're out hunting with your ATV.
You can assemble your own or buy ready-made kits. At the least, it should have the following:
Antiseptic
Gauze roll
Band-Aids
Adhesive tape
Cotton
Personal medications
Personal medical tools like EpiPen
In case you knock yourself out, make sure you have the following with you as well:
Identification
Emergency Contact
Medical information (blood type, medical condition, etc.)
Remember, keep it compact so you can bring it along with you wherever you go.
First Aid Kit for Your ATV
An ATV may be more durable than a human body. Still, it's bound to get some injuries as well, especially when the rider uses it often.
A preventive maintenance check and going over its parts before you go for a trip are the best protection it can get. However, in the event of an accident or an unlikely mechanical failure, you better have the following things as part of your ATV gear:
Air pump
Air pressure gauge
Tire plugs
WD-40
Duct tape
Jumper cables
ABC fire extinguisher (some states require this)
You shouldn't leave the house without a compact toolkit as well that you can fit in your ATV's compartment. It should contain the following:
Vise-grips/pliers
Wrenches
Flat-head screwdriver
Zip ties
Duct tape
Flashlight
Spare batteries
Swiss Army knife
Having a complete repair kit will make sure you're ready to face anything you encounter while on the road. And trust us when we say you'll encounter plenty. If you want to be extra sure, go ahead and pack some nuts and bolts as well in case something gets loose.
Your Trip Essentials
Aside from ATV gear, don't forget to pack other items for your trip! If you're hunting or fishing, bring along your gear. If you're camping as well, bring a tent, a sleeping bag, and other things you need.
Of course, this list also doesn't include your personal effects, such as:
Extra clothing
Space blanket
Hygiene kit
Socks
Slippers/sandals for camp
Bug repellent
Sunscreen
Camera
Radio
When you're out there at the mercy of nature, you need to prepare yourself and your ATV all the way.
Learn More About ATV Gear
If you like going out for a ride with your ATV, this list of essential ATV gear will be a massive help. These guidelines will ensure you'll stay safe and have fun when out on the road.
Are you looking for more tips and guides? If you have further questions, feel free to give us a call! Don't hesitate to visit our store for ATVs, ATV parts, and accessories, as well.