ATV vs UTV: Understanding the Differences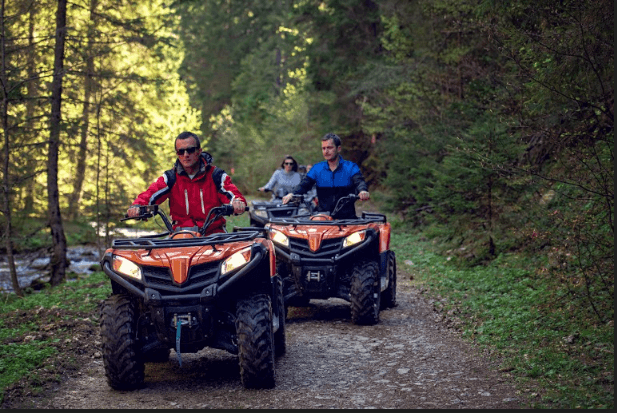 Do you own a relatively large property? Do you need a vehicle that can help you go around it?
Perhaps an All-Terrain Vehicle (ATV) like a Yamaha Grizzly or Utility Terrain Vehicle (UTV) similar to a Polaris Ranger is what you need. In 2017, analysts valued the ATV and UTV market at $9.2 billion. They project it to reach the $14.10 billion mark by 2025.
In this growing market is Yamaha, Can-AM, Honda, Kawasaki and Polaris UTV manufacturers that are pushing the UTV market growth with new and innovative products.
This goes to show that these two vehicle types bring a lot to the table.
But which side should you go for in the ATV vs UTV debate? Which vehicle type brings more bang for the buck?
If you are having a hard time deciding between the two, continue reading below. We will zoom in on their features, qualities, and other key details.
ATV vs UTV: The Lowdown
Some people are still confused with the ATV and UTV. But when you look closely at the two, you will discover that they have far more differences than you initially thought of. Let's try to break down their differences to determine which of the two will suit you best.
What is an ATV?
Simply put, an ATV is an off-highway motorized vehicle. It features comes with three or four low-pressure or non-pneumatic tires, depending on the model.
Its other distinct features include handlebar steering and a straddle seating position. Since it is for all-terrain types, it allows the driver to maneuver through different terrain conditions.
Generally, ATVs can only accommodate a single person. But there are some ATVs that can carry two people.
One of the most recognizable ATV models that you might recognize is the Polaris Sportsman Quads.
The Pros
One of the main advantages of an ATV is its size. Compared to UTVs, ATVs are smaller and lighter. With their narrower frame, you can enjoy better maneuverability, especially in challenging terrains.
You will also have access to areas and spaces that are hard to reach. Because of its relatively smaller size, you will also leave less damage to the environment.
When it comes to spacing, ATVs offer a lot. Its engine is underneath. This means the space surrounding you is all open.
As far as pricing goes, ATVs are more affordable compared to UTVs. But before purchasing one, make sure to check on the additional side expenses. These expenses include the safety gear that usually does not come with the ATVs. You can also figure out your budget using an ATV Loan Calculator to find what is right for you.

Plus you also need to set aside a budget for the ATV insurance.
The Cons
Also because of its small size, you cannot carry many items in an ATV. Most ATVs do not have an extra seat. They also do not come with storage space.
On average, you can only carry around 100lbs of your stuff.
Some people also find it hard to get on and off an ATV. This is because of the positioning of the seat and handlebar.
Usage
ATVs can easily take you from one point to another amid rough ground. But generally, people use ATVs for recreation purposes. It is the choice of vehicle for trail riding.
You can also use it for racing.
Interestingly, the use of ATVs expanded over the years. Today, some people use ATVs for agriculture. Instead of driving a pickup truck or riding a horse, people opt to ride ATVs to move around farms and ranches.
Farm owners use ATVs whenever they inspect their crops. They also ride the vehicle while applying fertilizers and chemicals. They also use it to mow grass and herd livestock, among other things.
What is a UTV?
Perhaps the chief difference of a UTV and an ATV involves their purpose. UTVs are vehicles similar to Polaris Side by Sides and used more for work-related purposes instead of recreation but that is fast changing.

Because of this, a UTV can accommodate between two to four passengers side-by-side. It also comes with lots of storage room where you can put your tools for work.
They are larger and more powerful compared to ATVs. Thus, they can easily haul heavier supplies and other equipment.
The wheels also differ from the ATV's. UTVs use a standard wheelbase similar to what cars use. There are other powerful UTVs that feature more wheels.
Its steering is also similar to standard cars. Instead of a handlebar, UTVs feature a steering wheel.
When it comes to pricing, they are generally more expensive compared to ATVs. But the good part about it is there is a lot of room for customization.
As far as insurance goes, the same policies covering ATVs also cover UTVs. But you may need to tweak it a bit and add comprehensive insurance, depending on the UTV's purpose.
If budget is your problem, there are reputable dealerships that offer pre-owned UTVs.
The Pros
Since UTVs are bigger and more powerful, they can seat more people. They can also carry more stuff to and fro. In fact, it has the capacity to carry items weighing up to as much as 1,000 lbs.
UTVs also provide better protection against the elements. The seats are more comfortable.
It also comes with more accessories and features like outlet plugs for your mobile devices.
The Cons
Because of its larger size, you cannot drive to narrow spaces. You may also find its cabin to be restrictive. The price can also be a con, but it really depends on your requirements.
Usage
As we discussed above, UTVs are perfect for heavy-duty usage. You can haul all kinds of stuff in and around the farm. You can also use it to transport sports equipment like water jugs of sports teams.
Regardless of your choice, you need to conduct due diligence before parting with your money. Look at different models and see which ones match your requirements and specifications.
Do some online research. Find out what people have to say in regard to their experience riding Polaris ATVs and UTVs.
Let Us Help You Make the Right Choice
Before making any decisions, make sure to get all the information you can about these two vehicle types. If you are still confused on the ATV vs UTV debate, we can help clear up things even further.
Feel free to give us a call or send us a message here. Let us know what you need and we will point you to some of the best options available.