Explore Your Financing Options with an ATV Loan Calculator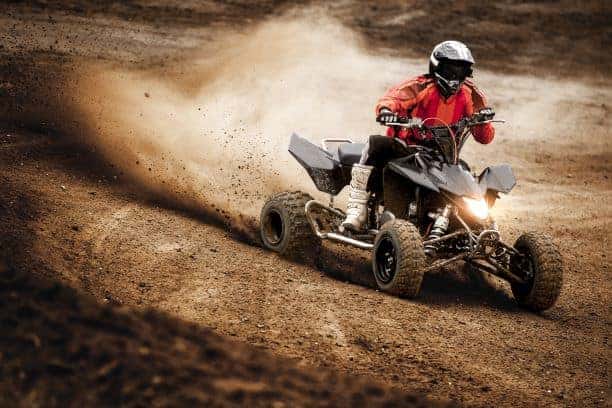 Wondering if you can afford that ATV or boat you've been drooling over? Learn about the benefits of financing, then do the math with our ATV loan calculator. It gives you an accurate estimate of what you can expect to pay when you finance your purchase.
Have you been eyeing a new ATV lately? It's tempting to shop online, especially when you see the newest models and features that come with him. But what's the difference between what you want and what you can afford?
The gap may not be as large as you think.
While it's nice to be able to pay for a new ATV upfront, most people lean on financing to buy the model they desire. It's not a bad option. In fact, it can help some buyers build their credit in the long run while affording to bring home the vehicle they want.
Explore your options the practical way by considering what you can finance. From weighing the benefits to planning your budget using an ATV loan calculator, your answer starts here.
The Benefits of In-House ATV Financing
There are a couple of financing options available, depending on where you buy your ATV. However, we've found that in-house financing has worked well for customers looking to buy a new ATV.
In-house financing allows the dealer to help you find a great deal quickly. For example, Westshore Marine & Leisure work with more than 15 different lenders and banks in order to find the best terms and rate available.
In other words, we do the hard work and research for you. Customers who put money down can decrease their monthly payments as well, making walking away with an ATV the same day even easier.
If you're new to taking out loans, there are a few details to take into consideration:
Your credit
Your interest rate
Your term length
These factors all play a significant role in how much your monthly payment will be.
Credit plays a big factor. As we seek out various options from banks and lenders, their quotes are based on your current credit rating. Customers with good credit tend to receive lower interest rates than those with poor credit.
You always want to find the lowest interest rate possible, as this reduces both your monthly payments and how much money you spend overall.
Are you worried about a payment being too high? Your term length can help with that. By extending your monthly payments out over a longer span of time, you can reduce the amount you owe every month.
By considering all 3 factors, our lending experts can put together a financing package that suits your monthly budget while providing you the best deal possible.
But how do you best determine your options based on your budget? When you shop for an ATV, you're seeing the full price tag, not the monthly payments.
This is where our ATV loan calculator comes into play. With this useful tool, you can estimate what you can afford before you even walk in the door.
How to Calculate ATV Loans Using an ATV Loan Calculator
It's important to remember that ATV loan calculators aren't exact calculations for what you will pay when you finance an all-terrain vehicle. This tool serves as a ballpark estimate so you can have an idea of what to expect.
However, that estimate will give you a general idea of what's within your budget. In order to use this calculator, you'll need to collect a bit of information first:
The total amount you will need to loan to make your purchase
An estimate of your interest rate (if known)
The length of time in which you plan to pay off the loan
As you consider your loan total, keep in mind that you can put money down on your purchase in order to reduce the amount you owe. If you have money saved for this step, we highly recommend doing this, as it helps reduce your overall costs as well as your monthly payment.
Next, you'll need to consider the impact of your interest rate. For some, this may be a tricky number to acquire. If you haven't been evaluated for or taken out a loan recently, you may have trouble finding a ballpark number for this.
If this is the case you can guesstimate or talk to one of the financial experts at Westshore Marine & Leisure. We can crunch a few numbers to help decipher the best interest rate available within our realm of banks and lenders.
Lastly, you'll want to consider your loan term. Your term is broken down into years. It's always best to choose the shortest loan term possible in order to get the best deal. However, those on a tighter budget may prefer to extend their loan term in order to reduce their monthly payments.
If you receive a good interest rate, you may find the addition to your overall cost when doing this to be fairly negligible.
The best way to shop for an ATV is to browse your options first. Find the ATV's you like and jot down the price. Afterward, run the price minus any down payment you can afford through the loan calculator.
While your interest rate may not be very flexible, you can manipulate your monthly payment by either adding to your down payment or extending your loan term.
In doing this, you aim to find a way to afford the model you want instead of compromising for the sake of a specific budget. After all, if you're going to take the leap into buying a new ATV, it should be the one you desire.
Even if you have to save up a little bit, it's worth it when you drive off the lot as the owner of your dream ATV.
Explore Your ATV Financing Options Today
Curious to know what ATV's are within your budget? Find out what you can afford with our free ATV loan calculator. Simply punch in the details of your loan terms to determine what your monthly payment comes out to, then talk to our team about getting into a new all-terrain vehicle!
Have questions? No problem! We have a host of friendly staff just waiting to help you out. Use our messaging option in the bottom-right corner of your screen or fill out our online contact form.
We're here to make your dream purchase possible!