The Top 11 Kick-Butt Side-by-Side UTVs for Your Next Adventure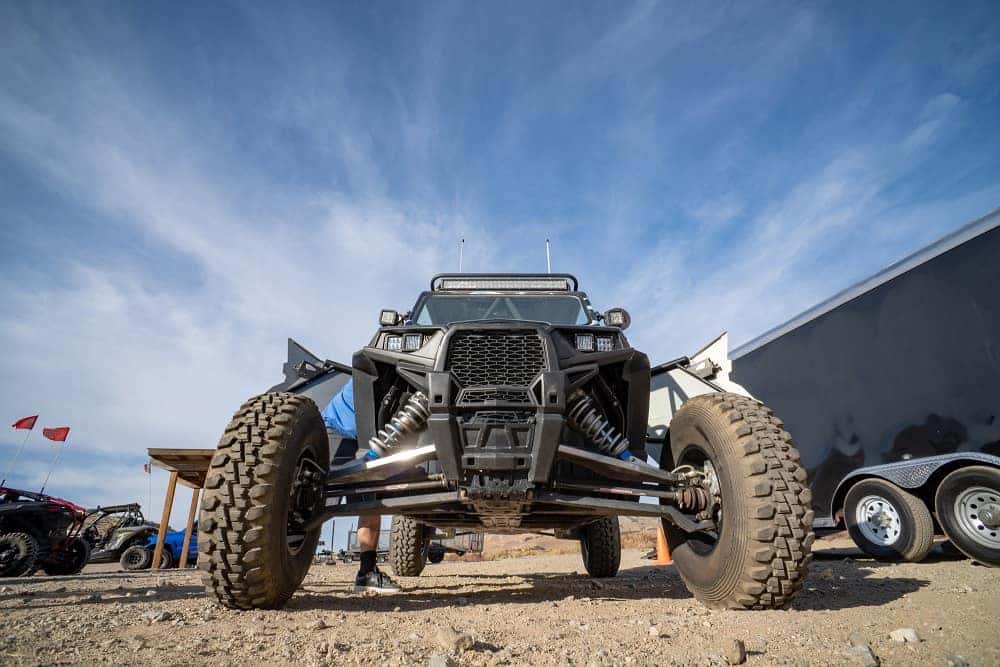 New research reports that the off-road vehicles market share is expected to reach USD 28 billion by 2024.
Are you thinking of purchasing one? Soon everyone will be.
UTVs, or side by side vehicles, are especially popular because they are more heavy-duty and can carry more people than an ATV. Yes, there is a difference between a UTV an ATV. Understanding this difference will be integral to the decision-making process. Choosing the best side by side will ultimately be based on the primary use of the vehicle and the experience of the driver. But in short, ATVs can typically only accommodate a single person or at most two. A UTV or side by side vehicle is made to seat up to six people and is generally more heavy-duty.
Here are some of the best selling and top performing UTVs of 2019 so far.
1. The Best Side by Side for Affordability: Yamaha Wolverine X2 R-Spec SE
The Yamaha Wolverine is a top contender for the best side by side for the money. The Yamaha Wolverine X2 is incredibly flexible, fast and comfortable. This new model is the next step from the Wolverine R-Spe models.
It's more advanced at all levels and ultimately made to go further. It's noted for its 4-wheel independent suspension with KYB® long-stroke piggyback shocks and Yamaha's 700-class engine that includes a dual overhead cam and fuel injection.
Its interiors are spacious, but the body is slim enough to make a tight-squeeze when need be.
2. The Best Entry-Level Side by Side: Polaris Ranger Crew XP 900
The Polaris Ranger now can come equipped with power steering; this Polaris is accessible to all levels of off-road drivers.
This version is softer and more fluid than previous versions. It has 10 inches of suspension travel, which is significantly less than others on this list. Which makes it perfect for beginners or those not planning to climb mountains or cross rivers.
It feels like every possible empty pocket of space within this vehicle was converted into a storage space. This UTV is made to fit six for work or an outdoor adventure comfortably. It's able to haul 2,000 pounds in addition to 1,000 of cargo.
3. The Side by Side That Will Float Across Water: Argo Conquest 800 Outfitter
This vehicle is powerful. It offers a load capacity of 1,190 pounds on land and 790 in water, and enough space to carry all of our outdoor essentials.
This Argo can carry six people on land and two on water. Yes, this beast can swim in the water. It will float, and its massive wheels will thrust it across any calm aquatic path.
This Argo model's tracked vehicle style steering is especially unique. It allows the vehicle to make 360 degree turns but takes some getting used to.
4. The Best Sport Side by Side: Polaris RZR XP Turbo S
The new RZR XP is a more robust version with "more beef everywhere," according to the manufacturer website. Sporting a new look, this model is leaner than previous versions, with notable design changes that make the body safer, easier to navigate, and overall better driving experience.
The Polaris RZR won the UTV World Championship and SCORE San Felipe 250 Season Opener this year.
The vehicle features industry-first ITP Coyote 32-inch tires, has a 16″ clearance and 25″ of usable travel. The UTV's new Velocity Series Walker Evans® Shocks make going fast a breeze, with speed capabilities reaching 85 mph.
Its Sparco steering wheel is a step-up from the cheaper wheels used in previous models. Overall the easy and alibi drives offered by the RZR XP Turbo S get it consistently ranked among best side by side ATV.
5. The Best Side by Side for Going Completely Crazy: Can-Am Maverick X3
This UTV can do anything: slide across dunes, climb rocky hillsides, carve through muddy forests and race with the best of them. It's got a spacious cockpit and is backed by 172 turbocharged horsepower and torque at 6,500 RPM.
According to the manufacturer, this vehicle can go from 0 to 60 miles per hour in only 4.4 seconds! The Maverick X3 was the first side by side in the industry to reach a 72-inch width. This new model has overall improved engineering, with a lightweight chassis and sport-tuned suspension.
Its shocks are also fully adjustable. But what really makes this UTV stand apart from the rest is its industry-first Smart-Lok differential. This computerized system uses sensors to improve traction control and to allow the vehicle to engage instantly.
These behemoth toys also dominated at the UTV World Championship this year.
6. The Best Side by Side for Reliability: Honda Pioneer 1000
Back in 2018, Honda announced that it was upping its side by side game for 2019. Offering improved models and more colour choices. Honda explained that it as "proud" to bring new multifaceted vehicles to the market.
Hondas are all about having user-friendly features. It's sort of like the Apple product of UTVs; it's got the sleek design, excellent reputation, and reliability that most people are familiar with.
Available in three and five-seat options, the 2019 Pioneer 1000 can tow up to 2,000 pounds. It's got a six-speed fully automatic dual-clutch transmission with a 999cc liquid-cooled engine. It also includes QuickFlip® seating, which offers a lot of extra storage space.
7. The Best Compact Utility Side by Side: Kawasaki 2019 Mule SX
The Kawasaki 2019 Mule SX is not the most heavy-duty or feature touting UTV on the market; it's compact with rugged capabilities. It's about half the size and has half the capabilities of the leading heavy lifters on the market.
It can carry about 1,000 pounds and tow 400 pounds. It's also a fraction of the price of the other UTVs on this list, coming in at less than $10,000. It has a max speed of 25-mph.
It easily fits in the bed of the pick-up and is great for dense adventures and laidback hobbyists. But don't be quick to judge its simple nature.
Kawasaki has had 30 years to perfect their side by side. Not everyone needs the biggest and baddest machine money can buy. Nature and wildlife lovers and campers will enjoy the vehicles easy temperament.
8. The Best Side by Side to Bring The Whole Gang: Viking VI EPS Ranch Edition
The Viking ESP (for electric power steering) is a smooth ride that requires minimal steering effort when compared to some of the other savages on this list.
It's packed with market-leading features designed to make driving this UTV accessible and enjoyable for anyone. That, mixed with its ability to seat six comfortably and safely (seatbelts and noise and vibration reduction), makes it a great option for those who plan to play with friends and family onboard.
Don't forget the ability to take advantage of Yamaha's Side by Side financing programs exclusive to Yamaha customers
The vehicle is driven by a 686cc, liquid-cooled, fuel-injected, SOHC power plant. With haul and tow capabilities and a spacious cargo bed, this vehicle can carry up to 600-pound loads. One of the most exciting features is Yamaha's unique Adventure Pro "adventure tool."
In conjunction with Magellan, the Adventure Pro works as an adventure planner, GPS map and navigation tool, trail finder, and so much more. Now the family can get together and argue about directions off-road too.
9. The Best Side by Side to Get Dirty: Argo Bigfoot 800 MX8
Some adults never stopped playing in the mud. The 2019 Bigfoot 800 MX8 is the ultimate ride for Argo 8×8 riders that want to go smashing through wet terrain and having a great time.
The vehicle seats six comfortably and comes with a new Jensen Sound System. Yes, a sound system as in music! Because what fun is swerving and jumping around through the flooded dirt without the perfect soundtrack to blast? The system is completely waterproof with radio, Bluetooth and plug-in offerings.
Another feature that makes this UTV perfect for playing outside is the large-paddle 25-inch mud tires. These babies were specifically made for digging through the earth at fast speeds.
But, for instances where the fun gets to be too much, there's a new 3,500-lb. WARN Winch just in case.
10. The Best Side by Side for Speed Demons: 2018 Yamaha YXZ1000R SS Review
This UTV might be as close to the experience of riding an ATV that's out there. The 2018 Yamaha YXZ1000R SS features a "Sport Shift," which, according to Yamaha, is "a sequential 5-speed manual transmission featuring Yamaha Chip Controlled Shift (YCC-S) technology."
Essentially, its an updated automatic clutch system that makes gear selection as easy as pressing a button. It eliminates the replaces the foot-operated clutch pedal. It's high-tech but easy to use.
Those familiar with Yamaha bikes will take note of the bike-like features like a digital speedometer, trip meters, and so much more.
11. The Best Side by Side for Tough Work: Can-Am Defender XT-P
The Defender is the best side by side UTV for the working man. Its towing capacity of 2,500 pounds can get any job done: farming, ranching, logging, you name it. But what's the point of work without a little play?
This vehicle can turn faithful employees to adventure buddies on a dime. Its Rotax HD10 V-Twin engine powering an upgraded FOX PODIUM suspension is fit for speed and agility.
FOX Racing, a manufacturer of dirt bikes, has fitted its shocks into the Defender to produce the ultimate work hard, play hard toys. This Can-am model also has one of the best cargo spaces on the market. They are making it easy to store and move a mobile office across job sites.
This UTV also comes with exclusive Smart-Lok™ technology, which is described by Can-am as a "true full lockable on-the-fly front differential with electronically-controlled automatic modes, or with the simple press of a button that offers preset, intelligent calibrations for your type of riding."
Buying New vs. Used
The American market for UTVs is expected to be a global leader, with an influx of cash flow planned to be put into the industry in the next decade. It's only a matter of time until "everyone" has one.
Figuring out which brands and models best fit a budget and lifestyle is only half the battle. Next, there comes the choice of being new or used. Like anything, there are pros and cons to each.
The first and most obvious reason for purchasing a used vehicle verse, a new one, is the discounted price. Like any vehicle, UTVs depreciate over time. It's easy to find a lightly used quality side by side that's thousands of dollars cheaper than the retail price.
The reason for this is because there's a decent amount of "newbies" who get excited about a potential new hobby, only to realize a year after they bought the newest and best-rated side by side, that they don't enjoy it as much as they thought they would. This is another perk of buying used, for kids especially.
If the new toy doesn't end up getting used as much as expected, it's better to own the machine than to still owe payments on it.
However, a pro of buying new is the low maintenance factor. Almost anything bought used brings with it a few repairs that will need to be made within the first year of ownership. A new side by side won't have this added expense.
So, Which UTV Is Really Best?
The best side by side is truly in the eye of the beholder. Lifestyle, primary use, experience, and budget all come into play when finally deciding on a purchase.
Probably one of the best decisions to be made is choosing a dealership with good reviews, a great selection, parts, and servicing and financing options.
Have questions about any of the brands in this article? Or how to go about actually getting one? Contact us!