The Serious Advantages of Leasing a Boat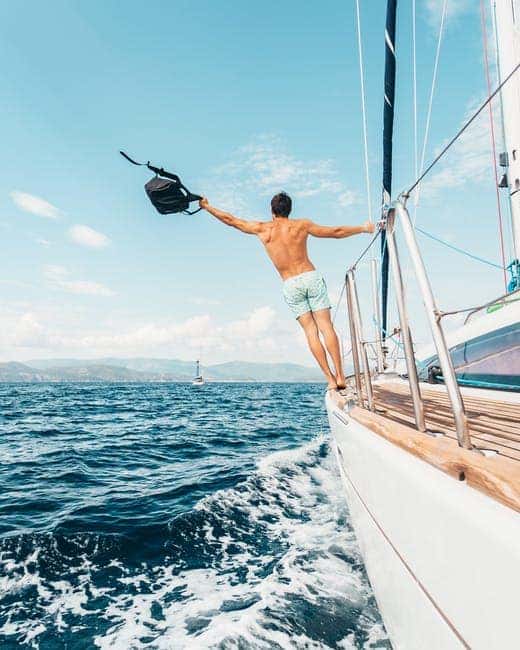 The Serious Advantages of Leasing a Boat
Boating is a fun and therapeutic activity to do in your free time. When you're in the deep of the ocean, your focus shifts to the experience. For that time, all that matters is to have an enjoyable time, soak in the sun and enjoy the cool fresh air.
The only downside with boating is the cost. Boating is enjoyable but is one expensive hobby. Many people who want to enjoy the waters get stuck in choosing between leasing or buying a boat.
A boat is a significant investment and few people have the money to just throw at a new one. Leasing is increasingly a popular option in many places. Ready to lease? Keep reading to learn about the advantages of leasing a boat.
Affordable Down Payments
Buying a boat is expensive. The most affordable boat is likely to cost five figures or more. Leasing instead of buying allows you to enjoy boating without drying up your savings.
Leasing a boat comes with some accessible down payment options that allow many people to consider taking on the waterfront. Some leasing companies may not even ask for a down payment. You could be out there enjoying the waters today without worrying about the cost.
You may consider financing options to buy a boat instead of leasing. But the boat's cost and the added interest combined are likely to strain your finances. If you don't have full payment at the moment, you can test the waters with a lease while you plan on buying.
No Repair and Maintenance Costs
Leasing instead of buying a boat could be one of the best cost-saving decisions you'll make. That's because when you own a boat, the costs don't just stop at the initial purchase. There are maintenance fees that can also be expensive.
Boats need regular maintenance and repairs to keep running. Like cars, they can break down unexpectedly. Sometimes you may need to spend on spare parts to keep it in tip-top shape.
After you buy a boat, you need various equipment before you can set sail for your destination. These cost a lot of money and yet are essential in a boat safety checklist. Examples of the equipment include life jackets, fire extinguishers, oars, ropes, and a navigation system.
The cost of leasing a boat is much more pocket-friendly. When you rent with Westshore Marine and Leisure, all repairs and maintenance are on them. You'll also get access to the best boating equipment for your optimal safety.
Wide Variety
With thousands of boats out there, you would want to try as many as you can. Leasing can mean you're not committed or tied to a single model. It's an opportunity to sample all the hardcore fishing and the best sporting wakeboard rigs.
If you've never owned a boat, you wouldn't want to get one before getting a taste of what the boating world offers. The best buys happen after a dedicated time of sampling various boats in the market. Leasing can be an excellent opportunity to establish how boats differ.
A long voyage of exploration may mean you want a boat that's in top condition. If you're leasing, you don't have to worry about servicing before you set out into the waters. Depending on your contract, you can try the latest or coolest boats to elevate the experience.
If you're looking to relax and have fun with friends, get a superb yacht to suit the purpose. If you want to go fishing with friends, you can rent a fishing boat for the weekend. In short, leasing instead of buying helps you to avoid the limitations of using a single model.
Shared Boat Leasing
The sharing economy business model is now a reality in the boat leasing industry. With shared boat leasing, you don't have to own a boat to enjoy access to a range of different boat types.
Shared boat leasing is a model that's almost like businesses like Uber and Airbnb. As a renter, you can already use existing boats instead of buying them. Given owned boats lie idle most of the time, it makes more sense to use shared boats.
Boat sharing programs allow you to use new, cool and luxurious boats than you could usually afford. You can try different boats and boating experiences without investing anything in a boat. This is because your lease gives you unlimited access to a fleet of vessels.
A shared lease can be short-term or seasonal, wherein you pay an inclusive fee for a fleet of boats. The leasing company handles all the problems associated with the boats─ including maintenance and insurance.
Stress-Free Boating Experiences
By leasing a boat, you can have all the peace of mind when you're not in the water. When you're not boating, you won't have to worry about the boat's safety or upkeep for when you get back to cruising.
Bad weather such as a hurricane or a storm can be a nerve-wracking time for boat owners. If you're a boat owner, you'll have to worry about moving your boat to a safe warehouse or storage.
No Storage and Docking Costs
Think about the storage and docking costs that you avoid by leasing instead of buying a boat. The costs of monthly storage and docking can be pretty high. These are unnecessary─ especially when you don't use your boat often.
Since you're leasing, you can plan and control how much you're spending on boating. You only have to keep your lease active when you're sure you can afford it. And you don't feel like your money is wasted because boating becomes more of a hobby than a commitment.
High Flexibility When Leasing a Boat
Boating experiences are stress relievers. They shouldn't feel like bondage or too limiting. The ability to choose a boat that suits your current needs is something to consider.
You need the flexibility to change boats based on the boating experience you want. Today, you could choose a fishing boat and next season get a luxurious yacht to mark your loved one's big day. This type of flexibility makes your entire boating experience more enjoyable and exciting.
High Level of Convenience
If you're too tied up or always facing a tight schedule, leasing a boat is the right choice. Otherwise, you may buy a boat and never use it. Leasing is convenient because you don't have to set aside time for boat care.
A boat requires a lot of attention and care. You need to maintain, repair, clean, and polish it, and perform other basic routine upkeep tasks. It takes a high level of commitment and dedication to keep in tip-top shape.
You must commit to checking and maintaining your boat at least every two weeks. As an owner, you may find the time commitment too demanding on your schedule. Leasing a boat is a time-saving option that can suit even the most hectic schedules.
Escape Depreciating Costs
If you're still unsure whether to lease or buy a boat, you should consider depreciation costs. Boats like cars lose value over time. The more you use your boat, the more its value declines.
According to boating experts, depreciation is one of the highest costs of boat ownership. A $20,000 boat loses 20% of its value in a year. And by the fifth year, a new boat is likely to have lost 55% of its value.
Used boats may depreciate at a slower rate but they're likely to frustrate you with high maintenance costs. Also, consider that boat depreciation rates may depend on the type of boat. If you're thinking about recouping your outlay after some years, maybe think twice.
Boat rentals and leases may come with hefty daily, monthly, or yearly costs, but they're cheaper in the long run. You're also not incurring costs on an idle boat when leasing or renting. Leasing is an accessible option to have fun without incurring hefty boat costs.
Maintaining an idle boat costs almost the same as being active during boating season. Look at your needs and demands to know whether to buy or need. If you'll only need a boat during holiday seasons or a few days in a year, it would be cheaper and sensible to rent.
Get Value for Your Money
If you protect your money, you'll consider the return on investment when figuring out whether to lease or buy a boat. You want a good return for each asset and buying a boat may be the right choice for you.
Bust Out Another Thousand! This is a popular cliché phrase referring to a boat in the financial investment world. The consensus is that buying a boat is a bad investment.
If you're not prepared with a maintenance and storage budget, you should consider leasing. These costs can increase the cost of your boat within a few months. Unless you buy a small boat that you can quickly tow on your truck, you should rent.
A boat is easily a money pit when it stays idle. Most new owners may not be ready to rent out their boats due to the demands of running boat businesses. A boat that sits idle costs you thousands of dollars without bringing any returns.
Cushions degrade, paint peel, and the engine develops problems due to idling. Once you buy a boat, it should be in the water. You may not have the know-how to protect or maintain a vessel when it's offshore. Depreciation also occurs regardless of whether you're using your boat.
Avoid the Regrets
The problem of investing in a boat is the regret that follows if it stays idle. Most boat owners regret not using their boats enough. The average boat owner struggles to juggle between going to the waters and their daily schedule.
Being in the water makes for fantastic experiences and amazing memories. But these experiences bring value to your life if you don't have any regrets. The thought of your boat lying on the shore not being used for long periods of time might unsettle you.
Leasing a boat allows you to be a boating enthusiast without responsibilities to restrain you. You even get to enjoy the beauty of the oceans more than boat owners. It's non-committal, cheaper, flexible, and convenient than buying a boat.
Hassle-Free to Lease a Boat
One of the plain benefits of leasing a boat is that it is hassle-free. If a boat is available, you only need to schedule a test drive and book it for your voyage.
Leasing allows you to choose and enjoy the best available boat on the shore. When selecting, you don't have to think of a boat's cost but choose the best boats from the current fleet.
How to Lease a Boat Today
The first thing when you're leasing a boat is to think about your needs. The right vessel should accommodate your people and suit your activity. If you're fishing, you will choose a fishing boat instead of a sport boat.
Next is to ensure your budget is enough to cover all boat fees. Take into account captaincy hiring fees when you're not qualified to captain the boat. Lastly, ask your charterer if there are any specific qualifications needed to use different waters.
Consider Leasing a Boat at Westshore Marine
Leasing a boat at Westshore Marine is a wise decision for many reasons. First, you don't need an upfront investment to choose one or more boats. You'll also get a hassle-free process and a headache-free boating experience.
Our leasing service removes all the frustrations of being a boat owner. We take care of service and repairs to allow you to enjoy your experience without worries.
The process of leasing from us is simple. If you're ready to lease your next boat, contact us today.