In House Financing for Your Boat – How It Works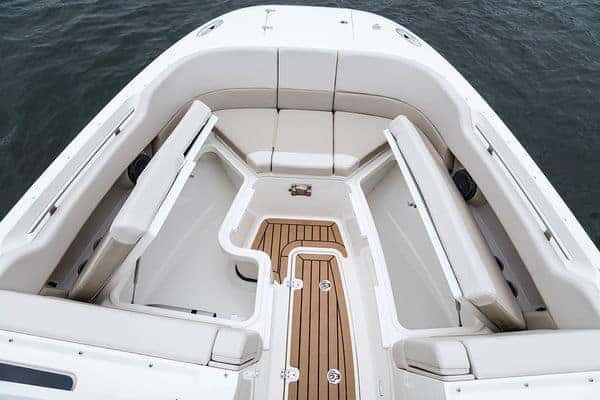 The news is in and people who aren't active boaters are all wet!
Whether you just sold your old boat or are purchasing a new one, you know boating can relieve stress, get more vitamin D into your body, burn calories, and increase relaxation. And with in house financing, getting yourself into a Bennington elliptical pontoon, crossover, or sport boat of your dreams requires just a little plunge of faith.
Find out why making payments to your boat dealers can simplify terms and actually save you money, time, and effort. Place your Captain's hat upon your head, point yourself into the harbor, push the starter, and sail our way for all the details!
In House Financing: Breaking Bank
Unlike some of the more technical terms in the nautical world (abaft, athwartships, binnacle, daggerboard, anyone?), the good news is that in house financing really means what it sounds like.
It's financing that occurs "in house," usually within the confines of the dealership in which you are buying your boat.
So you're on the property, walking around and looking at all of the boats on display. Somewhere within the administrative/sales offices is a back room or set of rooms where financing talks are made available.
Of course, dealers don't do this purely out of the generosity of their hearts. They have a key stake in convincing you to agree to in house financing for your boat purchase.
But the good news is, this type of financing can really work out in your favor. It's not just the typical slimy "used car salesman" bait and switch.
If you're smart about it, both you and the dealer can benefit from this fiscal agreement.
How is it possible?
In the best case scenario, you get your boat and pay some interest on it during the course of the loan (the dealer profits from the income, you enjoy your boat).
If you default on the loan, the dealer gets what you've already paid, plus repossesses the boat under the terms you agreed to when signing the financing.
Of course, we're going to advise you not to default!
But life happens.
Pros and Cons
For a moment, we're going to erase all the negative stereotypes associated with large-vehicle purchases, along with all the thoughts of being scammed or bilked. Let go of the lemons!
First, let's focus on the pros of getting your financing in house through the boat seller.
The dealer is already inclined positively toward you because you've made a big purchase. This can help you out if you ever want to come back to refinance, renegotiate terms, or have to be late on a payment.
In house financing is usually a good "last ditch" for those boat dreamers who have messed up in the past and cannot get loans elsewhere. Dealers really, really want to get you into their boats, and they'll take chances on you that banks and other fiscal institutions won't.
The onus of trust is on you. If you can be steady and studious enough to read through every page of your loan documents, you'll know the terms you're agreeing to. That puts the power in your hands, and you can protest and request changes to the terms before you sign. You know, the whole "buyer beware" thing.
You get to establish what can be the start of a beautiful relationship with the dealer, eliminating the middleman of a bank, opening up the possibility for more purchases in the future. This time, it's personal.
In house financing keeps your personal details – you guessed it – in house. If you work with a third party, your personal details such as income, debt, and credit history are going to be hitting the fax, email, and internet lines and as we know, things have a way of getting lost in the mail, even online.
Of course, we're talking about extremely high ticket items here, and there are some pitfalls associated with in house financing:
You may receive a higher interest rate at a dealer than a bank. Dealers aren't charity, and they can see a desperate situation a mile away. If they think you're a high risk of default, they may penalize you from the start.
Back to those stereotypes again. A boat salesperson may feel additional pressure not just to sell you the boat, but to get you agree to in house financing. If you feel "oversold," lied to, pressured, or coerced in any way, take a step back. Get your thoughts together and come back another time.
Look out for the "hidden fees" the Huffington Post warns about. These may be origination fees, warranty fees, and more, and they're all stuffed in where you sign on the dotted line. Question anything and everything, asking, "Why do I need this?" "What is this?"
It really does go back to "boat buyer beware." You probably wouldn't even buy your boat from a dealer you didn't trust, even if it was one of those niggling inklings that start as a tiny itch in your head, "Something's not right here."
But when you trust your boat dealer, pairing the financing with your purchase package can just neaten everything up, given that the terms are right and you feel secure.
Easy In House Financing with an Online Calculator
Head swimming like the water you want to put your boat into?
All of these facts, figures, and calculations can make you feel like you're drowning, but there's a quick fix.
Go online and try out a boat loan calculator.
These are fast and free ways to play around with what you can – or can't – afford to pay for your desired acquisition.
In some cases, all you need to enter is the price of the boat (or the total amount you need for the loan), your interest rate, and the number of years of the loan (or the loan term).
Click and you'll get your estimated monthly payment.
Don't like what you see?
Try a shorter loan term (which will make your payments higher) or reverse it, lengthen your term for smaller payments (though this will increase the total interest you pay).
Using an online calculator is a great way to prep yourself before going in for in house financing.
You're educating yourself and won't be blind when you sit down with the marine specialist. It's always good to do your own research, like comparing what a certain make, model, and car are worth in the Blue Book before you hit the used car lot.
You can even bring a printout from your loan calculator as a bargaining tool.
In House Financing Add-Ons
You know how you don't just buy a boat, you also buy all the accessories, seat coverings, interior decorations, etc?
In house financing is kind of like that, too.
Sure, you can just go get financing for the boat itself, but when you're shopping around for financing, why not look for something that covers more of – or all of – the bases?
Ask your boat dealer how many banks they are connected to. Hint: It should be more than one or two!
This is because the more financial institutions a dealer works with, the better rates and products he can get you. You have better coverage and options, and who doesn't like that?
You know that old saying, "When lenders compete, you win!"
It's really true.
One Stop Shop
It can also benefit you to get your in house financing from a dealer who offers other options such as:
Extended service plan
Parts and accessories
Other types of vehicles such as motorcycles, non-boat personal watercrafts, and ATVs
And a dealer who is already providing your in house financing may be more likely to give you discounts and perks on all these other items. Perhaps you can negotiate it up front – "I'd like four free service checks" or "One year tip to tip warranty coverage" while you discuss the terms of the financing. It never hurts to ask and your dealer really wants to sell that boat!
It's similar to the discounts you probably already receive at your auto dealer – free oil changes, free gas the first year you hold the car title, etc.
This becomes part of the benefit financing in house, because you've already made the connection with the dealer. Dealers are less likely to give extras if the bank is the one profiting from your loan.
It's Our Open House!
If in house financing sounds like it's for you, take a moment before you hit the open water.
Contact us first by filling out our short form here and we'll get started.
As we've explained, obtaining financing for your boat can be a huge commitment.
You probably still have lots of questions, want to compare rates, or just talk to an expert in the field.
That's why we're here!
When we're not out there ourselves sailing, we're dedicated to helping other marine enthusiasts like yourself get the absolute best financing, terms, and options available.
In fact, please feel free to read what some of our past customers have said by clicking here for our testimonials page.
You can even sign up for our newsletter and check out our operating hours and location. See you on the seas!