Best Ways to Sell Your Old Boat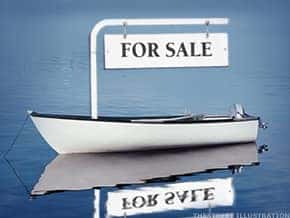 Whether you have been looking to upgrade, downsize, or simply just get rid of your used boat, it's going to take a lot of work if you want to get the best price. Knowing exactly what you need to do and the proper steps to take can make the process a lot more rewarding and successful.
Here are a few tips on the best ways to sell your old boat:
Prepare the boat for sale
As soon as you've decided to sell your boat, make sure you'll get the best price by preparing it properly. Fix any strange quirks or mechanical issues you might have lived with over the years since the prospective owner won't be as forgiving as you.
Clean up
Get rid of all the clutter. Pick up bumpers, anchors, or anything that takes up space and make sure it's removed. Make everything shiny and inviting so the buyer will think it's always been that way. Most boat owners buy with emotion, not logic and reason, so before you list the boat, use a scrub brush to clean up and wax areas that shine so they sparkle.
Clean the holding tank, center consoles, carpets, and upholstery, and wipe down the cabinets and any other storage areas so they look nice and inviting.
Remove your gear
Remember that leaving your things in the boat will make it less inviting to a buyer. Make the boat look as spacious as possible so the new owner can imagine his own gear on the boat, not yours.
Repaint & Wax
Repaint the boat if it's faded or scratched. Do minor touch-ups or even add an entirely new coat. Whatever it takes that attracts the buyer's eye. Paint the bottom (if its painted) and stick with basic boat hull colours like white or a dark blue. A buyer can easily become turned off if the boat is painted a surprising funky colour.
Give your boat a good coat of wax where necessary. The coat should shine and look waxed when you take pictures of the boat for interested parties. A spray-on furniture wax will give you a short-term shine but special wax designed for boats will last longer and look even better.
Eliminate rust
Treat any rust spots on the boat or trailer and get rid of them, even if they are minor. Use a spray-on rust treatment and apply a coat of paint over any rusted areas after you've sanded the rust away.
Air out the cabin
Even the cleanest boat can begin to smell a bit stale when the windows and hatch have been shut for a couple of days. Open everything up and let the cabin air out. If someone interested in the boat comes to take a look, they will definitely notice the difference.
Organize the paperwork
Have all your paperwork neat and in order. Keep the title, registration, warranty (if there is one), and any service or repair receipts in a folder or binder. This will help make things easier for you and the interested party if they want to buy the boat. Being organized makes you look like a responsible seller and may help you get a higher sales price from the boat buyer.
Prepare a bill of sale
Adhere to local or regional regulations for boat sellers and have a proper bill of sale ready for the buyer. This helps you prove your ownership and gives you a record of the transaction in case you need it in the future. Also, make sure you have all the necessary paperwork on hand to legally make the sale.
Take good pictures
Open up some boating magazines and get an idea of how professionals take pictures of boats to make them attractive in print. Take pictures to give potential buyers a digital walk-through of the boat. Include multiple views from different angles of all sides of the boat and cabin. Remove anything that doesn't come with the boat, and if it's shown with a trailer, mention in the ad whether the trailer is included in the price.
Get a picture of the boat cruising away from the dock and lets the potential buyer imagine it as something they could easily drive themselves.
Capture your boat's best angles by experimenting with various shots until you have several that really stand out. You should wind up with a stunning assortment of professional-quality shots that will help you sell your boat and get you the best price.
Show off the boat's size and dimensions by taking close-ups of cabinets or storage areas with a measuring tape alongside. Capture the boat's finer details with close-ups of the motor or controls around the steering wheel.
Get the lighting right
Go back and look at the best boat magazine photos and pay attention to the lighting. Take your photographs the same way, with the sun behind you instead of blinding you from the front. Consider taking photos on a cloudy day so the ski lights up your boat without any annoying glare from the sun.
Advertise the boat
Determine the best places to advertise. Use classified ads, or sell your boat online with Craigslist or boats.com. Some websites allow boat sellers to connect with potential buyers online. Arrange sea trials if you're near the water. Be ready to respond to requests for more information or pictures. Know every piece of information about your boat by heart. Print out a "cheat sheet" with every conceivable specification and detail so you'll be ready for phone calls or emails from serious buyers.
Know how many hours are on the engine. You should realize that some serious buyers will be hesitant to buy if you aren't well-educated about many specific details about your boat. Be prepared to have the boat at a safe location where it can be viewed. Also, be prepared if a long-distance buyer wants to know if the boat can be delivered.
Include both your phone number and email address in your ad. Have a thorough history of the boat including repairs, upgrades, and any general maintenance you've put into it. If you purchased it used, include as much information as you know about the previous owner's repairs and maintenance.
Set a fair price
Do some research in advance and know what the fair market value is for boats the same age as yours and in the same condition. Know your absolute bottom price by checking ads, pricing guides, trade appraisal tools, and prices of similar boats for sale locally at dealers, in ads, and on the web.
If you're going to be holding out for the right price, be prepared for a long wait by being ready to pay for storage or maintenance charges. If you want a quick sale, consider going about five percent cheaper than the lowest priced boat that's similar in age and make as yours to get a quick sale.
Never let a potential buyer know your bottom price before they've actually seen the boat. If some calls on the phone and asks for your rock-bottom price, say you'd like them to see the boat before trying to negotiate for a better price. The boat should speak for itself if you've cleaned, prepped, and polished the boat as mentioned earlier.
Close the deal
Interested buyers will invariably ask why you're selling the boat. Have a good answer since they're fishing to see if it has any problems you haven't mentioned. Say you're looking for a change in lifestyle, a bigger boat or different model. Don't lie about your reasons, but know in advance what to say so you aren't caught off-guard when you're asked.
Identify "tire-kickers"
The first couple of questions will help you sort out most "tire kickers" and let you know the prospective buyer is actually interested. Some tire-kickers may even ask the right questions but not show any urgency in moving ahead with buying. A serious buyer will want to get on with the deal as soon as possible.
To get rid of relentless tire-kickers, suggest that they contact you again when they are ready to meet your price. Don't say the boat is sold unless it actually is since the ad will still be running. But always remain polite and business-like. You never know when they may reappear with cash in hand.
Going for a spin
Some potential buyers may want to take the boat out for a ride before committing to the sale. If this won't be possible for any reason, let them know. If you decide to take the boat out, warm the engine up for about 30 minutes to an hour by getting to the meeting place early. This will help the engine to run smoother and make sure there aren't any problems like a dead battery before the potential buyer shows up.
Limit the number of people who can come along to make sure the boat rides smoothly and runs up to speed. It will also help to make the boat less cramped if only one or two others are with you when you go out on the water.
Ask for cash since you have no guarantee a check will clear when you try to cash it at the bank. Getting cash-in-hand and counting it before the seller leaves, it the best way to be completely certain you'll be getting the money from the buyer.
Hopefully, these tips will help you sell your old boat quickly and for the best possible price. Knowledge is the key to taking the proper steps to getting the best possible price for your old boat. Good luck!
Westshore Marine & Leisure
If you're looking for a new boat, remember that Westshore Marine & Leisure is one of the largest power sports dealers in Manitoba and the Prairies. We are one of Canada's only Tri-Line outboard motor dealers, and specialize in Evinrude, Yamaha, and Mercury outboard motors.
Package this with Lund fishing boats, Bennington and Berkshire pontoon boats, and Thunderjet fishing boats, no matter what your brand or power preference is, we have you covered.
Get the boat and motor package you want at Westshore Marine & Leisure, centrally located just north of Winnipeg, Manitoba between the big lakes. We look forward to serving you soon!