Benefits of the Bennington Elliptical Pontoon Vs Tritoon boat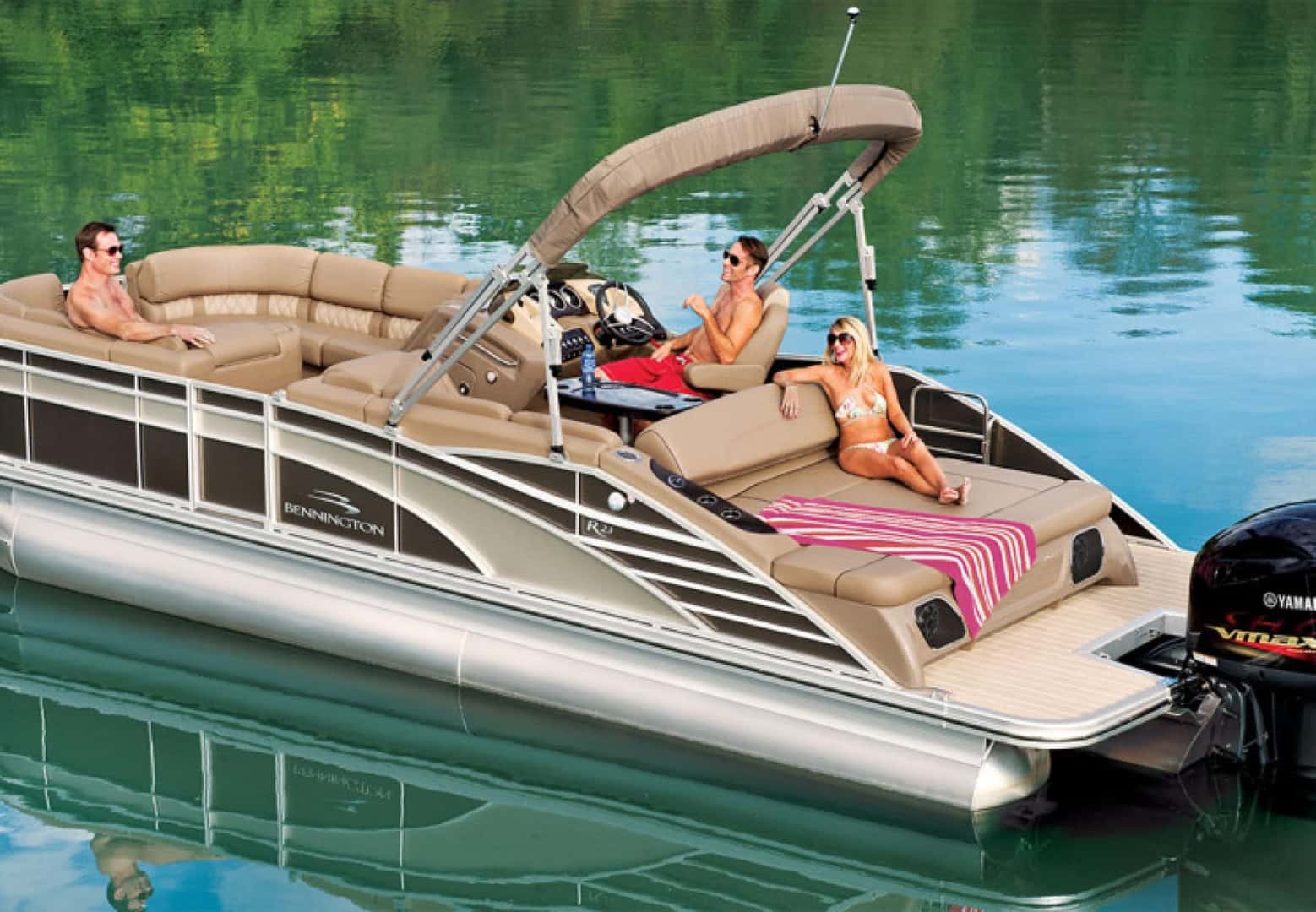 In 2009, the Bennington Marine Corporation received a patent for the use of an elliptical center tube attached between two outer cylindrical tubes on pontoon boats. The concept was intended to enhance some of the advantages of tritoon boats but add features including better stability and water displacement, quicker planning, and generally better handling characteristics that would nearly rival a regular fibreglass sports boat.
Pontoon boats
Regular pontoon boats are normally constructed with only two tubes for leisure cruising at low-to-moderate speeds. There is optimum floor space on a single flat deck in calm waters. The steering ratio of a pontoon boat is wider and engine capacity usually only allows for small outboard motors. This means they are not the most ideal choice for towing, skiing or tubing.
Pontoon boats also will sit a little lower in the water, factoring in buoyancy and weight distribution. This will limit the passenger capacity aboard the craft. While a pontoon boat can be the perfect choice for pleasure cruising with a few guests, it can become a much more turbulent wet ride when rough waters are encountered or when running across challenging wakes from nearby boats.
In general, regular pontoon boats are designed for low energy "taking it easy" lifestyle. Most models can host activities such as cruising and swimming, grilling and fishing, and small parties.
Tritoons
Tritoon boats are larger and heavier, and typically require a larger trailer with additional tube support, along with larger slips for docking and storage. Unlike pontoons, they are engineered with a third center tube in the center designed to satisfy fun, action-loving boaters without compromising the boat's structural stability or comfort.
High energy thrill seeking boaters will be pleased to know that tritoons can handle larger horsepower engines. They also provide less water resistance, faster acceleration, and higher top speeds.
These features make the tritoon boat an excellent choice for towing tubers and skiers. One of the many benefits of the tritoon's third tube is improved weight distribution and buoyancy. The boat sits higher in the water and will have a larger deck and passenger capacity.
The Tritoon boat's structure allows it to cut through rough waters and impending wakes smoothly. Tritoons also have a smaller turning ratio. Equipped with hydraulic steering, they can turn and corner tighter, making them much more maneuverable.
Bennington's Elliptical Pontoon
Bennington pontoon boats have a unique pontoon construction using elliptical tubes is designed for high horsepower applications. The Bennington Sport Package is an optional performance package on outboard models and comes standard on all I/O models. It includes two 25″ diameter outer pontoons with performance foils, splash fins and a 100 gauge aluminum 32″ elliptical center pontoon with added lifting strakes and an underdeck wave shield.
The sport package helps when navigating shallow waters by riding higher in the water. Reinforced guides secured at the bottom of the center tube also protect it in shallow water and improve tracking when underway. The Elliptical Pontoon also helps lets you get the benefits of multiple outboard motors for better performance and handling.
The history of modern pontoon boats
In 1951, a small town farmer in Minnesota came up with an idea that completely changed the boating industry. Ambrose Weeres loved boating and taking his family out on the lake waters of Minnesota. But he also knew that all the boats of that time were inherently unstable and he decided to design a more family-friendly boat that had greater stability when he wanted to take his family out on the water.
Weeres came up with the idea of a boat constructed of a solid wooden platform strapped on top of two steel barrels welded together would make a more sturdy pleasure craft than the conventional fishing boats of the time. Although he wasn't the first person to fasten logs to a platform, he is credited with the invention of what now is known as the modern-day pontoon boat.
Unlike the small, narrow-beam, fishing boats that everyone had been using around the Minnesota lakes, Weeres' pontoon boat was wide, stable, and had a deck that sat much higher on the water than the boats of his neighbours. This made the boating experience much more comfortable without excessive splashing or problems with the boat taking on water.
After creating his first pontoon boat, he found that others would also enjoy his invention, and he began building a few boats to sell. With the help of a few dealers, his small shop could not keep up with the orders. Eventually, Weeres Pontoons sold more than 30,000 pontoon boats before his death in 1991.
Newer, faster pontoon boats today are often equipped with three tubes underneath the deck instead of just two. Often called tritoon boats, with an additional tube in the center, these three-tube pontoon boats offer somewhat better balance and weight distribution, and they can handle more powerful engines, generally making for a more stable ride.
Another advantage of a tritoon boat is that the additional buoyancy and better weight distribution created by the third tube allows for more people to ride in the boat. There are wider entertainment options, and the boat handles better at higher speeds. Choppy water can sometimes leave a two-tube pontoon boat with wet passengers, while a tritoon three-tube pontoon boat will maneuver more comfortably and safely through rough waters.
With added engine power, a tritoon boat can be equipped with special ski towing bars at the back of the boat. Even at higher speeds, the electronics, refrigerator, chairs, and furniture remain safely secured.
In general, a three-tube pontoon boat offers a wider range of activities while on the water, a more stable ride. and a little more speed than a traditional two-tube pontoon. However, a three- tube pontoon boat will invariably cost more than one with just two-tubes.
If all you want from a boat is a relaxing cruise on a calm lake, a twin-tube might be all you need. If you're looking for a stylish and stable fishing boat, both pontoons and tritoons can be optimally outfitted for anglers of all ages and levels.
If you want to reach more thrilling max speeds or your time on the water will include pulling skiers or tubers, the choice is pretty clear. A two-tube pontoon can handle some horsepower, but adding a third tube allows for more engine, higher speeds, and more exciting options for activity on the water.
The Bennington Elliptical Sport Package is geared toward performance customers who want optimum performance by going beyond simply adding more horsepower to their boat. Ellipticals are more buoyant than round tubes, and they can carry loads approaching that of tritoons. One of their biggest advantages is that they are less expensive to purchase than tritoons.
Westshore Marine & Leisure
Westshore Marine & Leisure is one of the largest power sports dealers in Manitoba and the Prairies. We are one of Canada's only Tri-Line outboard motor dealers, and specialize in Evinrude, Yamaha, and Mercury outboard motors.
Package this with Lund fishing boats, Berkshire pontoon boats, and Thunderjet fishing boats, no matter what your brand or power preference is, we have you covered.
Get the boat and motor package you want at Westshore Marine & Leisure, centrally located just north of Winnipeg, Manitoba between the big lakes. We look forward to serving you soon!