The Best Boat Snacks for a Day on the Water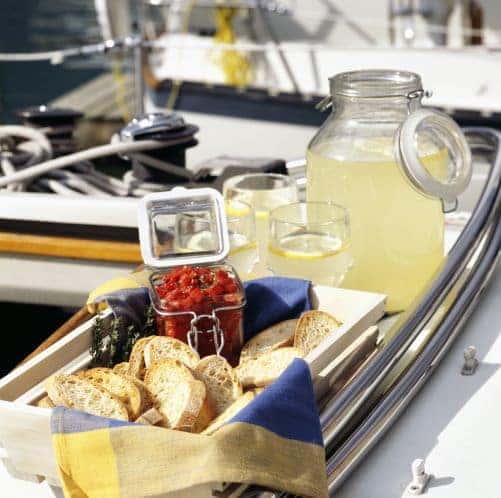 You just picked up your boat from the boat show, you have your life jackets, you have the gas tank filled up, and everyone's slathered with sunscreen. What are you missing? Something to fill your stomachs. Try these boat snacks everyone will love.
Spending the day out on a boat, packed with watersports and fishing can really work up an appetite.
So what could be worse than being unprepared and hungry throughout your day of boating? Keep your energy levels up with simple, pre-packaged boat snacks and a few easy-to-make dishes.
It's important to remember that simplicity is key – nonperishables and items which can be resealed in containers are your best option for boat snacks.
So, with this in mind, here are a few ideas to keep you both nourished and nimble for your day out on the water!
Bite-Sized Boat Snacks
Whether you're in the mood for sweet or savoury, it's always a good idea to pack a little bit of both in terms of pre-packaged, quick snacks.
These simple portable appetizers can be used as quick nibbles throughout the day, in between waves or retackling fishing rods:
1. Homemade Trail Mix
Okay, so a little bit of work will have to go into preparing this snack, but it's minimal, at best!
All you need to do is purchase your favourite selection of nuts, such as cashews, almonds or peanuts and mix them some dried fruit and a few bits of chocolate.
This is a great snack idea because you get a little bit of sweet and savory with every handful.
Throw your mixture of nuts, dried fruit and chocolate into a resealable Ziploc bag or airtight container and you're good to go!
2. Chip and Dip
This easy snack is a staple at almost any gathering of friends and family, whether you're on a boat or not!
Purchase a couple of bags of your favourite chips and, if you prefer, chop up a quick salsa that you can transport in an airtight container.
Mash a couple of avocados together, add plenty of lime juice, salt and pepper and store in an airtight container too.
When you're ready, you have chips, salsa, and guac to snack on – what more do you need?
Top tip: Don't forget to pack a bag clip in your cooler so you can reseal any open, unfinished bags of chips!
3. Bite-Sized Energy Balls
For a healthier option packed with protein and energy, these bite-sized, grab-and-go snacks are ideal for a day of boating.
They are simple to make – all you need is dates, some form of nut butter such as cashew or macadamia butter, cacao powder, and protein powder.
Mix all the ingredients together, roll them up into bite-sized balls of goodness and store in an airtight container.
Just make sure to prepare these the night before and refrigerate overnight so that they hold their shape throughout the day!
4. Dried Fruit
Always a crowd-pleaser, you really can't go wrong with dried fruit as a go-to snack, especially with kids around.
These healthy, low-calorie snacks are fuss-free, don't leave a mess and can be bought pre-packaged from the store.
5. Muffins and Pastries
This snack may a little touch-and-go depending on the weather, but if stored in an airtight container in a cooler, they will hold out most of the day!
Muffins and breakfast pastries are a real treat if you're heading out on an early morning boat cruise or fishing trip.
Combined with a flask of steaming hot coffee or tea, this easy snack is always a winner!
Pre-Prepared Boat Meals
Now, this boat food may take a little extra preparation, but if you're looking for simple yet tasty ideas for boat meals, give these a go:
1. German Potato Salad
The key to nailing the perfect German potato salad is choosing the best potato for the job. Look for Yukon gold or red potatoes at your local market or grocery store.
The traditional German potato salad is loaded with bacon, mayonnaise, and mustard. You can also add some sliced up scallions over the top for a little greenery!
If you want to keep it on the lighter side, forego the mayonnaise! Store in an airtight container and serve on paper plates when ready.
2. Pasta Salad Skewers
These are consistent crowd-pleasers and also super simple to make. All you really need is some pre-made tortellini pasta with your favourite filling of choice.
You'll need to cook your pasta, then load each skewer with two-three tortellini, alternating with bell peppers and grape tomatoes.
Once your skewers are made, pack them into a plastic container and store them in your cooler until mealtime.
3. Grilled Chicken or Steak Wraps
Wraps are a simple, tasty and effective way to fill up hungry fishermen and watersports fanatics.
You'll need to marinate some sliced up chicken breast or fillet overnight, then grill it off in the morning just before your boat trip.
Slice up some bell peppers, onions, tomato and pack into a plastic container. You can make your wraps double delicious by adding sour cream, guacamole or black beans too.
Your best bet is to assemble your wraps on board the boat as pre-assembling could make them soggy!
4. Pulled Pork Slider Buns
Who doesn't love a good ol' pulled pork bun? You'll need to prepare your pulled pork the day before, slow cooking in a crockpot.
Once your pork is cooked to perfection, let it cool a little, then transfer it into an airtight container.
Pack up some fresh buns and assemble when you're on the boat for a quick and easy meal!
5. Chicken Salad Tacos
Chicken salad is a long-time favourite for many on-the-go meals, picnics, and parties – and for good reason. It's simple to make and delicious.
For a great chicken salad mix, you'll need shredded chicken, sliced grapes, chopped almonds, diced celery, dried cranberries, scallions, and mayonnaise.
Pre-make the chicken salad mix in the morning or night before your boat trip and pack into a plastic container.
When it comes to mealtime, serve in a soft or hard shell taco for a delicious boat snack!
Essentials To Pack
If you decided to prepare any of the above meals for your day of boating, remember to pack these essentials to make your life a little easier:
Plastic Ziploc bags for any leftovers
Aluminum foil
Paper or plastic plates
Plastic drink bottles with spouts (ideal for children and minimal spillage!)
A portable cooler which can keep fresh and pre-prepared foods cool
A thermos flask for hot water for coffee and tea
Garbage bags for rubbish
A roll or two of paper towel or wet wipes for wiping grubby hands
With these simple food ideas and boating essentials, you should be set to make the most out of every boating trip!
Looking to Upgrade Your Boat?
At Westshore Marine and Leisure we not only offer advice on boat snacks but offer top-of-the-range boating parts, accessories and more.
If you're looking to upgrade your current boat, our extensive showroom is a great place to start!