6 Reasons Not To Purchase At The Boat Show – Winnipeg & Other Shows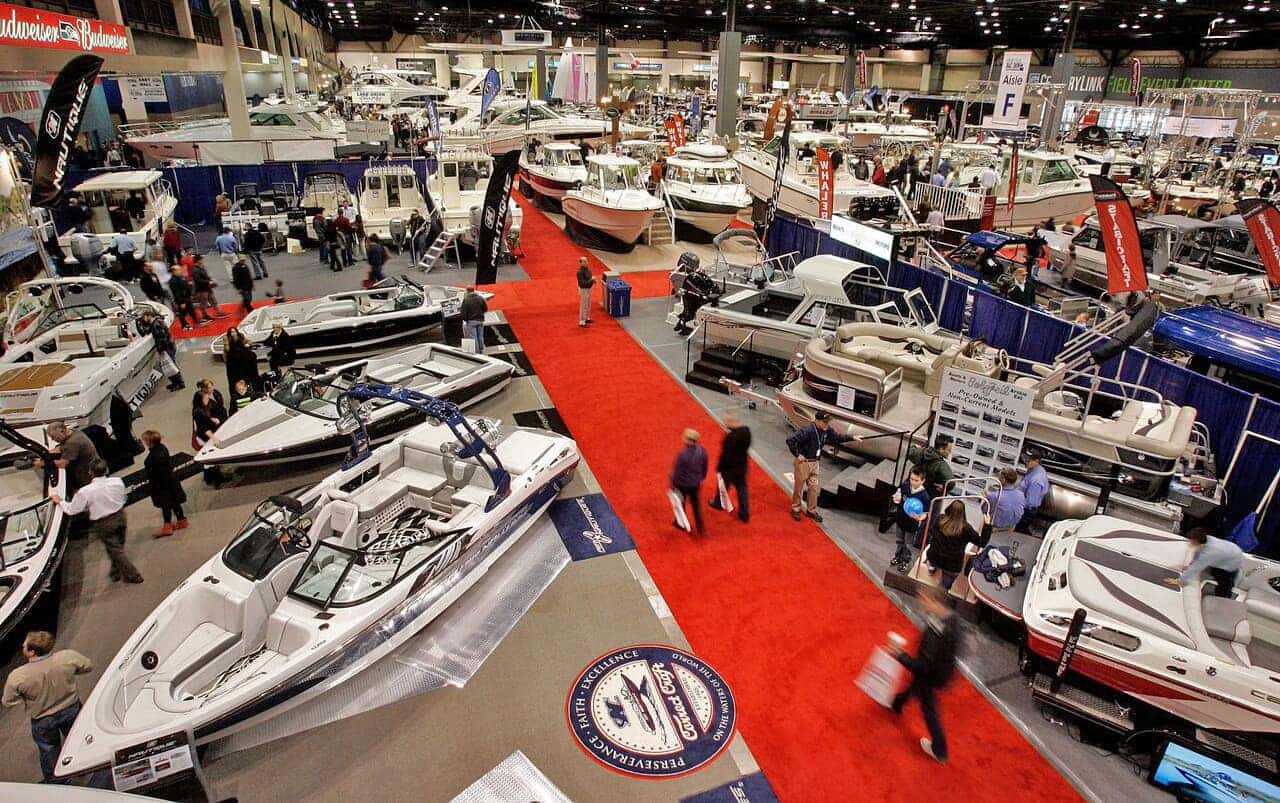 6 Reasons Not To Purchase At The Boat Show
Every year we walk through some of the largest boat shows in Canada including the Winnipeg Boat Show and Toronto International Boat Show and other outdoor or powersport shows looking for new marketing idea's, new marine accessories, unique displays, and special show sale prices we always leave just shaking our head in disbelief…
First, we need to clarify the difference between the two types of industry show categories. A Selling Show is basically a show where someone is trying to "sell" you something. The focus is on selling to the people walking the show. A Non-Selling show would be a manufacturing show where it's just showing off the products without the salespeople.
An excellent example of this would be the Snowmobile Sneak Peak, where all the manufacturers cover all the costs and are just there to show you new products.
How Do Boat Shows or Selling Shows Work?
Before we can even start to tell you the reasons you shouldn't purchase at the boat show, you need to understand how a boat show works.
A boat show or outdoor show is big business. Someone buys space and rents it out to prospective clients. In this instance, marine or boat dealer & power sports dealerships, suppliers and boat builders and manufacturers.
Trade show organizations exist to turn a profit. I mean, why else would someone put all the time and effort into organizing a show? Not to mention they would not pay out huge amounts of money for advertising an event to bring in local dealers if they weren't getting a cut.
I'm sure you have seen them in the paper, on the radio, and all over the internet promoting the boat shows. Let me tell you from experience advertising isn't cheap!
Don't get me wrong; some great nonprofits do get involved for different causes, but a show like the Winnipeg Boat show isn't one of them, most of the time, its big business. Lots of people make excellent livings organizing events like the international boat shows we see every year.
We get frequent requests from boat show managers and organizers asking us to join or set up the display of a marine product. Whether it's at the Winnipeg Convention Center, Assiniboia Downs or other venues, they are all trying to sell us floor space.
99.9% of the time, we decline for many of the reasons below.
Are Boat Shows High-Pressure Sales Environments?
If you have ever been to the Winnipeg Boat Show or another international boat show looking to purchase, you know it is usually a high-pressure sales environment. They always have the do it now or lose the "special pricing" sales mentality. It takes time to make a large purchase, whether it's as large as a boat, outboard motor or as small as a generator.
In all honesty, if the salesperson is saying that the price will be higher next week, they are blatantly lying to your face. The programs from manufacturers do change, but they usually change the middle or end of the month.
If you call them in a week or two after the boat show once you do your research, they will want your business and will honour the deal they made with you.
Simply put, you need time to process a large purchase. You can't do it properly under a high-pressure sales environment.
Do You Get Caught up in the Hype?
Human beings have been conditioned most of their lives to be susceptible to big sales or events.
We see stuff going on, big "boat show only" or "today only" sales, huge discounts, flashing lights, balloons and we turn off the logical side of our brain. Great marketing does this and triggers the emotional side of the brain. This isn't a bad thing, but when making a large purchase, you need to use both sides.
Specials like to purchase during this show and get entered in a chance to win $10,000 sometimes you can even win your boat show purchase. Just think how that works for a second…
It's forcing you to decide before you're ready if you want a "chance" to win. It's no secret the odds of winning aren't good and if you get a chance to win money by purchasing the wrong product, which is the real winner?
It's not uncommon that the displaying boat dealers even have to chip in for the special draws. Which I guess makes sense because someone somewhere has to pay for it, right?
How Does Trade-Show Overhead Affect Selling Prices?
We're not going to lie; this is the #1 reason why you shouldn't purchase at the boat show or other outdoor shows. The cost for any dealerships to attend is through the roof. With anything, the expenses need to be justified and recovered.
Thinking of the overhead costs each dealer has when attending these shows like the Winnipeg International Boat Show blows our socks off, and we're one of the larger dealerships around.
Think about it some dealers at the boat show have a tenth, eighth or even a quarter of the entire show. Take a look at the boat show exhibitor list and floor plans to get an idea of their sizes. Just by looking at the size of the displays, you can tell most are spending anywhere from $50,000 – $100,000 or more in added costs to attend.
Cost Breakdown
Rental of Space
As stated on several boat show websites that host boat shows in Canada and sell booth space. The space rental varies, but for simplicity's sake, let's use an average and say its $12 Per Square Foot to rent the space.

$12 per Square Foot doesn't seem too bad, but let's do the math. To even have a half-decent display, you need at least a 40 x 40 space.
40Sqr Ft x 40 Sqr Ft = 1600 Square Feet
1600 Square Feet x $12 Per Foot
That's $19,200 for a small display.
Let's say the average boat at the show needs 10 feet minimum by 20 feet (17 ft Boat Plus Motor & Tongue for a trailer) That means the average boat takes up 200 Square Feet. So $19,200 would get you enough room to showcase 6 or 7 Boats?
Keep in mind you need some walking space around them, desks, kiosks etc.
The question you need to ask is of those six boats their showing how much do they need to make per boat to cover the floor space expenses before adding other costs?
Hanging Of Overhead Signs & Banners
Big spaces usually have large signage hanging above. Installing the signage isn't free.
Electrical Hook-Ups
Electricity isn't cheap. A single 15amp outlet costs approx $130 to setup.
Rental of Tables, Chairs, Carpets
Let's face it; most companies don't have a warehouse or storage container full of furniture and displays to use at shows.
It's usually the most overlooked part of a show, but lots of companies make an excellent living off renting carpet, tables, chairs, lights, backdrops and give-away ballot drums.
Liability & Insurances
Being in business, you need to cover your butt when you're hauling hundreds of thousands of dollars' worth of boats or products. Even more accurate when your hauling boats through unpredictable Canadian weather. 
You also want to cover yourself from any damage that may occur to your boats when hundreds of unknown people are walking through them scratching and possibly damaging the marine products.
Travel & Delivery Expenses of Products
How are they paying to get the boats and equipment to the show? Anywhere in the city is 30-40 minutes one way. One boat is at least an hour's worth of gas, a driver not to mention the miles and wear and tear on a vehicle. This wouldn't even include the time to drop it off at your display space & setup for the show.
Can you imagine if you were 30 minutes or even an hour outside of the city? Heck, you see dealerships travelling from other Canadian provinces to attend with huge displays, which means lots of boats and huge expense.
Hotel Rentals for Staff
If you're lucky enough to have your staff located locally, it's not too bad if you are coming from outside the city you have Hotel Rentals, Food Allowance, Employee Overtime.
Cleaning Expense
Hauling the boats on dirty, salty roads requires getting them cleaned up. Once cleaned, you need to show them off to the world, and then you get hundreds of people walking through them looking. You need extra cleaning staff to keep things looking good.
Does the Boat Show Provide the Right Purchasing Options?
When making a large purchase, you need to understand all the options available to you. You have two main options available, which are purchasing with cash or doing boat loan financing.
Writing a cheque or paying cash is reasonably straight forward if you have the means. On the other hand, if you are financing, you need to understand your options. Shows like the Winnipeg Boat Show, the purchase experience is too quick and rushed.
When it comes to financing, you have lots of great options, including but not limited to manufacture promotional rates, insurance services, delay or deferred payments for up to a year. You can also qualify for better financial terms and rates. You even have some great options available if you have had some bad credit or have had slow payments in the past.
Slow things down a bit and take some time to talk to a finance professional. Find one that isn't rushed or pressured with salespeople that are continually pushing customers at them all day. There are lots of excellent insurance services and additional products available to you. This way, they will have time to go over everything thoroughly and explain what you are purchasing and what you aren't.
Is it cheaper to wait and compare?
You can figure out the average cost of a medium to the large dealer to attend a boat show above. You can roughly calculate their overhead by the number of boats they have on display. Dealerships averaging 10-12 boats on display means just to rent the floor space; it costs them around $40,000 to be at the boat show plus additional expenses listed above.
Being a dealership ourselves, we know that dealerships cannot incur such a substantial cost without having to pass it along to the customer at some point. Simply getting your best pricing at the show and going home and doing some research can save you thousands of dollars.
Remember, when purchasing a boat, you also qualify for some great financing options. 
Keep in mind any highly rated dealership will honour your boat show pricing up to a few weeks after the show. Don't be scared to ask them for a written quote and go home and think about it and make sure its the right boat & price for your budget.
Our Recommendations
Don't get us wrong we aren't saying you shouldn't attend great shows like the Mid-Canada Boat Show in Winnipeg. These shows are full of things you can't get online. Boat shows let families that want to look, touch, and feel as well as check out all the available colour options and discover boating before making one of the most significant purchases they can make aside from a house. 
We're also not saying that you shouldn't give businesses at the show a chance to earn your business.
Canadian boat shows let families and future boaters find the best boats for water sports, fishing, marine products and even learn about a different boat and yacht clubs in the area to join.
We are just saying don't get pressured into making the wrong decision thinking that the deal won't be there in a week or two when you had a chance to do your research and get a second quote.
If you feel you want to slow the process down a bit, even to get a second quote to make sure you're getting the right boat for the right price, give us a call and we will be happy to provide you with feedback, pricing, and recommendations. 
To learn more about Westshore Marine and all the great products, visit us online. We also have Instant Trade-In Appraisals, Easy Financing Options, and Live Interactive Chat.