How to Pick the Best Life Vests for Your Boat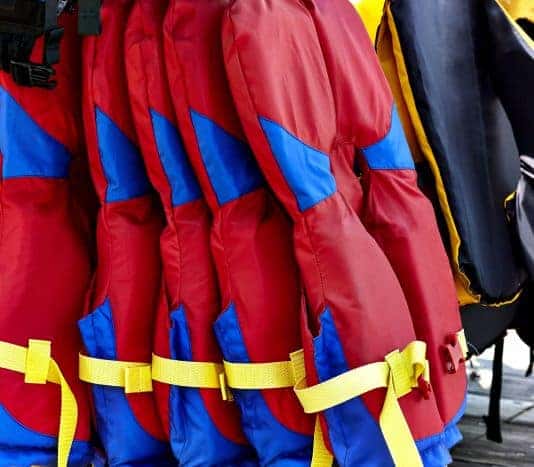 When you're out on the water and the motor's on, everyone needs a life vest. Make sure you pick the best one for your guest or at least have them available by shopping the choices in this post.
83% of the people who drown are not wearing a life jacket. Often, boaters feel they don't need to wear their personal floatation device because they are strong swimmers. Or because a PFD is on deck.
But when disaster strikes, it's too late to put on the life jacket. Think of a life jacket like a car's seatbelt. You need to wear it as a safety measure – not try to buckle up as you are crashing.
Read on for everything you need to know about buying a good life vest for your boat. We'll also give you our top 3 picks for the best life jacket for boating.
Look for Weight Capacity
Each life vest has a maximum weight capacity. A life jacket can only support you in an emergency if its weight capacity is right for your body.
Too light and the jacket will do a poor job of keeping your head above water. Too high a weight capacity and the fit will be off and cumbersome.
It's a good idea to have several sizes available on your boat for guests. Make sure to have some kid-sizes if you sometimes have children on board.
Pick a Bright Color
Color is very important in an emergency situation. If you are in the water and rescuers are trying to find you, make it as easy for them as possible.
Remember, you might not be conscious to flag them over. So a bold life jacket might be what rescuers use to locate you.
In an emergency, every second counts. Choose a bright color to give you every advantage of being rescued.
Types of Life Jackets
PFD fall into 1 of 5 categories. Choose the type you need based on what water activities you plan to do and the condition of the water.
Type I
These offshore PFDs are ideal for when you are far from shore or in rough waters. These tend to be bulkier to keep your face out of the water. Choose this type if you plan to go out far and it could be a long time before rescuers get to you.
Type II
This type of life vests is for calm waters close to shore. Perhaps a lake. They are less bulky yet still keep your face above water.
Type III
This type of PFD is a lightweight floatation aid. It will give wearers a boost in keeping themselves afloat but it does not automatically keep them face up.
This type of life vest is great for water sports because it allows for full body movement.
Type IV
This is a throwable floatation device that you can toss to someone who fell in the water. They are considered a backup device and do not replace a personal floatation device.
The coast guard requires one per boat over 16 feet.
Type V
These specialty life vests are for water sports such as waterskiing and windsurfing.
Coast-Guard Safety Approved
The US Coast Gaurd mandates that all boats have adult life jackets for each adult aboard. One for each child on the boat is also the law.
The life vest must meet certain criteria about minimum buoyancy and type. Make sure you check the requirements for your boat size and activity.
Care Instructions for Life Vests
Keep your life vests out of the sun when not in use. Vests should be stored in a cool, dry place. UV rays can negatively affect the fabric.
After your life jackets get wet, let them air dry. Never put it in a clothes dryer. Follow the instructions on the vest for cleaning instructions and avoid harsh cleaners.
If you need to throw away an old life vest, make sure to cut the straps so that someone else can't use it. If you're throwing it out, it's for a reason. Don't let someone have false security with your old vests.
Top 3 Picks
Now that you know the basics about choosing the right life jackets for your boat, here are our top 3 picks.
1. NRS Chinook Fishing PFD
If you have a fishing boat, this PFD can replace your fishing vest. The Chinook comes with the most pockets, coil tool retractor and a bunch of loops, D-rings, and tabs.
This vest is also comfortable to wear with a mesh back. It comes in bright red for high visibility which is a must.
2. ONYX MoveVent Dynamic Paddle Sports Life Vest
This ONYX PFD fits snugly and securely and is excellent for paddling. You can lock the vest in place so that it doesn't rise up to your neck mid-stroke. This makes you safer in the water and makes the device much more comfortable to wear.
If you want a superb kayak life jacket, this is it. Measure yourself so that you are sure to get the right size for your body.
3. MTI Adventurewear Solaris PFD Life Jacket
The MTI life vest is another great kayak life jacket.
It comes with great mesh and zippered pockets on the front and side. If you are short, this may not be the right style for you as the length could interfere with the back of the kayak.
Final thoughts
We hope you can now choose a life vest for your boat with confidence.
The best option is to try life jackets on before you buy. This will help you get a sense of how it will fit. The truth is you are more likely to wear a PFD if it is comfortable so stop into Westshore Marine and check out our huge selection of Life Vests / Personal Floatation Devices.
Check out our instock inventory for all your marine and leisure activities.