Popular Types of Trailers & How to Choose the Right One to Lighten Your Load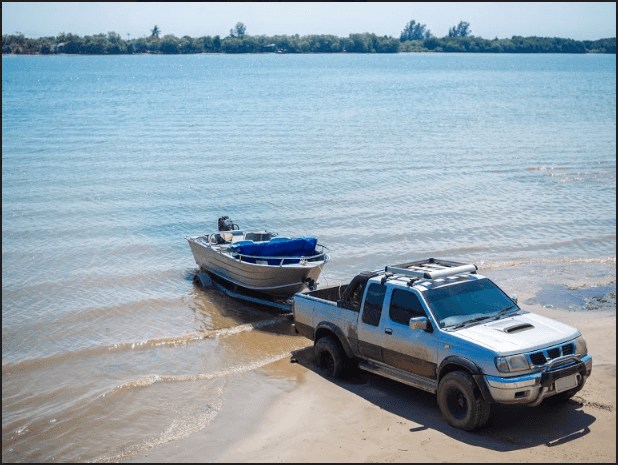 Imagine: the breeze is blowing and you're cruising across the water in your boat.
Or maybe it's a jet ski.
You need a trailer for your recreational vehicles, whether you're into fishing, boating, off-roading, or other Powersports like snowmobiling.
There are too many types of trailers to choose one on the fly. Read our handy guide to the best types of trailers for Powersports before you make a decision and make the right investment.
Cargo Trailers
Cargo trailers are simple trailers. These are used both for occasional hauling and frequent trips. If you own a business where you have a constant need to bring equipment with you, this type of trailer would work.
It's enclosed, and the large open door opens into a ramp for easy loading and unloading. There is also a second smaller door near the front, for easy access at the other end. Check your straps or find a smaller item without opening the big door at the end.
Recreational equipment has an easy fit inside a trailer like this, and they are very light because they're made from aluminum. Even if you've never driven with a trailer before, this isn't hard to learn (even backing up).
Car Hauler Trailers
Whether your family has been into racing for a long time or you're just getting into racing, one of the first things you'll need is a car hauler trailer. Otherwise, you can't race very many places.
Similar to cargo trailers discussed above, car hauler trailers are lightweight and have a door at the front for easy access. For stock car racing, derbies, or other races around the country, trailers hauling cars shouldn't weigh much.
Pay attention to the load limits, because chances are you'll probably overload it once or twice. You want something with box tubing so that the flexing and twisting while you're on the road don't cause too much wear and tear. This is an investment you'll own for years, so make sure you get a quality product.
Types of Trailers for Boats
When you go to the cottage and bring the boat, you need to have a way to get it there. A trailer for towing a boat should have a longer tongue compared to other trailers. This puts more of the weight on the trailer than the vehicle towing it.
Trailers with shorter tongues mean that at least 15% of the weight has to be on the hauling vehicle. This causes extra wear on the truck and the hitch. It's also a lot easier for your truck to steer the trailer when the tongue is longer.
Some trailers are float-on, meaning you have to back them into the water and submerge them before you can secure the boat. Use these types of trailers for larger boats that can't be pulled onto the trailer with a winch.
Another type of boat trailer is a roller trailer. The trailer base has several rollers lining the base, so the boat can roll up or down with ease. This type of trailer comes in all sizes for all types of marine vehicles, including jet skis.
A third popular type of trailer is a bunk trailer, which uses braces or boards to hold the keel. A tool or add-on for bunk trailers that make using this type of trailer easier is a keel roller.
Keel rollers are smaller than the rollers on a roller trailer, but they accomplish the same purpose. They allow the keel to roll up the trailer, while the braces on the bunk trailer support the sides. You can use other types of rollers in conjunction with these, like rib rollers, bow rollers, and spool rollers.
Motorcycle Trailers
While the cargo trailers mentioned at the beginning of this article can work well for hauling your motorcycle, there are much lighter and smaller trailers for the job. If you have only one bike to haul, a smaller trailer might be the exact option you've been looking for.
You can mount a motorcycle carrier on your back hitch. But if you have a lot of trips to take, this can really wreck the suspension on your hauling vehicle. Front-wheel tow brackets also offer a trailer alternative, but put a lot of wear on the back wheel.
Stand-up trailers have a deceiving name because while the trailers do stand up, they don't haul vertically. The trailers fold up, and you can store them standing up so that you don't lose valuable space. These are ideal for RVers and for people who travel a lot.
Single-rail trailers for motorcycles have very compact designs. They can haul at least one, and sometimes more, motorcycles if you have multiple bikes. In general, this type of trailer is cheaper than the stand-up ones, but they also fold up to help you preserve storage space.
Keep in mind with single-rail trailers, there is some assembly you have to do. If that might pose a problem for you, consider a different trailer.
Utility trailers or flatbed trailers come in small sizes for motorcycles, and those can fit as many as three across. These cheaper trailers can work if space is not an issue for you.
Make sure to consider all the options, from trailer alternatives to stand-up or single-rail trailers, before you buy.
You Can Take It With You
All these types of trailers are great for your marine vehicles or other powersport engines. For fun, all year round, make sure you choose the right trailer to haul your favorite bike, car, or boat.
Leisure is never as fun as when you can take your favorite toys along with you.
You can shop our trailers at Westshore Marine and Leisure. If you don't see what you like, contact us today to discuss your needs.