5 Things to Consider Before Buying a Used Skidoo Snowmobile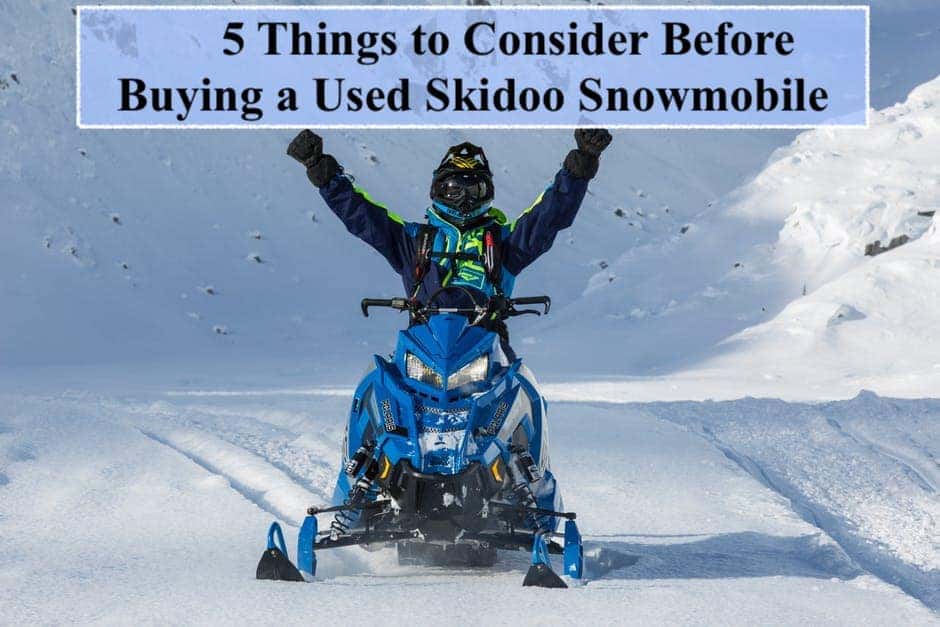 Things to Consider Before Buying a Used Skidoo Snowmobile
Imagine this, riding down a snow-covered trail, nothing but the sound of the wind and the snow blowing behind you.
Are you flying? No, better… you're riding a snowmobile down a beautiful sea of white, fluffy goodness.
What better brand of a snowmobile to use that the always-entrusted brand that is known as Skidoo?
Maybe you've always wanted a snowmobile, but they've always been just a bit outside of your preferred price range.
Buying a used Skidoo snowmobile may be a great way to get the brand that you want at a budget-friendly price. Here are a few things to consider as you're shopping around for the right fit.
1. What Do You Need It for?
Before you even start your online search for any potential used snowmobiles, you should be asking yourself this question: What do you need it for?
In other words… what will it use for a majority of the time? Shredding snow is an obvious answer, but look at it a bit deeper than that.
How many times are you planning to use it each year? Are you the type to find snowy mountains to shred even during your hometown's summertime? Or are you the type that will only bring it out 3-4 times throughout the season?
Your answer to this question will dictate what your search should entail.
If you only envision bringing it out 3-4 times a year, you'll want to spend a bit less on the used model that you get. In that case, getting one that's older makes sense.
However, if you plan to use it year-round, then you can justify paying a higher price on a much recent model. You'll want one that can keep up with the number of times you plan on using it during the year.
There are financing options out there to help you get the snowmobile you want and pay it off comfortably.
2. The Internet is Your Friend
As you're going through your search, you'll want to maximize your time by using one tool, in particular: the internet.
Use modern technology to your advantage and browse for those snowmobiles that fit your exact needs.
Once you've compiled information on your ideal price range, year, model, brand and features, you can comb through thousands of sales to find the right one.
Heck, even though you're looking for a used Ski-doo, you may find a new 2020 Yamaha model at your ideal price. Whatever you decide on, the internet will be a crucial piece to finding your eventual purchase.
3. Gauge the Seller/Owner
As with any other form of sale (such as car sale, insurance sales, etc.), you'll want to gauge whether the seller or owner is someone you can trust.
There will be sales out there that seem too good to be true. Most of them are too good to be true, but some of them are the real deal. It all depends on who you're working with.
As such, you'll want to schedule a meeting in-person to discuss things like their experience level, asking price, and upkeep on the sled you're interested in.
If they seem like the type to not keep up with proper maintenance (you'll know them when you see them), then you'll want to run for the hills.
4. Judge Each Snowmobile You're Interested In
No two snowmobiles are the same. Even if they're the same year, brand, model, and colour… they've both had different usage.
If you invest in a sled that looked pretty beat up before you purchased it, then you only have yourself to blame. Don't fall in love with a Ski-Doo brand sled so bad that you ignore obvious signs of neglect.
Before you even reach out to the seller, take a hard look at the pictures online.
Anyone can take a picture from the right angle to avoid showing things like dents, rust, and other signs of a beat-up sled. If the pictures still show those things, don't even bother reaching out. It's not an investment you want to make.
5. Exhaust Your Eye-Test Skills In-Person
Now that you've made a list, used the internet to find Ski-Doos in your price range, and have judged the pictures online, it's time to schedule an in-person meetup.
During the meetup, you should take it for a test run, if possible. However, if not possible, still have them start the engine to see how it idles.
After that, do a thorough eye test on the snowmobile's condition.
Look at things like the suspension (front and back), as well as its tunnel and rails.
Keep an eye out for cracks, dents, or bends in the machinery as you're walking around the sled. Watch out for any obvious signs of the sled wearing out, such as rust on the underside or dents.
Lastly, look at the belt and examine its quality. Does it need replacing, or is it looking relatively fresh? Ask the seller when the last time was that it was replaced.
Always check the compression on the engine, especially if its a two stroke skidoo.
Find the Used Skidoo Snowmobile of Your Dreams!
Now that you've seen a few things to consider during your used Skidoo snowmobile search, it's time to find the right fit.
Take your time to ensure you're investing in a sled that will perform for many seasons to come.
Be sure to read this article on snowmobiling in Manitoba. If you've never been before, this article will convince you why you need to schedule a trip right now!
For more inquiries, please reach out via our contact us page and we'll be delighted to assist you further!