5 of the Best Yamaha Generators on the Market Today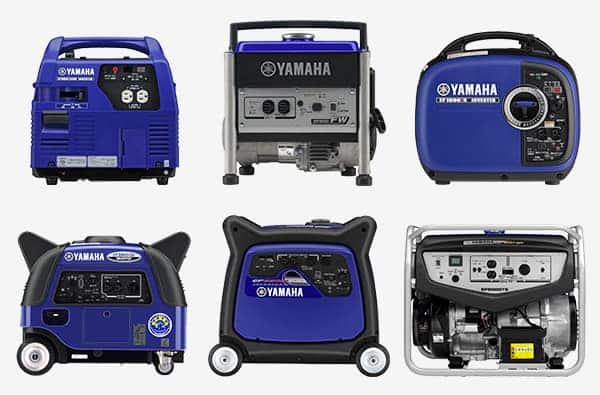 Are you looking to go camping soon and want to enjoy the great outdoors without sacrificing comfort? Bringing a generator along can help you power your heating system at night once the temperatures go frigid, or let you run a stereo system playing all your favourite tunes while you dance around the campfire.
Whatever your reasons, you'll want to best generator around. Not just any old generator will do.
That's where Yamaha generators come in. Their inverter generators are quieter, lighter, smaller, and more fuel-efficient than traditional models.
Yamaha offers a vast variety of generators to choose from, but it's their inverters that steal the show. Inverters today dominate the market and for good reason. They're simply superior in every way.
In this guide, we'll review the top Yamaha generators available and help you decide which would be perfect for your next camping trip!
Top 5 Yamaha Generators
There are a lot of generators out there to choose from, but Yamaha inverter generators are a step above the rest. One of their prized features is the Yamaha Quiet Technology they're built with, enabling quiet operation that won't disturb your peaceful evening.
There are tons of exciting fall and winter outside activities to do. Don't go camping unprepared. With a generator, you'll be able to keep your cellphones charged for emergencies and have light for your camp long after your campfire goes out.
Here are our top 5 choices for the best Yamaha generators around:
1. Yamaha EF1000iS
A generator that pumps out 1000 watts of clean power, this model can run up to 12 hours. It has a Smart Throttle Load feature. This means the generator can adjust engine speed based on its output, which translates to better fuel efficiency.
The Yamaha EF1000iS also has a dual coil alternator stator. This helps to lower engine speed and reduce total fuel consumption. At 27.6 pounds, it's ultra-portable and easy to carry.
This generator is also capable of recharging 12-volt batteries with its 12-volt DC output. If you have an RV, auto, or boat, this little generator can help out a ton.
2. Yamaha EF2000iSX
The Yamaha EF2000iSX is a 2000-watt generator with a 4-stroke, single-cylinder, air-cooled OHV engine. It can power most RV appliances with no problem.
This model features a visible fuel gauge and also an Oil Watch Warning System to alert you when oil is running low. It has Twin Tech capability to allow you to hook up two EF2000iSX unites for a combined 3600 watts. Using Twin Tech, you'd be able to power an RV air conditioner for several hours each day.
The EF2000iSX can run for 10.5 hours on a full tank of gas.
3. Yamaha EF3000iS
This model generates 3000 watts and weighs a fair bit at 136 pounds. It's ideal for running big appliances in your RV camper for long periods of time.
The EF3000iS has Smart Throttle technology, enabling greater fuel efficiency and noise reduction. It also features Built-In Wheels, Noise Block, and an Oil Watch Warning System.
This generator can run up to 19 hours on a full tank of gas. It's able to recharge 12-volt batteries for RVs, autos, boats, and more.
4. Yamaha EF7200D
This model is a 7200-watt generator. It has a manual start and also a recoil starter with an auto decompression make to make the pull start easier.
The EF7200D has wheels and a fold-down/locking handles. Fully charged, this model will run for 8 hours. Its hour meter and volt meter is a digital display. This generator also has a 120/240 dual voltage.
5. Yamaha EF2200iS
The EF2200iS is a 2200-watt generator with a powerful Yamaha MZ80 engine. It's lighter than other models, weighing in at a mere 55 lbs. Its tri-handle design makes it easier than ever to transport from one place to another.
One unique feature about the EF2200iS is that it has the capability to connect with two additional EF200iS units thanks to its Twin Tech function.
This particular model is best paired with an RV camper. It comes standard with an RV outlet as its standard plug, meaning you don't need an adapter. With a full tank of gas, the EF200iS will run for 10.5 hours.
Why Get a Generator
A generator is an invaluable resource to have wherever you are.
Even if you're sitting at home, a generator can prove to be a lifesaver. If the power goes out, you'll have a back-up alternative to provide you electricity for essential tasks like cooking. You'll also be able to keep your cellphone charged so you can keep in touch with family or call for help.
In the case of a disaster, you'll have the generator as a back-up to help you survive. You'll still be able to power a heater so you don't freeze at night. Many doomsday preppers favour buying a quiet, portable generator to help ensure their survival should a catastrophic event occur.
If you're camping, a generator will let you decorate your campsite with festive outdoor lights. If it's in the middle of summer and the heat is sweltering inside the tent, you can run a portable AC unit with the help of a generator. Or maybe the temperatures are frigid at night and you need a portable heater in your tent or RV to keep you toasty.
Great Camping Starts With a Generator
Generators are important in your day to day life. Whether you're home, camping, boating, or at a construction site, a generator can prove useful in every situation.
Yamaha generators lead the way in terms of quality, portability, and variety. No matter what you need a generator for, you'll find the specific model to suit your unique needs with a Yamaha generator.
If you're in the market for a generator and live near the Arborg, Manitoba area, contact us today at Westshore Marine & Leisure. We're a family-owned and operated business on the north side of Winnipeg. We boast the largest selection around of ATVs, boats, and snowmobiles and guarantee we can help you find what you're looking for.