Best Pontoon Boats for Families & Tips for Choosing the Right One for You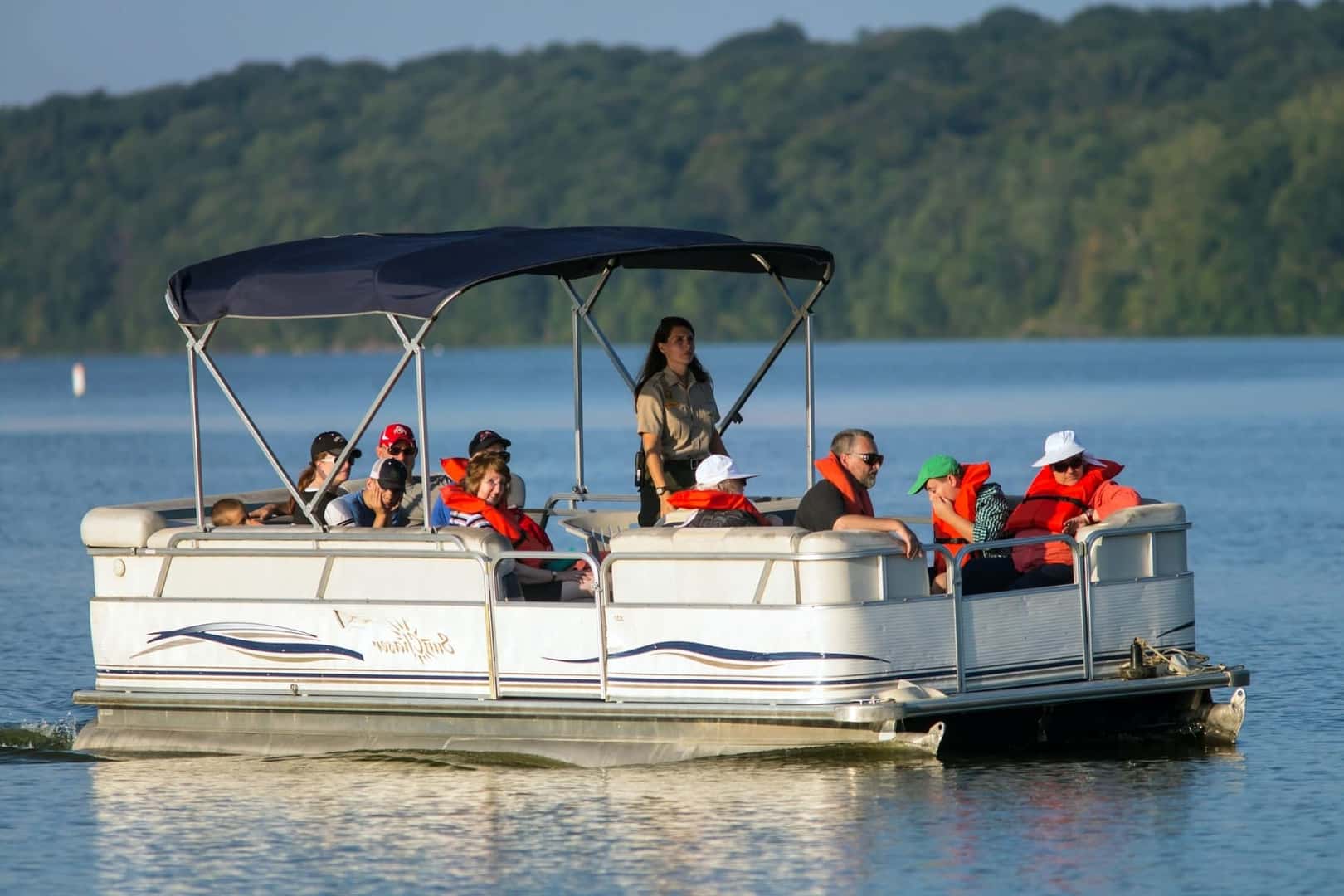 The Best Pontoon Boats for Families in 2020 & Tips for Choosing the Right One for You
Looking to spend some relaxing days on the water with the family? If so, you should consider buying a pontoon boat. Pontoons boats are ideally-suited for on-the-water hangouts, providing ample seating room and amenities.
Need help finding a pontoon boat? Looking for the best pontoon boats for families in 2020? This article has you covered.
Things to Consider When Choosing a Pontoon
There are a few different things to consider when choosing a pontoon. By making these considerations carefully, you're sure to find a pontoon that aligns with your needs. When perusing pontoons, you should give thought to:
Engine Power
One of the most important aspects of a pontoon is the power of its engine. Whereas some pontoons are meant to slowly cascade through the water at a walking speed, other pontoons are designed to move at speeds of up to 50 miles per hour and more.
If you're just going to use your pontoon for lounging, a small engine (under 70 horsepower) will do. If you're going to use it for tubing and waterskiing, you'll need to go with something bigger (90 horsepower and more).
Size
Next, you should think about the pontoon's size. Not only should the boat be big enough to hold your family members but a few of your friends as well. After all, you're going to want to have some bigger get-togethers every once in a while.
Pontoons can fit anywhere from 6 to 15 people and sometimes even more. While you should obviously remain within your budget, when it comes to size, you're advised to err to the side of "more" as opposed to "less".
Special Features
Pontoon boats can come with a wide variety of special features. Whereas some consist of just seats and a steering wheel, others contain fishing accessories, diving docks, sun shields, and more.
Obviously, you can do without these features. However, they could very well come in handy somewhere down the line.
The Best Pontoon Boats for Families in 2020
Now that we've discussed some of the features you should consider in a pontoon boat, we're going to review some of the best family pontoon boats on the market in 2020. Let's go!
Bennington 21 SLX Cruise
We'll start our list with the Bennington 21 SL Cruise. This boat measures in at 21 feet in length and is equipped with an aluminum hull. It comfortably sits up to 10 people.
In terms of power, this boat is above-average. It is usually stocked with a Yamaha 4-stroke engine and is capable of travelling at up to 27 miles per hour. This makes it sufficient for tubing.
Available at an affordable price, it provides plenty of bang for its buck. So, if you're looking for something on a budget, this might be a great option for you.
Bennington 22 Swingback SSBXP Boat
A bit bigger than the SL Cruise, the Swingback SSBXP measures in at 23 feet and can seat up to 12 people at a time. Available at a mid-range price, it's a terrific bargain buy.
You can equip up to a 200HP Engine and is capable of producing incredible power. As such, it's useful for tubing and can handle waterskiing as well.
Truth be told, this is more of a lounging boat. In fact, it even sports a chaise lounge, providing passengers with the perfect spot on which to lay back and sunbathe. If you're looking to take your entire extended family out onto the water, the Swingback SSBXP could be just what you need.
Tahoe Pontoons 2585 Grand Tahoe QL
Up next is the Tahoe Pontoons 2585 Grand Tahoe QL, a boat that's equal parts luxurious and powerful. Sporting a circular, inner-facing row of seating, it facilitates congregation and conversation.
This boat can move at speeds of up to 46 miles per hour, making it appropriate for both tubing and waterskiing. Equipped with a large back deck, it's the perfect boat from which to dive and cannonball.
Functionally speaking, there are few downsides to this boat. Note, however, that it's exceedingly expensive. In fact, it doubles the price of the Bennington boats reviewed above.
Lowe SS 250 WS
Looking for something big? If so, you might consider the Lowe SS 250 WS. Measuring in at 25 feet in length, it's one of the biggest pontoons on the market today.
So, as you might expect, it provides tons of seating room. Equipped with circular, inner-facing seating on both its back and its front, it can accommodate up to 13 passengers at once.
But the 250 WS doesn't stop at its gargantuan size. It offers a great deal of power as well, moving at speeds of up to 51 miles per house. At this speed, it can facilitate both tubing and waterskiing.
The best thing about the 250 WS? It's relatively cheap, available for a fraction of the price of the Grand Tahoe QL reviewed above.
Bennington 23 S Radius
We'll end our list with the Bennington 23 S Radius. Like the 250 WS reviewed above, this boat possesses seismic length, measuring in at 23 feet. As such, it can seat up to 13 people at once.
The seats on this boat are inward-facing, allowing all passengers to look at each other as they speak. Equipped with a bimini top, it staves off UV rays at all points of the day.
This pontoon's got some get-up-and-go, with most people equipping it with a 150 horsepower. As such, it has no problem facilitating both tubing and waterskiing.
All in all, this is a terrific family pontoon. It's comfortable, it allows for a large occupancy, it facilitates conversation, and it accommodates a range of activities.
Peruse Our Selection of Pontoon Boats Now!
Interested in buying a pontoon boat for the family? Looking for pontoon boats in the Arborg area? Westshore Marine & Leisure has you covered.
We sell a wide variety of pontoon boats and are sure to have one that meets your needs. Regardless of your preferences, we can accommodate you.
Browse our selection of new boats now!