Quad Racing: Top Safety Tips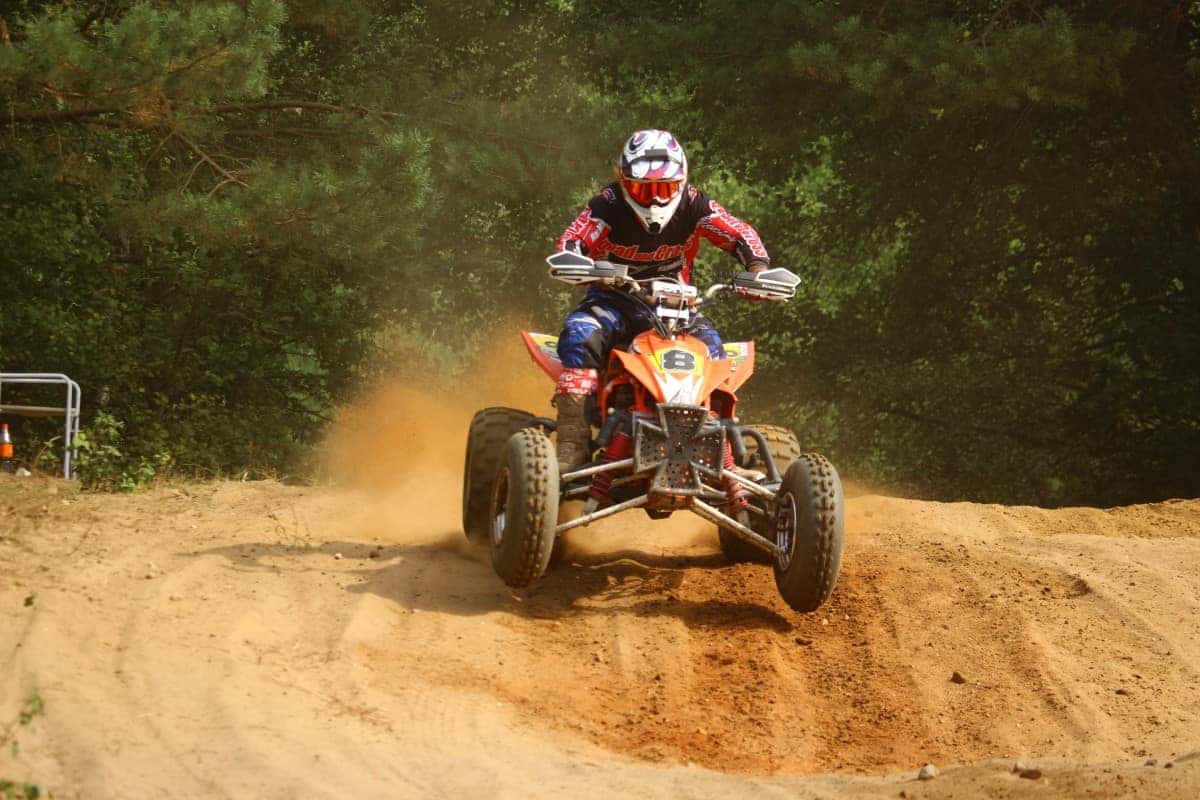 Are you looking for an out-of-the-box, thrill-inducing way to entertain your entire family?
Instead of spending yet another Saturday night at your local movie theatre, why not give quad racing a try?
Your kids will love the fact that they can operate their own vehicles, and the thrill-seekers in your family won't be able to get enough of all the excitement.
In addition to being tons of fun, quad racing is an awesome way to explore new destinations. Plus, racing will help you to spend more time outdoors and less time in front of screens.
However, especially if you're racing with the younger members of your family, safety is the most important thing to consider.
In this post, we'll tell you everything you need to know about how to stay safe while quad racing with riders of any age and experience level.
What Is Quad Racing?
Before we start in on our list of the top quad racing safety tips, let's first make sure you have more of an idea of what this awesome sport is all about!
Quads, also known as ATVs (AKA "All-Terrain Vehicles") are open-air vehicles that are straddled like a bike or a motorcycle. In lieu of a steering wheel, most quads have handlebars that allow you to guide the vehicle and are designed to be ridden by one passenger at a time.
The best part about quads?
You can ride them anywhere, in almost any weather condition.
Their low-pressure tires are designed to handle mud, wind, rain, rocky terrain, sand, and much more.
These challenging conditions, and a quad's ability to handle tough inclines and downhill slopes, are what makes quad racing such a fun sport to both participate in and watch.
However, these conditions are also what adds a certain element of risk to racing. Luckily, studies have shown that the great majority of these risks are entirely preventable if the proper precautions are taken.
Read on to learn how to stay safe on any course.
1. Ride When You're Feeling Your Best
We know that it can be incredibly tempting to go quad racing even if you're feeling a little under the weather or tired from a wild night out.
However, riding when you're not at your best and most alert greatly increases the risk of an accident. Remember, if you ride when you're sick, hungover, or just exhausted, you're not only putting yourself at risk. You're jeopardizing the safety of everyone else out on the course as well.
Try to limit your riding time to four hours every day, and take frequent breaks to ensure you stay alert. If you're going out on longer treks, be sure to drink plenty of fluids and take the time to chow down on a bag lunch.
It might seem like a simple rule, but you'd be surprised at just how many people overlook the basics.
2. Ride At Your Level
When you're out quad racing with your buddies — or that special someone — we know that it can be tempting to give the tricks you've seen on television a try.
But doing high jumps that are outside of your ability level is incredibly reckless — and it also sets a bad example for the other, younger family members you may be riding with.
It's not just about your ability level as a rider.
Certain types of quads may not actually be able to handle the kind of trick you're trying to pull off. This can result in serious, and yes, sometimes fatal, injury.
For best results, if you want to learn how to do complicated tricks, do so in the classroom and with the supervision and advice of a professional wearing proper ATV gear.
3. Always Put On A Helmet
This is quad racing safety 101 — and unfortunately, it's a safety tip that's ignored far too often.
No matter your age, your experience level, or even the difficulty of the course, you need to be wearing a helmet at all times. In some cases, you may not even be allowed to ride on the course or rent an ATV without also renting a helmet.
A full-face helmet is best, especially because it's easy for your vehicle to kick up rocks, dirt, and sand as you ride.
Trust us when we tell you that, when you're sitting in the hospital, facing months of recovery time and thousands of dollars in medical bills, you'll wish that you'd been wearing a helmet.
It's just not worth the risk.
In addition to strapping on a helmet, you should also invest in gloves, thick jackets, and the proper riding boots.
4. Inspect Your Quad
Another important quad racing safety tip?
Always make sure that you give your vehicle a quick visual inspection before a race or ride.
In addition to ensuring that your vehicle is in the proper shape to ride as fast and smoothly as possible, this will also help you to identify any potential risks to your safety.
Take a look at your tires. Are they getting worn down? Is something caught in the rims? Are there punctures anywhere, and are they clean?
What about the engine and the cables? Is everything connected as it should be? Have things been properly lubricated? Are your brakes working? If you're riding at night or in the early evening, are your headlights functioning?
Doing a quick check before you head out will help to keep you and everyone else riding the course safe from harm.
5. Follow The Trail
First of all, it's important to stick to the designated path when you're quad racing because of the race rules and regulations.
Trust us when we tell you that it's not as much fun to win a race because you took illegal shortcuts or went off-roading.
However, sticking to the trail is a safety precaution, as well.
The last thing you want to have happen is a collision with an unexpected tree when you're going over 60 miles per hour. You also don't want to end up in a ditch — which would seriously mess up your race time.
Additionally, staying on the trails will help to prevent you from having to pay costly repair and maintenance fees due to a damaged vehicle.
6. Communicate With Other Drivers
Whether you're going quad racing professionally or just for fun, communicating with the others out on the road is incredibly important.
Let riders know if you need help, if you've spotted a dangerous area up ahead, or if there's an obstruction in the road.
In some races, you might even be given walkie-talkies to facilitate better communication between drivers. If not, meet with your group beforehand and agree on hand signals and signs you can use to signal for help and danger.
Above all, always let someone in your family or friend group know that you're going racing.
7. Follow The Rules
Last but not least, when you're going quad racing, it's imperative that you follow the rules of the course.
This means that you'll need to ask lots of questions before you enter a race or try out the course for fun.
If you sign any waivers and release forms, be sure to read the fine print first. Make sure you know the maximum amount of time you'll be allowed to race, in addition to the minimum age requirement of those driving and riding.
Ask the company you're racing with if the type of ATV you plan to ride is allowed on the course. Get familiar with the trickiest areas of the course not only to improve your racing time but also to know when to stay extra alert.
Of course, you should always refrain from drinking any alcohol or taking any prescription medication that impacts your focus and energy levels the day of the race.
Remember, following the rules is about setting a good example for others as much as it's about keeping yourself safe.
Ready To Put These Quad Racing Tips Into Action?
We hope this post has helped you to understand that you can have fun and stay safe at the same time when you're out quad racing.
Above all, the most important thing you can bring with you to the racing course is your common sense.
Always wear your helmet, stay alert, and respect the rules of the course.
If you're a frequent racer, then you've likely already considered purchasing your own ATV. Or perhaps you're thinking of giving an ATV as a present to the special someone in your life.
No matter the reason or the occasion, we want to help you find the quad of your dreams.
Spend some time on our website to browse through the models we offer and learn more about our financing options.
We can't wait to see you out on the course in your new quad.