Mistakes ATV Beginners Make and the Top Tips to Riding Better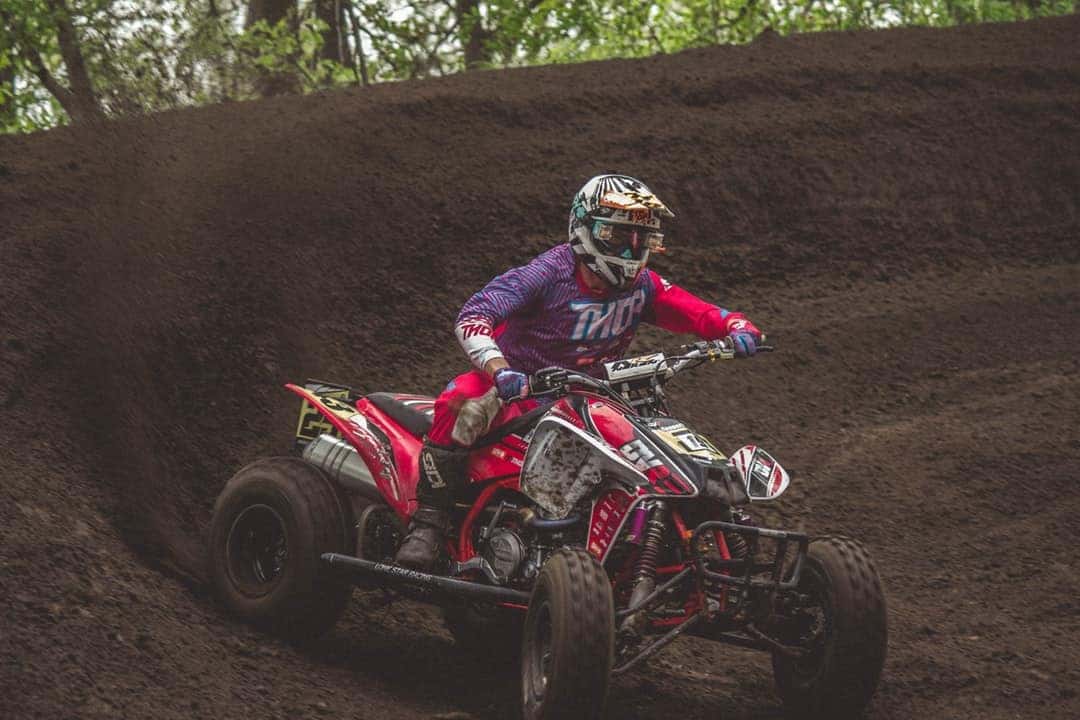 Driving an ATV is a unique experience and has a lot of adrenaline which entails, of course, to do it with a lot of responsibility.
Who has not resisted the desire to drive one of these vehicles? Especially in the summertime where many of the beaches are ideal places to do it.
There are different uses of ATVs; recreational, sports, utilitarian, even military or police.
So here are some tips to know better how to drive an ATV properly and safely to avoid accidents that can be serious.
But First things first. Let's read a little bit about the basics.
What is an ATV?
A four-wheeler or ATV (for its acronym in English of All-Terrain Vehicle) is a recreational vehicle used to drive on different types of terrain.
There are several styles and sizes to choose from, in one and two-seat versions.
A key feature, however, when choosing them, is the type of transmission: manual or automatic.
The manual transmission of a four-wheel-drive works much like a truck or car. The ATV will have a foot-operated gear change lever on your left side, with the brakes and accelerator in the handlebars.
Many new ATV's have left and right signal indicators, brake lights, headlights, and a horn. If you plan to ride your ATV on a public road (even if you are only crossing one), it must be registered and roadworthy. You should plan to take out suitable insurance to cover road usage also.
Why Do You Need to Know How to Drive an ATV?
By having four wheels, the quads offer a false sense of security that, in the case of inexperienced drivers, can have serious consequences.
For once, we have to take for granted the statement, so many times coined by the Traffic Department, according to which the driver is guilty of a high percentage of traffic accidents.
Of course, with a significant qualification, as long as the vehicle is a quad.
Professionals and experts agree that "driving a quad is easy, but mastering, it is difficult."
That is a reality that, together with the false sense of security that these four-wheel bikes throw, overshadows the image of a vehicle that has become one of the most "feared" by experts in road safety.
The recklessness that surrounds the world of quads has its first reflection in the legislative field.
In general, the only requirement to pilot a vehicle of these characteristics is to be in possession of a driving license type "B," which certifies the training to drive a car.
That is to say, to manipulate them, it is enough to be the holder of a Driving License for mopeds, which is achieved without even going through a practical test.
But, and although its behaviour and way of driving are similar to an off-road vehicle, a quad is not a car.
And, although by their aspect, the absence of bodywork, the position of the driver and the handlebar, these vehicles can be similar to a motorcycle, neither are they.
The usual thing is that on asphalt roads they cannot overcome 45 km / h.
What Are The Mistakes That Beginners Make in the Driving of a Four – Wheeler?
Exceeding the limit is not usually a determining factor in claims, but inadequate speed.
The ATVs, despite riding on four wheels, have a high gravity angle, so at an undue speed, they tend to overturn if the driver lacks the expertise to annul the centrifugal force.
And it is precisely the lateral and front to lateral falls in the action of turning – when the rear wheel tends to raise – the most common causes of the injuries resulting from a quad accident.
To avoid this, experts know that you have to mark the turn with the handlebar and tilt the body to the same side.
The Basics: Know How To Drive A Four Wheeler
"Leaving a quad to a person who has never taken it is, at least, reckless."
Therefore, from the media, experts and fans ask the new drivers to go through a training course before starting to pilot.
Exactly the same thing those who, from different perspectives, have had to face a quad accident.
"The lack of expertise of the drivers is fatal," said a police inspector in charge of the investigation of the latest quad accident, which claimed the lives of two kids aged 18 and 19 a time ago in Madrid.
However, in the case of four-wheel bikes, once again the Administration seems not to hear the voices of those who know and see in environmental aggression, the most severe problem arising from quads.
At least, for a couple of years, the law contemplates the obligation to use the helmet and prohibits the transfer of occupants unless the quad is approved for it.
And it is that those who know say that "piloting the quad without a companion improves a quick reaction to an unforeseen event."
A Beginners Guide of How to Drive An ATV
Check the optimal conditions of the vehicle, such as tire pressure, brakes, accelerator, oil level, and fuel. You do not want to be stranded in our journey.
Always wear a helmet because in an event of a rollover it will give us greater protection. Make a reconnaissance of the terrain to be covered, on a beach; there may be many people, including children, for which more safety methods must be taken.
Do not drive on the road; it is very dangerous because larger vehicles circulate over it and the tires have been designed to drive on sand and dirt, so the pavement must be avoided.
On ascents or descents, drive linearly to the slope, not on the side because there is a higher probability of a rollover.
If you are travelling in a 45° position, move your body to the opposite side to maintain balance and avoid a rollover. At the time of climbing a steep slope, stand on the stirrups and pull your body forward to relieve weight on the rear axle, to lower do the opposite, put all your weight on the rear axle, if you need to reduce the speed, use the rear and front brake cautiously (press and release several times).
In case of buried tires, move the ATV from one side to the other with the body until it is released.
Step by Step Tips to Ensure Correct ATV Driving
Read our 14 steps on to ensure that when you drive your ATV, you have completed all the necessary checks for maximum safety.
Place the ignition key in the accessory position. Do not start the engine.
Check that the front and rear brakes are working.
Check all lights, horns and any other accessories are working.
Put the gearbox in neutral. This should appear with a green light.
Turn on the engine and allow some time to warm up.
Put the bike in first gear, release the brake and press the accelerator.
Drive away slowly and check that the brakes are working again on the move.
When you are finished riding, park in a suitable place.
Put the quad in neutral and engage the parking brake.
Switch the ignition off.
These steps would be suitable to follow for a quad bike too. Read below to find out the difference between a quad bike and an ATV.
What are the Differences Between A Quad and an ATV?
You have read these different terms and have always had the doubt if they are the same.
The Quad is a sports vehicle with a stylized, fast appearance and is intended to circulate on tracks and circuits.
Initially, ATVs were used to help with daily work, to spend a few years later becoming vehicles for leisure and competition.
Today, ATVs are improved versions with higher performance, greater stability, used for rescue, adventure, fun and towing.
Although Quads and ATVs had a common origin, over time, they have taken somewhat different paths.
Quads: They are intended to travel on tracks and circuits. Most of the quads have a rear-wheel drive with the manual and rigid rear axle and are quite unstable when driving.
ATV: Due to its size and characteristics these vehicles can reach almost anywhere, they drive with all 4 wheels, supported by an automatic box.
In order to drive an ATV correctly, you must know how to drive and control it; otherwise, it is very dangerous due to instability.
Quad vs. ATV
The quads have always had a bad reputation since everyone says it is very dangerous because they tip over very easily entrapping the rider.
We would dare to say that it is safer than the motorcycle, although there are exceptions.
This is because what is sought is extremely fun, but there are isolated cases of horrible accidents due to reckless driving and improper safety equipment.
To get loose and perform some maneuvers,  drive very slowly at a reduced speed.
Then, depending on how you practice, you can gradually increase the speed.
When we see people performing these acrobatics, we usually get the feeling that it is very simple, but they have been riding and completing many hours of practice.
Above all, you will need calmness, safety equipment and to know the reactions of the vehicle by the different types of terrain, just as each vehicle has different weights and sizes.
Generalities to Perform Acrobatics With Quads and ATVs
The first thing is to know our quad, as in any car you have to know and adapt to the controls that are on the vehicle, as well as know the maximum rider weight and measurements.
The easiest thing is to go to an open area, either field or asphalt because the reactions are different, and begin to go around with it, turns, accelerations, braking, and as we said before, starting at reduced speed and go increasing it little by little to know the reactions.
At the time of reaching the slopes you have to pay special attention, look first and decide where you are going to ascend or descend. Take them as perpendicular as possible depending on the circumstances such as possible branches or especially rolled rocks.
In the climbs you will throw your weight forward, loading it on the handlebar. In the descents you will sit as far back as possible, placing the weight in the back of the vehicle. You must be clear that at no time should you lower the feet of the footpegs.
Tips
Drive at low speed at the beginning, to learn how to change the gears smoothly, and do it on a plain and smooth ground for beginners. Do not forget that the use of the helmet and other protective gear is mandatory. You do not want a brain injury.
Leave the juggling for professionals or practice it in a private area (circuit or farm) so that people who share the same environment as you do not run unnecessary risks.
Place the safety brake when ascending and descending the vehicle to avoid any accidental movement and control your speed.
If you are setting out in a rural area to ride your ATV, take someone with you. After all, there's safety in numbers!
Let's Get Riding!
Driving an ATV is a really fun experience for beginners and safe when you follow the correct protocols.
Now you know how to drive an ATV, and all the beginner tips, why not buy your first ATV from us.
Get in touch today to find the perfect ATV for you.