Is Your Boat Water-Ready? The Marine Maintenance and Tune-Up Guide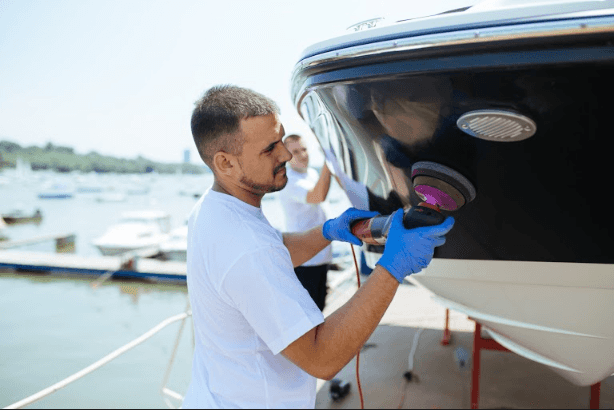 Spring is here, which means it's time to get ready for boating season. Are you ready to join the nearly 12 million recreational boats on the water this year?
Whether you like water sports, fishing, or just want to cruise out on the open waters, there are some things you need to take care of first before heading out. 
We're going to be talking all things marine maintenance and what it takes to make sure that your boat is water-ready. 
Let's jump right in.
The Importance of Marine Maintenance
Just like your car, your boat needs regular maintenance and tune-ups to ensure that it's operating at its highest capacity. 
If you skip this important step, you could find yourself in some rough waters. 
Engine failure could mean being stranded far from help and electrical failure could increase the risk of electrocution. Mechanical failure could result in loss of control leading to accidents and injuries. 
Keeping your boat well-maintained is critical to the longevity of your vessel; skipping out can cause a lot of issues for you in the future. 
What kind of maintenance should you be doing regularly before heading out on the water? Here are five tune-up recommendations to get you ready to go!
Check Your Motor Components
Motors are a fine-tuned and complex system that requires a lot of attention to keep running properly. 
Before you're water-ready, ask yourself these important questions:
Do your spark plugs need replacing?

How are your connections and wires? Are they showing wear?

Does your gear lube need to be changed or refilled?

How does your prop look? Is there damage to the fins?

Are there any leaks, cracks, or damage to your fluid lines?
Ensuring that these components are in proper running order will give you the best results on the water. If any of these parts are showing wear, damage, or are missing, take care of it immediately. 
Get an Oil Change
Most manufacturers recommend changing your car's oil every 3000-5000 miles. Changing the oil in your boat should be happening way more often than your car. 
It's best to change the oil in your boat's motor every 50 to 100 hours of use. Not only does this prevent sludge from developing in your motor, but it also prevents excess dirty oil from entering the waters you're boating on.
You can do this yourself if you are mechanically inclined. You can usually find instructions for this in your boat's owner manual. 
If not, you can usually always find a local boat mechanic who can change the oil for you.
If you don't need an oil change, just make sure that you are topped off before you go. Oil is critical to proper engine function. Running with little or poor oil can cause fatalistic engine damage.  
Fix Any Cracks
Knicks, scratches, and cracks happen. Especially if you are boating or docking in areas with shallow waters and lots of rocks. 
Before going out on the water, you need to make sure that you repair any of this damage. 
Leaving cracks and knicks unattended can lead to leaking, and that's not something you want to deal with in the middle of the ocean or lake!
You can either take your boat to a professional to have them make the repairs, or you can attempt to do them at home with liquid fiberglass. 
However, we always recommend having a professional service your boat to ensure safety and proper execution.
Wash Your Boat
While this doesn't seem like a very big deal, this is one of the most important things you should get done before going out. 
Taking some extra time to wash and wax your boat makes a big difference.
The reason has to do with introducing invasive species to the water. 
If you go boating in different places, especially different types of waters in different parts of the country, you could bring in plant life and algae that is damaging to that area. 
When washing your boat, make sure that you using a marine-safe soap that won't affect any of the wildlife in the area you will be boating. Non-toxic and natural soaps are best. 
This is also important in keeping your boat looking its best. If you've been boating in saltwater, leaving that residue could corrode the paint and gel coat of your boat over time, as well as rust the metals on your boat. 
After you've boated in some saltwater, thoroughly wash your boat with fresh water.
Extra Steps for Sailboats
If you're operating a sailboat, there are some extra steps you need to take to ensure you're ready to safely go out on the waters. 
First, some preemptive measures: make sure you're keeping your sails out of the sun when storing your boat. This ensures that your sails remain looking beautiful and strong. 
You also need to make sure you are keeping your sails clean in order for them to work properly and look their best. 
And finally, you're going to want to have a professional inspect your mast and riggings every so often. A broken mast can mean being left stranded, injured, or worse. 
Check all your fittings, chainplates, turnbuckles, the quality of your ropes, and the wear on your pulleys. Look out for cracks in the mast or areas of weakness. Make sure all the welds and rivets are holding well.
Address these issues immediately before heading out on the water. This will keep your boat lasting as long as possible and functioning it's best, safely.
You're Boat Is Water-Ready!
Once you've gone through these important marine maintenance steps, you are ready to get out on the water and have a great time!  
There's nothing quite like being out on the lake or fishing down the river. Making sure that your boat is well taken care of means more time doing the things you love and less time worrying about the state of your vessel. 
Not only does taking care of your boat increase your enjoyment it also allows you to sell your boat for more money with proper maintenance records
Looking for more boat maintenance tips? Check out this article about how to summerize your boat. 
We'll see you on the water!