Jet Ski Maintenance: Tips for Keeping Your Personal Watercraft Running Smoothly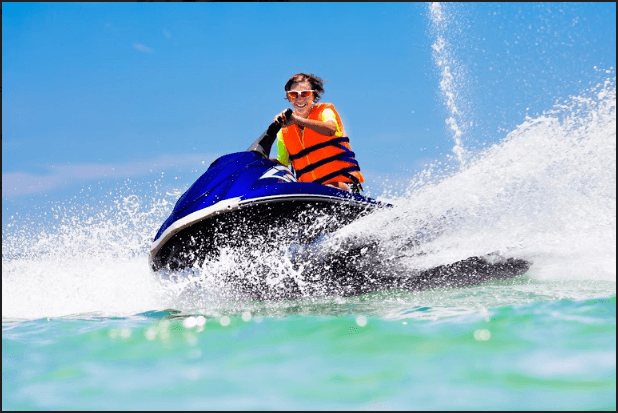 Spending time outside has been proven to reduce stress, inflammation, and cases of depression. While there are many ways you can spend time outdoors, being near or on the water is a preferred pastime for many people.
With more than 50 percent of Canadians taking beach vacations annually, it's clear that time near and on the water is appealing.
If you are looking for a bit more excitement for this year's beach vacation, why not purchase a jet ski? This lets you spend time outdoors, on the water, and add a bit of exhilaration to your life.
Just remember, a bit part of owning this type of machine is maintenance and repairs. Keep reading to learn about some essential jet ski maintenance found here.
Maintain the Engine Fluids
If you have an older model jet ski with a 2-stroke engine, then you are going to have to use premixed fuel and oil. The newer jet skis have a 4-stroke engine that doesn't require this type of mixed solution. Instead, they have separate oil and fuel compartments.
When you get ready to use the jet ski for the first time of the season, be sure you evaluate the fuel properly. If you stored it with fuel in the engine but didn't use a fuel stabilizer, then make sure you and a fuel stabilizer and cleaner before it's started up.
Flush the Engine
It doesn't matter if you are riding in fresh or salt water, you need to flush your PWC's (personal water craft's) engine every time you ride. When you flush it, you remove sand, salt, shells, weeds, algae and more from the engine. By doing this, you can prevent corrosion and damage.
The more modern jet skis are typically fitted with a hose connector to make interior cleaning much easier. All you have to do is attach a host to the connector before starting the engine. After it's turned on, let the hose run for a few minutes.
Let the PWC run for a bit before turning off the hose, then twist the throttle to drain all of the water out of the exhaust. Remember, the engine needs to continue running while water is added to the interior.
Keep the Exterior Clean
To ensure your jet ski lasts, you need to keep the exterior washed and waxed. While cleaning it should be obvious, the wax will help to prevent damage from harmful UV rays that may cause damage or fade the exterior colors of your jet ski.
When you aren't using it, you should think about storing it in a storage unit or using a cover. Similar to your skin, the more barriers you are able to put between the jet ski and the sun, the better.
Check for Any Damaged or Loose Parts
Before you go out on the water with your PWC, you need to look at all the trim, throttle cables, and wires. See if there are any damaged or loose parts.
If so, they need to be replaced before you go out on the water. It's crucial that you don't start the engine if you can smell fuel. This may be the sign of a loose cable, damaged fuel tank or a leak.
Keep in mind, if there is a part that needs to be replaced, you can always choose pre-owned. These are typically more affordable and just as effective as the new parts available for sale.
Check the Battery
Don't forget about the other power source for your craft – the battery. Keeping it fully charged in between rides is the best way to extend its life.
The fact is, when your battery is properly charged, it can resist the formation of sulfate crystals on the plates. This is going to reduce the battery's ability to maintain a charge.
It may be a good idea to invest in a maintenance charger. With this, your battery will have the longest life possible and you can feel confident the jet ski will be ready to go when you are.
Another helpful tip is to protect the terminals of the battery with a light coat of dielectric, waterproof grease. Smear some of this on the terminals if your craft is new.
If you notice any signs of dirt or corrosion, be sure to clean the terminals first. You can do this with a solution of water and baking soda.
Check the Trailer
Make sure you take a look at the boat trailer. Check the wheels for nails, tire tread, and check for unusual tire wear. Take a look at the trailer axles and bearings, repack or replace the boat trailer bearings if needed.
If your trailer needs any repairs make sure you take care of them ahead or before you transport your Jet Ski. Proper pre-season maintenance and foresight will make it easier to back your trailer up when you do need to use it.
Schedule Professional Maintenance and Repairs
It's important that you maintain your jet ski throughout the year, but it is also a good idea to schedule a professional service annually.
Professional technicians can take care of any larger issues that may be present and ensure potential problems are handled before they get worse.
Some of the other services the professionals will offer include replacing the pump oil, lubricating the bearing seals and fittings, an changing the engine filter and oil. They will also make sure everything is like it should be.
Jet Ski Maintenance: Now You Know
If you use the jet ski maintenance tips found here, you will quickly discover that your machine lasts and runs efficiently year after year. The worst thing you can do is neglect maintenance, as this is going to result in several issues and the need for costly repairs.
If you are interested in purchasing your first jet ski, let us help! We offer financing for these machines and can help you find the option that is best suited for your life and budget.
Our team is dedicated to everything outdoors and want to share our passion with you.