Pontoon Boats 101: How to Clean and Take Care of a Pontoon Boat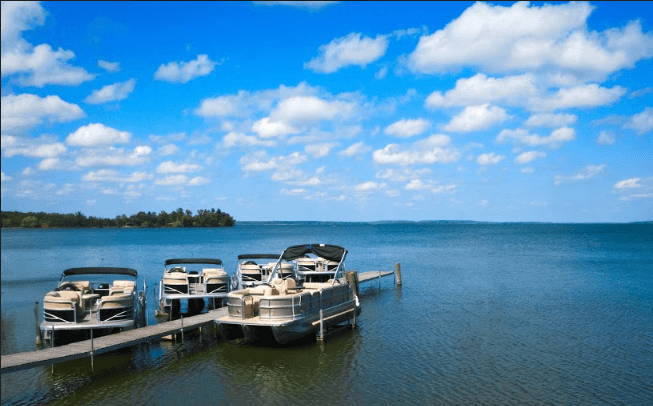 All aboard!
Summer is almost here, and it's time to get out of our pontoon boats. Before we get out on the water, though, we need to know how to clean a pontoon boat and maintain it. 
Pontoon boats now come with different functions and capabilities. Some are geared towards performance, while others are better equipped for fishing and watersports. No matter what your pontoon is built for, knowing how to clean and maintain is essential for protecting your investment. 
Proper maintenance can add years to your pontoon's life and keep up its appearance. Boat ownership costs vary, but proper maintenance will help you to avoid any pricey repairs. While you shouldn't be afraid to rock the boat and get it out on the water, proper maintenance and cleaning can help your boat to function at its highest capacity. 
So, what are cleaning and maintenance routines that every pontoon owner needs to know about?
Read on to find out how to clean a pontoon boat and keep it in tip-top shape.  
Washing Your Boat
You need to wash your boat at the beginning of each summer. You'll also want to clean your pontoon regularly during the summer so that it stays in the best condition possible. 
Clean the fibreglass components of your boat using soap and water. Thoroughly rinse off any cleaning solution to avoid soap buildup. The soap you choose can be the same soap you use to clean your car with. 
Next, clean the aluminum elements of your boat using a special aluminum cleaning solution. Aluminum can eventually lose its shine and make your boat look older and more used. So, it's vital to protect and clean the aluminum with a special cleaning solution. 
Regular Check-Ups
At the start of each season, you need to check your pontoon's fuel and fluid levels, spark plugs, and battery. You should also inspect the exterior of your boat for cracks, leaks, holes, or corrosion. You should change the fuel filter at the beginning of each season, as well. 
Inspect the interior boat upholstery of your boat at the beginning of the summer. Look for signs of rodents and other pests which may have gotten into your boat during the winter. You should also check for mold and mildew growth and remove it as needed.
Any problems with these components need to be addressed before using your boat for the season. This is especially true for leaks and cracks, which could cause your pontoon to take on water. 
If you're selling or purchasing a used boat, then it's also vital to inspect it and get it serviced by a dealer or boat professional. This will ensure that it's in water-ready condition and performs at its best. 
Use a Cover
When the boat is not in use, put a cover on it. Having a cover on your boat helps to keep out debris and rodents and blocks out the sun.
Constant exposure to the sun can cause your pontoon boat to fade and lose its like-new texture and colour. Covering up your boat will also keep your furniture in the best shape possible. 
Winterize
Before storing your boat for the season, you need to be prepared for winter and long-term storage. To start, clean the boat thoroughly and allow it to dry. Wax and polish the pontoon with cleaning solutions for each surface type. 
Then, cover your boat either using a boat cover or by getting your boat shrink-wrapped. You should make sure that your boat is stored in a safe area where it will not be harmed by falling objects. If possible, the best place to store your pontoon is in an indoor facility. 
Salt Water Maintenance
Using a pontoon boat in saltwater requires additional maintenance. After each use, you should properly flush the engine.
You should also inspect and clean up any salt build-up. This includes cleaning and removing salt buildup from the bottom of the pontoon as well. 
Furniture and Flooring Clean-Up
Clean the furniture and flooring at least two times per year. This means cleaning the seats with soap and water, removing stains, and vacuuming. If you decide to use a specialized cleaning solution, make sure to test it on a small section of your pontoon furniture first.
You should also dry out your furniture using a towel after each use. When the boat isn't in use, open the hatches to allow the boat to receive air circulation and to dry out further. 
Make sure always to allow the interior floors and furniture to dry before covering up your boat thoroughly. By letting your boat's interior dry out before covering, you're preventing mold and mildew from growing. Both of these growths not only look and smell bad, but they also aren't healthy for boat passengers and the value of your boat.
Inspecting the Exterior
After each use, inspect the exterior. This is especially important if you accidentally ran into another object, such as a dock.
Look for holes, leaks, or cracks to prevent any damage to your pontoon. If the boat does begin to take on water, it will increase the fuel usage, sit lower on the water, and strain the engine. 
How to Clean a Pontoon Boat and Protect Your Investment
Knowing how to clean a pontoon boat and maintain it is vital to its lifespan and performance ability. Always rely on your pontoon's manufacturer instruction manual for specific maintenance and cleaning needs. You should also make sure to get your boat checked out by your dealer or a professional regularly to avoid costly repairs and to ensure longevity. 
Want to purchase a pontoon boat? Check out our website to see our pontoon offers and boat listings.