Start Your Engines! The 10 Best Outboard Motors For Sale Near You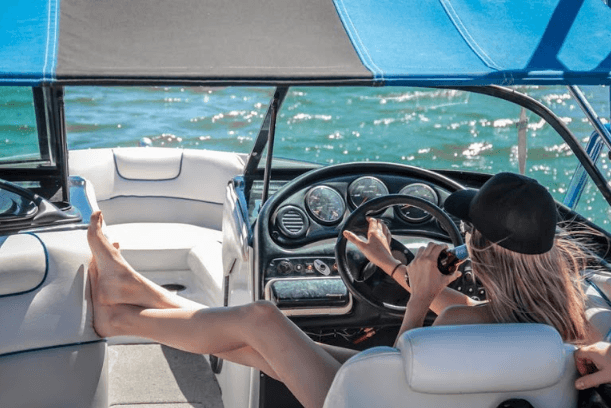 Did you know that the cost to tow a broken-down boat is $300 per hour?
The clock starts ticking when the towboat leaves the marina and the price tag to get a boat back to shore often exceeds $1,000.
Do you still feel like your old outboard still has one more good season in it?
Don't risk the safety of yourself and your first mates.  
With a new outboard motor on your vessel, you will be turning your key with confidence no matter how far from home you run.
Here are the 10 best outboard motors for sale near you.
Powering your boat
Before we get to that list, your dinghy doesn't need a pair of 300 hp engines, and your cabin cruiser is not going anywhere with a trolling motor.
To find the proper size motor for your vessel, start by dividing the weight of the boat by an engine's horsepower.
The sweet spot should be between 25 and 40 pounds of weight per HP.
Whether you fish alone or always take to the water with 10 of your luckiest friends, consider the weight of people and gear when using this rule of thumb.
Also, be careful that your engine is not too heavy for your boat, as it will be much harder to get on a plane.
Fresh or Salty
In addition to proper power, one of the most important things to think about when buying an outboard is whether you are going to be using your boat in saltwater or freshwater.
Engines built for saltwater will rely more on stainless steel parts and sacrificial anodes (aka zincs) to protect against corrosion.
Freshwater engines can use aluminum components without worrying about corrosion or pitting.
Of course, stainless steel is going to increase the cost of a saltwater engine, so if you are going to stay away from the oceans, you can save some serious money if you avoid the saltwater category.
Even with a motor designed for salty dogs, it is always good practice to flush out and spray your engine after each use with fresh water.
The regular replacement of anodes will also keep the parts of your boat that are susceptible to corrosion from being damaged.
Portable Motors
So, you've got a tiny boat.  That just means you can get to places that big boats dream of going.
But, you'll have to decide whether you want to zip around a small lake or bay with a 20hp or just slowly cruise through the harbor to your mooring.
Once you know how many HP you need; for a boat up to 12 feet, there are some really great portable outboards under $4000.
While Mercury always has excellent motors, they really can't be beaten for saltwater use.
From a 2.5hp to a 20hp, 4 stroke Mercury engines are a perfect companion to your smaller craft.
They are lightweight, and with an electric start, you won't be struggling with ripcords when the weather kicks up, and you need to head for shore.
As an alternative and at a much lower price point, Tohatsu makes very solid 6hp and 9hp outboard motors but lacks service centers to order parts or fix them if issues occur.

They can also stand up to saltwater and are very durable.
Midrange Motors
If you're looking power your medium size boat or pontoon, here are some of the best options.
The 40hp Yamaha 4 stroke is an incredibly lightweight, versatile and reliable engine.  It tops our list for midrange outboards.
This engine is just as much at home on an inflatable as it is a deck boat.
For a little more power it is hard to beat the Yamaha F90.
This motor will run forever with basic maintenance, and you will fly from fishing spot to fishing spot.
Long Range and Power
If you are heading into deep waters or traveling far from shore, you are going to want the power to handle big waves and the speed to get to your secret GPS markers without being followed.
A pair of Evinrude E-TEC 150s can give you incredible power, great handling, and the best fuel economy in their class.
One advantage of having twin engines is that should something go wrong, you always have a spare.
However, twin engines cost twice as much.
For a single engine powerhouse, Evinrude also makes a High Output 225 or 250hp.
Despite their incredible power these are quiet motors and are very fuel efficient.
Dream Machines
If money is no object and you want the highest horsepower available, the Mercury Verado is a legend.
With 300hp or 350hp models, you definitely going to fly across the water.
Beyond the power of this engine, there are so many cool features available.
Active trim offers hands-free trimming of your motor as the boat accelerates and turns.
Adaptive speed control will keep your RPM's constant so you won't be riding the throttle as the chop gets heavy.
The Mercury Verado's price tag tops our list as well, coming in over $25k.
But if money is no object, why not get a pair?
Electric Trolling Motors
Trolling motors don't go very fast, but will certainly help you catch some Walleye.  
Often times a trolling motor is mounted on your transom next to a more powerful engine, but it also may be the only motor you need.
If you are fishing from a kayak or canoe, mounting a trolling motor can help save time and energy and let you focus on fishing.
Goplus makes the best trolling motor for the money. What it lacks in bells and whistles it more than makes up for in price.
Ranging from $160-$200, this 8-speed motor comes in 3 different thrust capabilities, 46, 55 and 86 lbs.
And with a single overnight charge, you can run for 8-10 hours.  That's plenty of fishing.
As the Goplus only comes with a 36-inch shaft, if you are looking to go super shallow, you may need another option.
The Watersnake Trolling Motor has a 24-inch shaft and is incredibly well-made.
You won't get the thrust of the GoPlus, but at 18 pounds of high-quality materials, you can't beat this motor.
The Future 
The Torqeedo Deep Blue is an electric motor and battery system that is redefining what a boating experience feels like and sounds like.
While it might not look all that different from your normal outboard, this is definitely like looking into the future.
Like any electric motor, torque is available from 1 rpm, and there is greater control of the throttle.
The biggest difference is that unlike loud gasoline motors, this sounds more like a golf cart than a chainsaw.
Topping out at 80hp and priced at about $24k (and requiring 1-4 battery packs as an additional purchase), this engine is still marketed to ecotour companies and those with deep, deep pockets.
Some might miss the sound of incinerating fuel, but having a conversation while flying through the water sounds pretty cool too.
10 Best Outboard Motors for Sale
Mercury 2.5-25 portable motors

Tohatsu 6.6, 9.8 and 9.9

Yamaha 40hp

Yamaha F90

Evinrude E-TEC 150

Evinrude HO 225 and 250

Mercury Verado 300 and 350

Goplus 30-inch

Watersnake 24-inch

Toqueedo Deep Blue 
Repowering your Boat
Deciding which of awesome outboard motors for sale should be a little easier after you do the horsepower math and plan your budget.
The only thing left when it comes time to repower your boat will be to find an expert outboard motor dealer to take care of the rest. 
Whether you are towing a skier, trolling for walleye or exploring the deep blue, you will love being on the water with one of these great outboard motors.