Tips for Buying a Snowmobile in Manitoba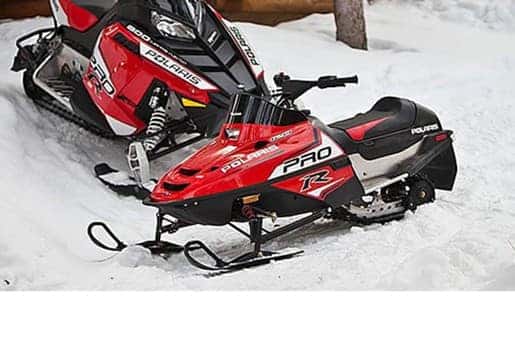 It almost seems that much of Manitoba was created just for snowmobiling. You'll never run out of places to go or to see. The terrain ranges from thick woodlands to open prairies and even Arctic tundra in the far north. In Manitoba, you'll find majestic lakes and rivers and extensive sledding routes and trails that stretch from one end of the province to the other. Many of these routes are professionally groomed and maintained to the highest standards for your riding pleasure.
Which snowmobile to buy?
Whether you're in the market for your first snowmobile or you've been riding for years, we'd like to offer some useful suggestions on what to buy. Here are our tips to help you in buying a snowmobile in Manitoba.
Usually, a basic snowmobile can be bought for between $6,000 and $15,000 depending on the manufacturer, model, engine, and accessories. For a beginner or casual rider, a cheaper model is usually all you'll need.
For newbies, the first question you should ask yourself is what kind of riding are you planning on doing? Each of the four major snowmobile manufacturers has models designed for different types of riding. There are mountain and crossover sleds, trail, performance, touring, sport, and even youth sleds for younger riders.
Short-track or long-track?
Choosing the best track for your snowmobile can be difficult since there's never a guaranteed best snowmobile track for everyone. But by taking into consideration the conditions where you'll be riding and your abilities, you'll likely wind up with a sled fitted with the best track for your purposes.
Long track snowmobile advantages
A longer sled will always be able to climb higher than one that's shorter. Maneuvering, however, is going to be more difficult with a longer track. This is especially true when riding through the woods and dodging trees along the way.
Longer tracks are often a better choice for snowmobilers who have less experience in the mountains. When you're riding through trees at speed and using your momentum to keep you going, a longer track helps you to stay more firmly on the trail.
Heavier riders will often prefer a snowmobile with longer tracks. This is because they spread the load across a larger area, and the track doesn't sink into the snow as readily as with shorter track sleds.
Sidehilling is much easier with a longer track. You can hold a sidehill much more effectively and not go dangerously tumbling down the slope you were attempting to conquer.
Shorter track advantages
A shorter track will be carrying more weight per square inch. So, on days when the snow is especially deep or powdery, riders on longer tracks won't sink in as far. But when you need to dig out from deep snow, the shorter the track is, the easier it will be to get yourself free.
The type of snow you'll ride in can also be a factor in choosing the length of track you'll be most comfortable with. If the snow is wet and heavy, sleds need tracks made from harder rubber compounds to get the best traction. Lighter and fluffier snowfall is best traveled over with softer rubber to help grip the snow pack without trenching.
Talk with friends and other riders
Talk with some riding friends about how they'll be using their sleds in the upcoming winter season. This may give you a good idea of the type of riding you will be doing the most. If most of your friends have 144s, and they only ride on trails occasionally or to romp through the woods, you will probably not be comfortable riding a 163 while not being able to keep up with them on the trail. If the folks you'll be riding with plan to jump off-trail and explore climbing hills but don't want to get stuck, then a long sled would probably be better for you.
2 or 4-stroke?
There are advantages and disadvantages to both 2 and 4-stroke machines. A 4-stroke engine is usually considered a more reliable choice, but they are generally heavier and not as snappy as a 2-stroke.
2-stroke engine advantages:
Starts with a recoil, no need for a backup.
Purchase price is usually lower than a 4-stroke engine.
Lighter and more nimble, much easier to weave through trees.
Better power to weight ratio in stock configuration.
Engine rebuilding is easier than with a 4-stroke.
2-stroke engine disadvantages:
Less reliable than a 4-stroke engine.
Need to add oil in with the gasoline.
Less torque than a 4-stroke engine.
Fuel range is not as good as a 4-stroke.
Blue exhaust smoke from burning oil.
Belts wear out faster.
Advantages of a 4-stroke engine:
More reliable than a 2-stroke engine.
Better low-end torque for getting out of deep snow.
Drive belts last longer.
Better fuel economy and longer range than with a 2-stroke.
Easier to haul a passenger, especially over steep terrain.
No need to add oil to the gas and oil changes are just once a year.
Disadvantages of a 4-stroke engine.
May need an external battery booster for starting.
Heavier and less nimble than 2-stroke machines.
Less power to weight ratio (unless turbo-charged).
Higher purchase price.
More difficult to rebuild the engine.
Snowmobile block heaters
No matter which engine you decide on, remember that Manitoba gets really cold in the winter. Unless you park your sled in a heated garage, a block heater will help you get it started when the weather's freezing outside and you decide you want to go sledding.
A block heater will improve the efficiency of your snowmobile. It will provide heat to keep the engine warm from the very start, and eliminate excessive engine wear, high CO2 emissions, and excessive fuel consumption.
Safety first
Don't forget that in Manitoba there are rules you must abide by with both adults and children. Approved snowmobile helmets must be worn by both the operator and any passengers at all times when the snowmobile in in operation. And kids under 14 cannot operate a sled unless they are under the direct supervision of an adult.
Westshore Marine & Leisure
Obviously, if you have the money and really want to buy a fresh, new snowmobile, you should go to a dealer like Westshore Marine & Leisure. You'll find an in-house staff of financing professionals who can quickly get you moving through the finance process. And we deal with over 15 different banks and lending institutions so there's a good chance you'll get a great finance rate and terms to suit your budget.
Dealing with Westshore Marine gives you the opportunity to try several models out for size, so choosing the one that's right for you is much less of a challenge.
When you purchase a used snowmobile from us, we'll tell you the full history of the machine and you'll have our word that we'll stand behind the machine in case you have any problems. During and after the warranty period, we'll be happy to take care of the machine to make it absolutely right for you to enjoy to the fullest.
Our team at Westshore Marine & Leisure is one of the largest power sports dealers in Manitoba and the Prairies. We would love you to come in for a test ride. We'll be glad to show you a great snow sled from our huge selection of new and used snowmobiles, ATVs, dirt bikes, motorcycles, and generators. Come in and give our welcoming team a visit whenever it's convenient for you and your new snowmobile rider.
Our family-owned and operated business is located in Manitoba on the north side of Winnipeg. We pride ourselves on giving you the best and most enjoyable customer experience possible. From sales to service, we look forward to providing you soon. Contact us or come stop by and see why Westshore Marine is the fastest growing Powersport dealer in Manitoba!