Bennington G22 Series Review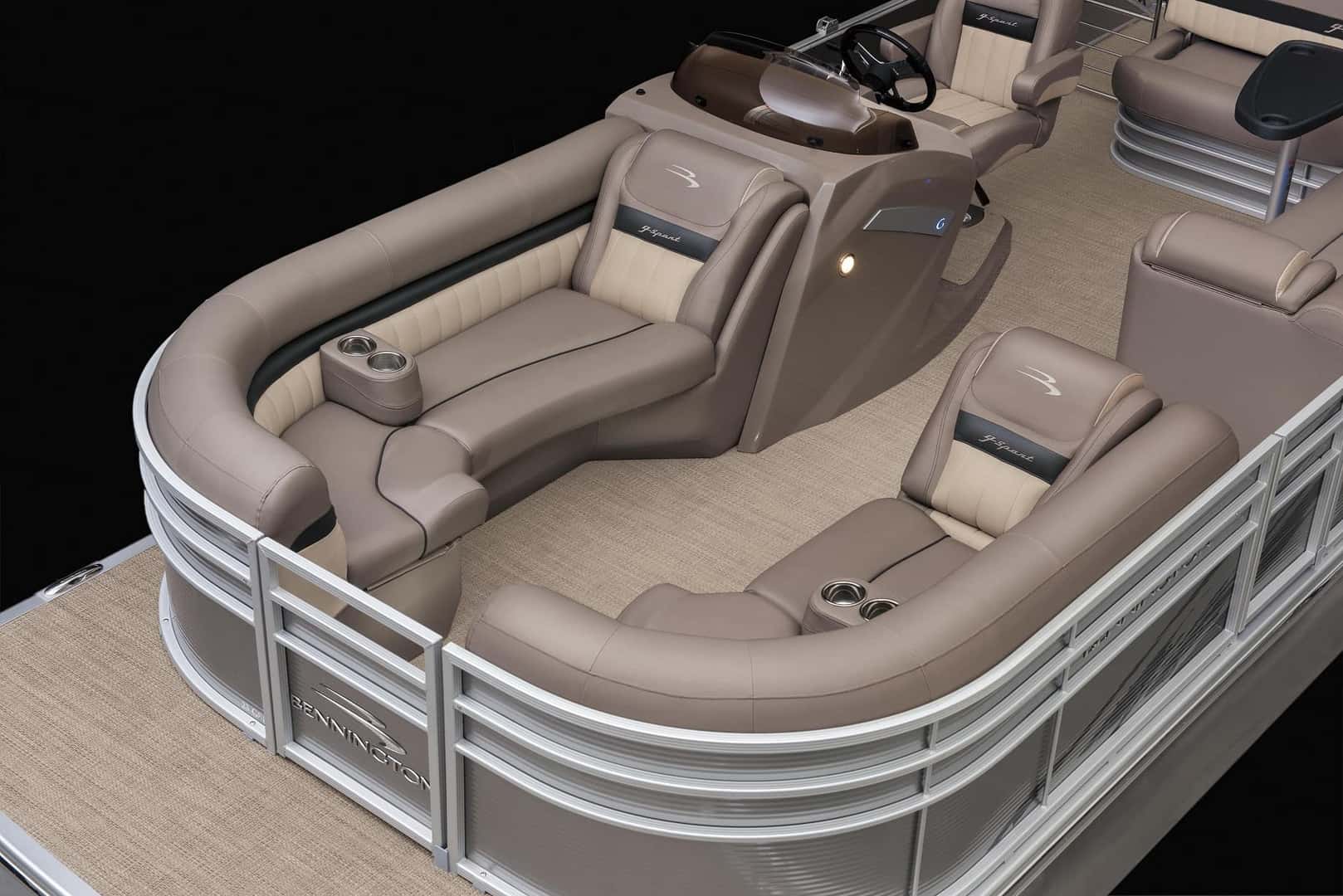 Bennington G22 Review
Bennington G22 Review is simply a marvellous pontoon boat that is one of the most sought-after models of yachts made by Bennington. As part of the G-model boats, this unique model is perfect for all family activities on the water. Its premium-quality furniture, speakers, pillow tops and other components make this unit a top-quality one.
With this model, you get to enjoy a whole new degree of luxury, available at your fingertips. The premium sound relaxes you while the integrated beverage coolers keep your favourite beverages cold. You can also enjoy custom-built furniture and customize your interior with a sport model that blends the style of the 60's muscle cars available in the US with the finesse of the European sports car-like Maserati or Ferrari.
With this model, you also have 6 unique layouts to choose from. You can customize your boat to suit your preferences, and you can tailor it to your own tastes.
Before getting an in-depth look at the features and benefits offered by this modern and stylish pontoon boat, let's look at some reasons as to why you should buy a Bennington pontoon boat in 2019.
Main Reasons to Buy a Bennington Boat
You've probably watched several of your friends enjoy their new pontoon boats and spending unforgettable moments on the water with their dear ones. You've seen them go fishing, relaxing in the sunset, enjoying a floating picnic in the morning, throwing a floating party or even establishing a taxi service like a floating taxi and monetizing their boat.
Some of them have even used their pontoon boats to do various stunts and use them as ski ramps. Of course, many have used the boats to improve their water skiing skills and get ready for the local tournaments.
However, while a Bennington boat is suitable for all of the above, you need to realize that it represents much more than that. This company offers unparalleled quality, 10-years full warranty, top-of-the-line craftsmanship and a wide degree of personalization and customization.
Bennington pontoon boats, including Bennington G22, are well known for their enhanced stability and improved water displacement, under-deck wave shields, power-assist steering, astounding furniture quality, improved acceleration and LED lighting present all over the place.
Depending on the package you choose, you can enjoy various motors, ranging from 115 horsepower up to 250 horsepower. At high power, you can take advantage of the power assist feature to make it super easy and smooth to turn the boat around. Navigating the yacht in shallow waters is a breeze. You're also highly protected against storms of any kind.
A Bennington pontoon boat is an excellent investment if you like fishing, you enjoy spending time with your family, or you have some good close friends who need to improve their water skiing skills. With fishing features, personalization, custom-made furniture, on-boat sinks, speakers, handcrafted items and lounge seating options, your boat could provide you and your dear ones with endless hours of fun and unforgettable moments spent together.
Design
In terms of design, the Bennington G22 looks just as good as any other Bennington boat. It comes with a unique style that features a blend of rugged build quality, gorgeous craftsmanship and premium finishes that will make you fall in love with its looks from the very first moment.
The length of the boat varies from 18′ to 25′. However, in terms of floor plans, you can choose up to 6 plans: entertainment, swing back, stern lounge, fishing, L-bench and quad bench.
Premium Features and Options
Regardless of the plan and size you choose, your pontoon boat will be equipped with the best features available. For starters, you'll enjoy the luxurious touches right at your fingertips. You can choose a custom upgrade, such as a stainless steel steering wheel with the custom Bennington logo, a wood control panel, and additional protection for buttons.
The premium sound quality comes from speakers integrated within the furniture. During the night, you can enjoy an even better experience, because the speakers come with integrated LEDs that accentuate the music listening experience and allow you to submerge into your favourite music fully.
Another premium feature available to you in any floor plan is the bow-integrated cooler that can keep several of your beverages cold for hours. You can enjoy your favourite champagne or beer while admiring the sunset without having to sacrifice the taste. During hot summer days, that's an amazing benefit.
The custom-tailored furniture will capture your heart. You'll not just enjoy the premium quality of the Simtex furniture, but also add your custom material to experience astounding comfort and superior quality that lasts longer in time.
Ultimately, you can go with the wildly popular sport interior package, which comes with a timeless style blends the style of the 60's muscle cars available in the US with the finesse of the European sports car-like Maserati or Ferrari.
Seating Plans
Bennington G22 comes with 6 unique seating plans:
Quad bench: this wildly popular floor plan maximizes your storage space, lounge space and seating capacity. You can use this plan to fit your whole family and friends.
Stern lounge: this is the perfect plan for couples who want to relax and unwind. The twin lounge seats allow you to enjoy an unforgettable view from the rear of the boat.
Swingback: this innovative plan allows you to customize your view and set it either backward or forward. This is the best seating plan for families with kids.
L-bench: this plan offers you both flexible seating and easy boat access. You also get to enjoy a huge space to store anything you want.
Fishing: choose this plan if you are a full-time fisherman, or you like to spend some time regularly on occasional fishing outings.
Entertainment: this plan is wildly popular among teens and young groups of friends. It comes with dinettes and bars, plus accent lighting and other entertainment options so that you can throw the best sea party people have ever seen.
Order the Bennington G Series now and customize it from scratch to finish with all the options that you want to enjoy unforgettable moments with your friends, family or with the love of your love, relaxing in the sunset and drinking in the fantastic view. Don't forget about the great financing options available on all Pre-owned and New Boats!