7 Must-Ride ATV Trails in Canada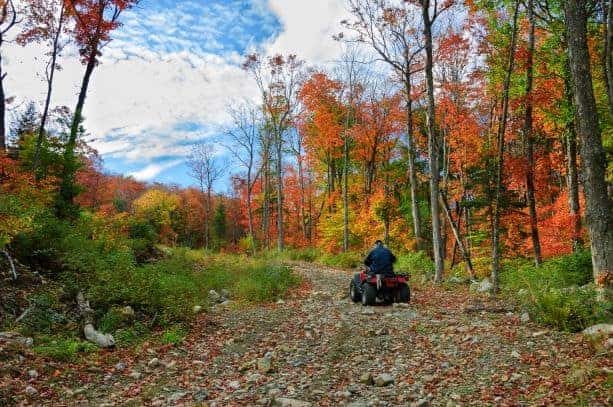 Are you looking for some killer ATV trails to tackle in Canada? If so, we have the perfect list for you. Check out our list of best trails, including a wide range of difficulty levels.
With nearly 250,000 new ATVs sold in Canada over the last five years, it's clear that the Great White North has a fierce passion for off-roading.
This means that the abundance of well-maintained trail networks is more than any ATV enthusiast could ask for. Every province in the country boasts their own unique system of trails, that we're sure the locals would say is the best riding on earth.
But how do you know which ones really are the best?
We wanted to help out, so we narrowed it down to these seven epic, can't-miss ATV trails. So take out a pen and start adding these to your bucket list.
They're going to make you want to quit your job and take to the trails full time.
1. Elliot Lake, Northern Ontario
Before you begin make sure you have your ATV Gear Checklist in order to make sure you are set for adventure.
Elliot Lake is one of the top ATV destinations in all of North America.
Halfway between Sault Ste. Marie and Sudbury, this city was once known as the "uranium capital of the world." Things have changed since then; a lot of work has gone into cleaning up the mines, transforming Elliot Lake into a wonderland of rugged natural beauty.
A lot of planning went into these 186 miles of trails. They're all loop trails, so you don't ever have to worry about getting lost. And the variety of scenery is astounding.
You'll ride through dense forests, over meandering rivers, past rocky outcroppings, beside swamps and lakes. Whiskey Lake, in particular, is a favorite for many riders, so make sure to check that out.
Elliot Lake is one of five trails included on ATVOntario's PowerPass, so for a yearly fee of $120, you have access to Mattawa, Haliburton, Georgian Bay, and Cochrane, in addition to Elliot Lake.
You can't beat that.
2. Bancroft, Eastern Ontario
A six-hour drive east of Elliot Lake will take you to the small town of Bancroft, the ultimate ATV destination for some riders.
Bancroft is part of a giant network of trails that are maintained by the Eastern Ontario Trail Alliance (EOTA).
Another geographically diverse area, Bancroft trail will keep you guessing as you explore the old converted railways and logging trails. Lush forests, pristine lakes, rolling hills, and marshy wetlands all come together to form this unique area.
Bancroft is known for their bridges, many that have been specially built for ATV and snowmobile trails, which are also maintained throughout the winter.
If you're looking for something a little grittier, Bancroft is also home to the Dungannon Mud Bog. This 45-mile ride and fundraiser has an optional mud pit that's drawing more ATVers each year.
3. Trans-Quebec #63 Trail, Quebec
The Trans-Quebec #63 trail is part of the Great Trail, which spans all the way from the east to the west coast, measuring nearly 15,000 miles in total.
The #63 trail is one of the most well-maintained trails in the country and is so long that it actually qualifies as a highway. The winding Mulets Rivers, with its natural whirlpools, makes this trail a great place to stop for a swim or some fishing.
You might also want to check out the Auberge Beaux Reves, a beautiful inn and Nordic spa that offers guided ATV trips in addition to massages and other ways to pamper yourself. Make sure you have your tuned-up for ATV performance before going on this one.
With thermal pools, a waterfall and a eucalyptus steam room, you'll find yourself super rejuvenated after a long day's ride.
4. Gold Bridge Trails, British Columbia
Gold Bridge, BC might only be a town of 40 people, but the trails that surround it are nothing to scoff at.
You can expect sheer, rocky cliffs that look down on crystal blue lakes, with snowy mountain peaks off in the distance. Gold Bridge is known for its abandoned gold mine, so you might want to take a break to do some ghost hunting.
And while you're in BC, you might consider taking the two-hour drive southwest to Whistler, where you can eat at the world's only ATV Salmon Bake. Take the 6,000 feet ride up Blackcomb Mountain where you can enjoy some fresh local salmon on the outdoor patio (with the best views you'll ever see in your life).
5. Eastern Kings Fun Run, Prince Edward Island
The Maritimes might be the smallest provinces in Canada, but they have no shortage of challenging trails and breathtaking scenery.
Off-road culture has been gaining popularity along the coast, especially in PEI, where more ATV clubs pop up each year.
The Eastern Kings Fun Run begins in the quiet, scenic town of Murray River, then zig-zags for 55 miles across the eastern part of the province, offering views of local fisherman, blue herons, and maybe even a seal or two.
6. Narrow Hills Provincial Park, Saskatchewan
There are more than 125 miles of trails that wind their way through the wilderness of Narrow Hills Provincial Park, located in central Saskatchewan.
With 25 different lakes scattered throughout the park, these trails are perfect for anyone who enjoys hopping off their vehicle for a bit of fishing. Try your hand at snagging some of the walleye, perch, pike and five different types of trout that are abundant in the area.
There are also plenty of hiking trails if you feel like stretching your legs a bit. But keep an eye out for the moose and deer that are regularly spotted.
7. Sandilands Provincial Forest, Manitoba
With more than 1,100 square miles of wilderness to explore, the trails in Sandilands Provincial Forest are an outdoor playground of twists and turns.
What sets these trails apart is the sandy terrain you'll be traveling through, which makes for a unique ecosystem. In addition to sandy hills, you'll also be cruising through wetlands and forests.
There's a lot of history in these woods, and you might want to stop at the Red Roof Trappers Shack to get a glimpse at what life was like for trappers back before the days of all-terrain vehicles.
Canada is a Gold Mine of ATV Trails
ATVs were once seen as utilitarian, as tools for farmers and ranchers to traverse the rough Canadian terrain. But a big shift has occurred, with more and more people becoming passionate about the sport.
For many, it is a way to connect with family and friends. For others, it is a way of life.
If you're itching to hit some of these ATV trails, but don't own a vehicle of your own, maybe now is the time to invest in one. Financing is available, to help you pay for it in a way that works for you.
If you're on the fence or have any questions you'd like to ask, don't hesitate to contact us.
Happy riding!