What Is an ATV and How Has It Changed Over the Years?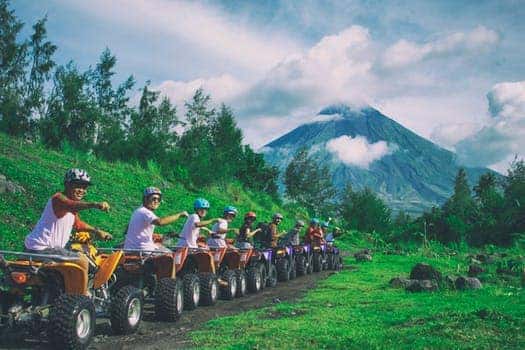 In 1970, the Honda UfS90 was introduced as the world's first all-terrain vehicle. The inspiration came because they wanted a new product that they could sell when motorcycle sales fell in the winter.
Three years later, Honda released a different version of the model for youngsters. It had easy-to-operate brakes, a foot guard, and a spark arrester that was U.S. Forest Service-approved.
What is an ATV? Simply put, it's an all-terrain vehicle. While ATVs are meant for fun, the very first one was built out of necessity by John Gower, a Canadian man who wanted to be able to travel outdoors, regardless of the weather.
ATVs have changed over the years since the first one in 1970. Keep reading to learn more about what they are and how they've changed since their inception.
What Is an ATV?
As we mentioned above, ATV stands for an all-terrain vehicle. But what does that mean?
An ATV is also referred to as a quad, a 3-wheeler, a 4-track, a 4-wheeler, or a quadricycle. The vehicles travel on low-pressure tires and have four wheels. They also must have a seat that is straddled by the operator and handlebars for steering control.
There are still some 3-wheelers around, but they haven't been manufactured since 1988.
ATVs weigh about 600 pounds. Their engines are powerful and large, and they often can get up to speeds of 65 mph or more. They don't have safety cages or seatbelts, which is why it's so important for drivers to follow safety precautions.
What Are ATVs Used For?
ATVs are used for many different reasons. Many drivers use them to inspect crops or livestock. They are also used to inspect and repair fence lines and irrigation systems.
Many ATV owners use their machines to mark timber, herd livestock, mow grass, supervise crews, move dirt, or to transport things.
ATVs are also famously used for recreation. In many states, older kids and teens are allowed to drive them, even without a driver's license.
While ATVs aren't dangerous by nature, like any machine, they should be used with caution. Because of incidents in the past, the Academy of Pediatrics recommends that no child under 16 should be operating an ATV.
That being said, some states allow children ten and older to ride ATVs, as long as an adult supervises them with a driver's license. Many states also require young drivers to have a safety certificate.
What Was the Machine like During Inception?
The first Canadian ATV was called The Jiger. It was named a "go anywhere" vehicle as it could travel on both land and water.
It was a 5.5 horsepower, 6-wheeled, 200-pound ATV.
Next came the Tricart, which was a 3-wheeler ATV. It had footpegs and a handlebar for steering and two super-wide back tires to maintain balance.
It could reach up to 60 mph and is great on any terrain. There were a few different models and production lasted a few years, until a political issue caused the company to stop manufacturing.
Next up, Honda created the first official ATV. It was a 3-wheeler that sold in 1970 for $595.
Yamaha, Kawasaki, and Suzuki followed suit, all making their own 3-wheeler versions. In 1982, Honda came out with the first official "Utility" version. All models up until this one were recreational.
With the introduction of utility models, farmers, hunters, and ranchers began to realize the usefulness of ATVs.
What Happened to the 3-Wheelers?
In the mid-1980s, 4-wheelers began to make their mark on the ATV market. In 1987, all the major manufacturers signed a consent decree that promised they would no longer produce or sell 3-wheelers.
Because of the number of injuries and deaths sustained by children, 3-wheelers were deemed unsafe.
How Much Do ATVs Cost?
As mentioned above, the first Honda ATV sold for $595 in 1970. Today, you can spend anywhere from 8 thousand to 20 thousand on a new one.
If you don't want to break the bank, you can buy a well-kept used ATV for less.  If you want to get a better idea of pricing, take a look at some of our inventory. We have plenty of new and used models and parts to peruse.
What Features Do Most ATVs Have Now?
Many ATVs have the same features. One that is common across most modern ATVs is the brake wear indicator, which tells you when to replace the brakes, not unlike a car.
Many drivers opt to ride with an attached safety flag. It's brightly coloured so that it can alert people as to where a driver has gone, especially if it's behind a hill or other obstruction.
ATVs designed for children or young riders typically have an exhaust port restrictor, which limits engine power. They also often have an engine stop lanyard, which, when attached, allows an adult to follow behind and stop the engine at any time by pulling on the lanyard.
An ATV Is Both Fun and Useful
When many people wonder what an ATV is, they assume it's predominately recreational. But while many individuals and families do use 4-wheelers for fun, they are also used to make jobs easier.
Farmers, hunters, and many other business owners use ATVs for a variety of reasons.
ATVs can help someone monitor a crew or communicate more efficiently with a larger group. They are also an excellent way to get from place to place, regardless of the weather.
If you have any questions or want to know more about ATVs, give us a call or stop by!