The Top 10 Manitoba Snowmobile Trails to Try This Winter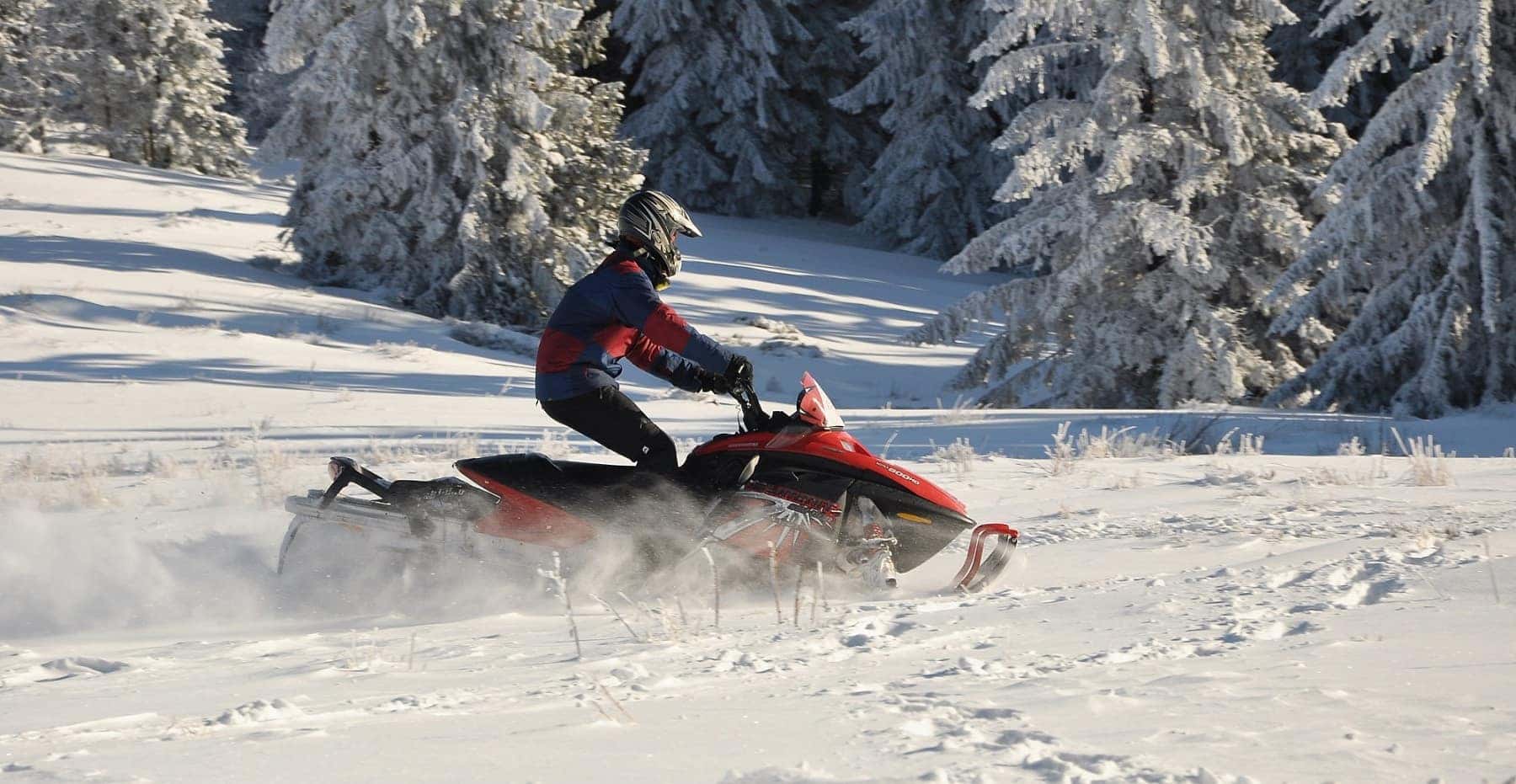 Are you chomping at the bit to purchase that used Polaris snowmobile or get yours out of storage to ride this fall? Get ready because the prairie winter weather predictions are in, and the forecast says mid-November kicks off one of the snowiest periods. The last significant snowfall of the snow season is forecast for the end of March through the start of April, so if you find some great trails now, you'll have plenty of time to ride and explore.
But what are the best Manitoba snowmobile trails, you ask?
To get you started, we've put together a guide to 10 top snow trails in the province. Keep reading to discover new options, then grab your snowmobile and gear and head out.
1. Lac Du Bonnet
This is an excellent spot for the whole family, known for its variety of trails and powder. The trails are kept up nicely by several snowmobile clubs in the area, so you're in for a real treat.
Explore in all directions around Lac du Bonnet. Enjoy the warm-up huts before and after riding or if you need a break.
Get ready for some of the gorgeous scenery!
2. The Pas
Groomed trails galore abound around the many lakes and rivers of The Pas — to the tune of 350 kilometres. Locals love it, and sledders from all over the province adore it thanks to the stellar bush, river, and lake views, as well as the seven warm-up cabins.
Also great is that you can tap into the local clubs and check updates and tips for the best ride on any given day.
3. Parkland in Dauphin
Head over to Dauphin and sled on the trails that link Duck Mountain Provincial Park and Riding Mountain National Park. Here you'll find thousands of designated paths.
The area is called Parkland, and it's spectacular when it comes to what you can see in views — thanks to the mountains as well as Lake Winnipegosis and Lake Manitoba.
It's a must-do if you're looking for Winnipeg snowmobile trails. The community is on fire here, and you can enjoy all types of rides, from flatbeds to hills to rail beds.
4. Trans-Canada Snowmobile Trail
Speaking of the Dauphin area, it's here that you can hook into the Trans-Canada Snowmobile Trail. The trail started in 1992 and is made of lots of smaller trails that link Canada coast to coast in a cross-Canada network.
Check with the Dauphin snowmobile club for where to catch "The Great Trail."
5. Interlake
This area is terrific if you want well-kept trails with little traffic so you can really get away from it all and immerse yourself in the great outdoors.
Interlake boasts another tight-knit club and community. Great for the whole family, enjoy both the sledding and the cozy rustic huts with pits for a fire.
It's a small network of trails which makes it even more friendly. Locals love the Interlake Pioneer Trail.
They also give shout outs to Gimli's Cheyenne and Fish Lake trails and mention Birds Hill Provincial Park in Selkirk for an enjoyable sled.
6. Grand Beach and Victoria Beach
Both beach areas of Lake Winnipeg offer snowmobile trails to explore. Both areas also have charming towns to visit for an after-ride meal.
Consider these trails ideal if you live in the area and want Winnipeg snowmobile trails and a relaxing-and-sporty weekend getaway in nature.
7. Whiteshell Provincial Park
Whiteshell boasts a vast area to explore with trails in prime condition. The club here has you covered with grooming and information on the trails and staging areas.
Start by checking the six featured trails, including Seven Sisters/Falcon Lake trail — popular with the locals and known to be the easiest ride.
Find staging areas in the south, central, and north Whiteshell and get ready to enjoy waterfalls, scenic overlooks, lakes, and other fabulous views.
If you want a challenge, head to South Whiteshell for everything from snow-topped granite ridges to forests of jack pine, make sure you have your sled tuned-up properly before you hit the tougher terrain!
8. Nopiming Provincial Park
Like Whiteshell, this vast snowmobile area is in Eastern Manitoba and boasts a club that has you covered when it comes to keeping their 180 kilometres of trails in peak condition and keeping you hooked into the best trail networks.
Trail favourites around the three lakes in the area include TJ's Way, Wolf Trail, Deer Trail, Bear Trail, and Moose Trail.
9. Swan Valley
The 375 kilometres of groomed snow trails in Swan Valley are some of the favourites in Western Manitoba. Great for the whole family, the trails are marked every tenth of a kilometre, making them simple to navigate.
Sledding here boasts flats, bush terrain, and those fun-to-ride rolling hills you love.
10. Sandilands Provincial Forest
Located in south-east Manitoba, this network of snow trails extends from Buffalo Point and Piney through to Steinbach. Enjoy groomed trails and hundreds of kilometres of stunning scenery.
This is a great place to start if you're in the Winnipeg area, as it's only about a 50-kilometre drive.
Time to Hit the Snowmobile Trails
Now that you're onto some of the hottest snowmobile trails in the area, it's time to get riding. Did you see any trails here that are calling your name? Start there!
And hit us up if you need a new ride or you have questions. We're all about snow recreation (and other types too) and getting you out there to sled and explore with a great-running snowmobile and all the information you need to ride safely and find the best spots.