Treading Mud: The Best Mud Tires On The Market In 2020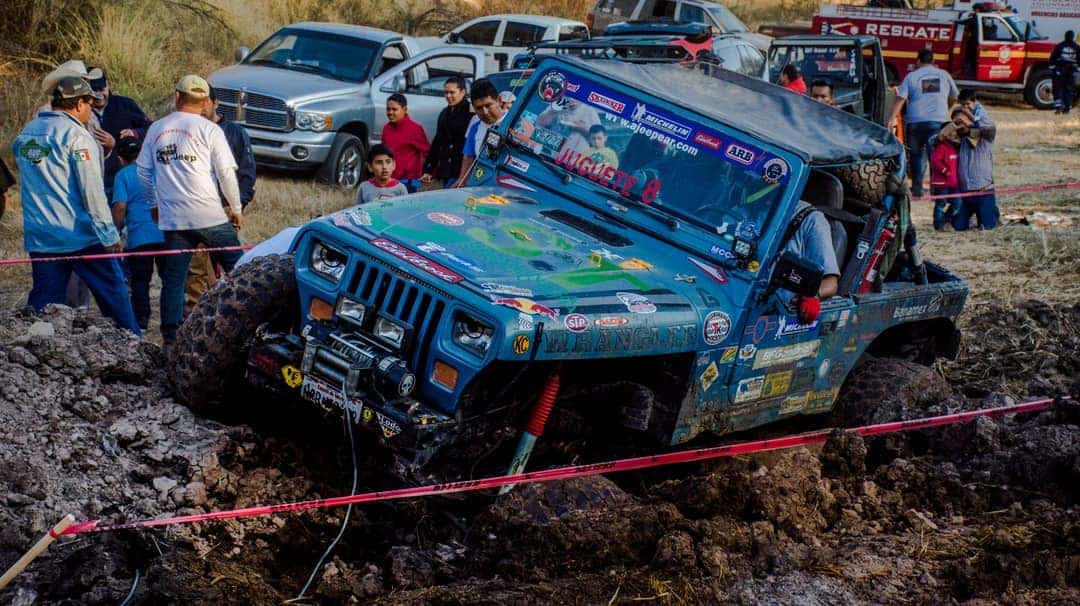 Owning an ATV isn't just fun, it's convenient. Whether you're an avid off-road sports enthusiast or work over acres of mixed terrain, an ATV helps you get to where you need to be.
Just like any other vehicle, your ATV requires maintenance and upgrades. Tires are no exception. How often you change your tires depends on how often you use your ATV and the type of terrain you're trodding over. It also depends on the quality of the tires on your vehicle.
So, what are the best mud tires on the market? Well, that depends on a few different factors. If you're currently on the hunt for the best mud-terrain tires for your ATV, then you've come to the right place.
We're about to uncover the things you should be looking at before purchasing your next set of mud tires. We've also compiled a list of some of the best tires on the market today.
Keep reading to learn more and to find the best mud terrains tires to suit your wants and needs.
Finding the Best Mud Tires For Your ATV
Mud tires are made of a specialized rubber that weighs more than your every day all-terrain tires. They offer up a more rugged ride, and they also have specific tread patterns that could tear up your standard patch of grass. Suffice to say, the first requirement in purchasing mud tires is mud.
A set of good mud tires will get you through the worst conditions safely. And by the worst, we mean the most fun. Ideally, the recipe for good traction in all situations is aggressive tread patterns and tires that self-clean.
Of course, with all of the tires on the market today, there's a little bit more to take into consideration than just the tread and the mud to be trodden upon.
You should also take into consideration these three things:
Material Quality
As mentioned before, ATV mud tires are made with a specialized type of rubber. One thing to take into account is that not all materials are created equally. So, if you're browsing for good cheap mud tires, you should know that the price is always a reflection of the quality.
Low-quality rubber will lead you down the road to disaster. Cheaper materials have less flexibility and elasticity, meaning they wear down quicker. They're also more prone to breakage.
The best mud-terrain tires will be pricey, and it will be money well spent. Especially if you plan to do a lot of off-roading on your ATV, you can rest assured that your rubber is as aggressive as it is sturdy.
That's not to say that you won't find a decent and affordable mud tire. But if you find a deal that seems too good to be true—it probably is.
Ply Rating
The ply rating is another way to ensure the quality of the rubber. The play rating will also indicate exactly what the tires are meant for.
A lower ply rating indicates that the tires are made for higher inclines and more control, which is better for sport riding. A higher ply rating indicates that the tires can haul weight with consistent traction over more distance. A higher rated tire will also last much longer and is more resistant to breakage.
Your Mechanical Knowledge
"Mountability" isn't a real word, but it makes sense here. Especially if you're an avid ATV rider, you know that mud-terrain tires are meant for the mud only. They're not built for everyday riding—unless that everyday riding is in the mud or sand.
This means that you're going to have to be prepared to switch your tires up depending on the season or road conditions. To save money, you're going to have to know how to change your own ATV tires.
So, if you're not handy with a wrench but willing to get your hands dirty, it's a good idea to look into tires that come ready to mount.
Now without further adieu and in no particular order, here is our list of the best mud tires out there: We omitted the extremely aggressive mud tires such as Highlifters Outlaw Tires as they are a given and can only be ridden in mud alone. All Mud ATV Tires listed below are great mud tires while having more than one purpose
ITP Mud Lite XTR All-Terrain ATV Radial Tire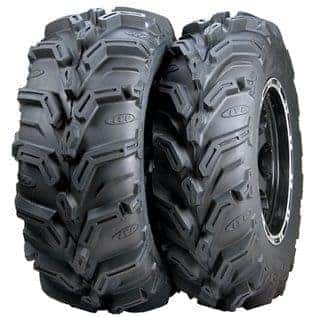 These ITP Mud Lites are strong, durable, and will easily resist all conditions. They even come in several different sizes to meet the standards of the big names in ATVs.
They have a 6-ply rating that will resist tough friction, rocks, pebbles and anything else that would puncture a basic mud tire. While "all-terrain" is in the name, they're still only made for muddy and extreme weather conditions.
These tires come ready to mount as well, but rims are sold separately.
Kenda Bearclaw K299 ATV Tires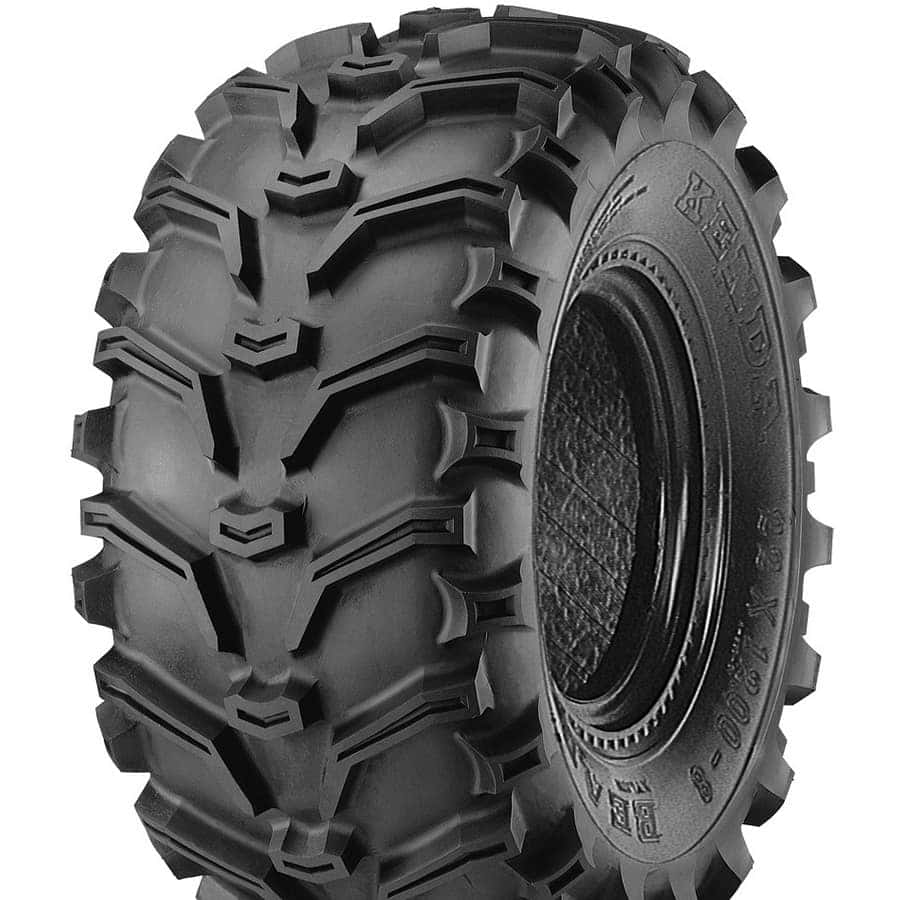 The engineers of the Kenda Bearclaw definitely had aggression in mind. These tires were made with angled knobs that will tear through muddy terrain, climb mountains, and run through muddy water with ease.
They have center lugs designed specifically for better traction and control, providing an overall better ride. There are even built-in rim guards to protect your wheels from damage. Coupled with high-quality rubber for better flexibility, these tires were made to take a beating.
ITP Monster Mayhem Mud Terrain ATV Tires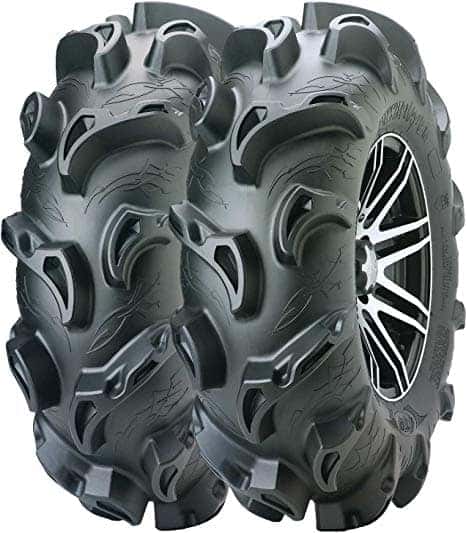 Monster was the only thing to name these bad boys. Their design made traction and a smooth ride the top priorities.
The quality of the rubber used to manufacture the Monster Mayhem Mud tires is of the highest calibre. It provides you with the flexibility, elasticity, and durability needed to take on all kinds of terrain. And by all kinds, we're talking mud, sea, sand, and snow—although they really had mud and snow in mind for these tires.
They're great for off-road ATV competitions, and nice light rides on top of regular use. They even come in a 30-inch tall monster size. These will be some of your more expensive tires, but it'll be worth it when you're trekking through the snow or mud full force and bump-free.
GBC Dirt Devil Bias ATV Tires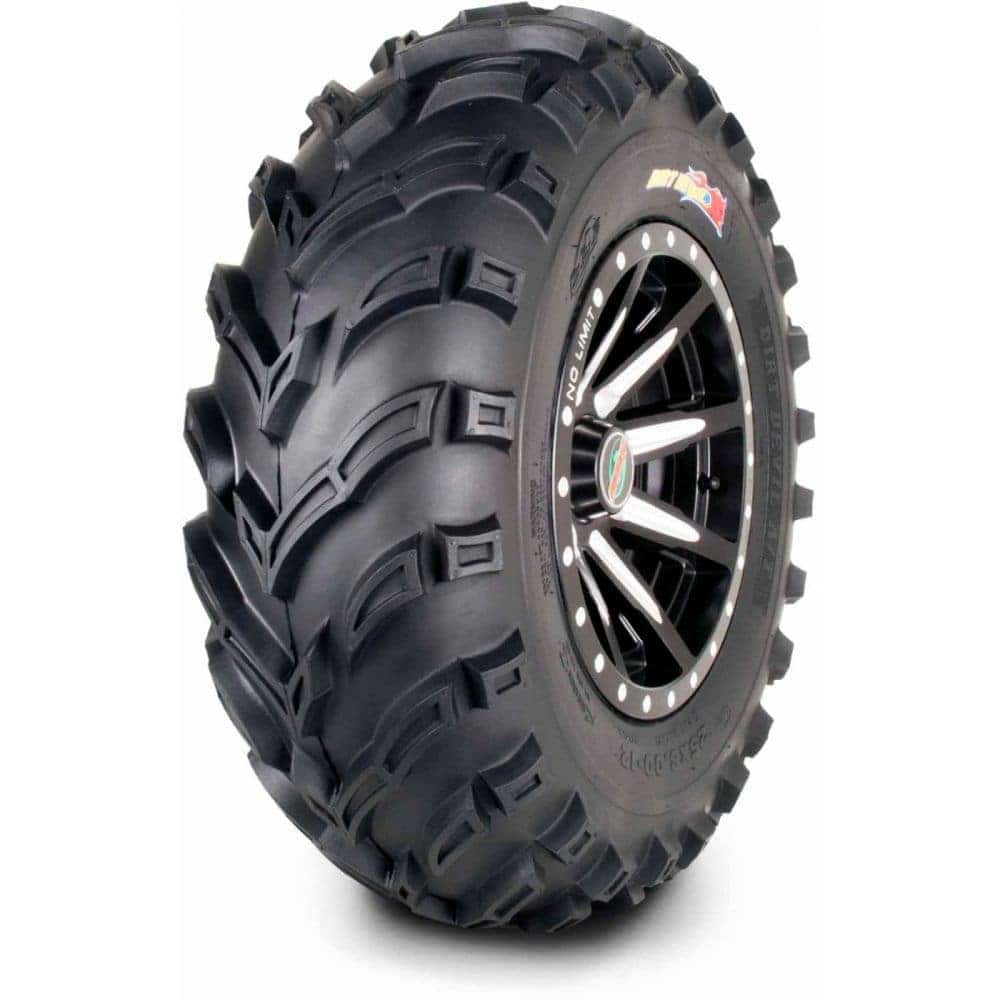 The Dirt Devil Bias ATV tires are good and cheap mud tires. (Cheap being a relative term.)
These tires have a 6-ply rating and great traction as well as durability for protection against punctures and friction. They're made with a special type of natural rubber, which offers greater elasticity in all weather conditions.
These tires are known to perform well on off-road terrains as well as pavement, without sacrificing the necessary speed. They're easy to mount, and they'll last you a while.
Carlisle A.C.T HD ATV Tires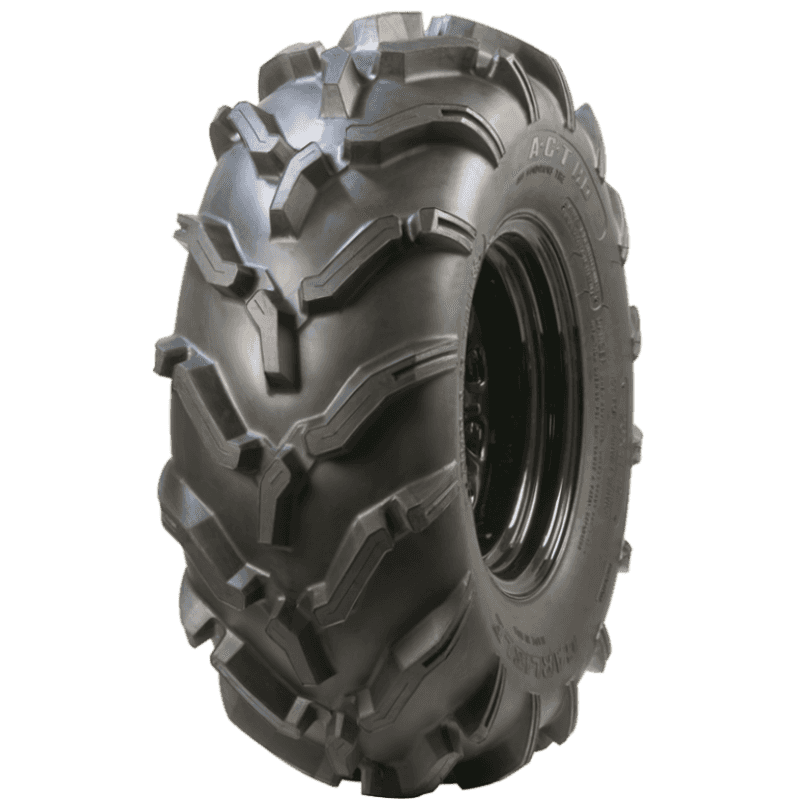 If all kinds of off-roading are what you're after, then the Carlisle A.C.T. HD tires may be your next best purchase.
These tires come equipped with a heavy-duty sidewall for puncture resistance, as well as a 6-ply rating. They'll provide you with durability, great traction and mud grip.
You can consider these to be multi-purpose tires as well since they can also be used on fun karts, utility vehicles, and other vehicles within that realm. They don't come cheap, but they'll last you a long time while tearing through all weather conditions.
ITP Mega Mayhem Mud Terrain Tires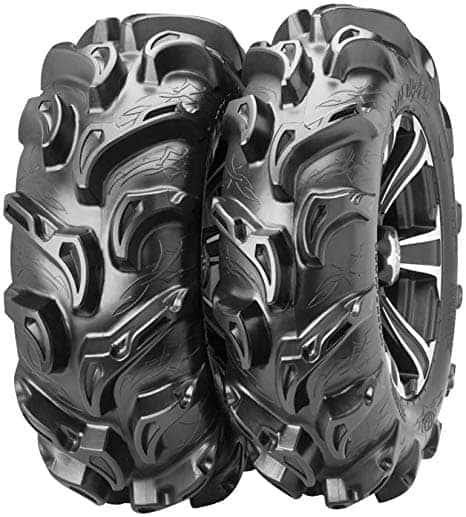 The Mega Mayhem Mud Terrain tires will get you through the most difficult terrain. They're weighted just right for ultimate stability and fuel efficiency. They come with a 6-ply rating for durability, and deep treading that runs 1.5 inches.
These tires are more comfortable, more powerful, and have a better design than the previous ITP models. They're on the more expensive end of the ATV tire spectrum, but they provide exceptional and safe performance in all weather conditions.
ITP Blackwater Evolution Mud Terrain ATV Tires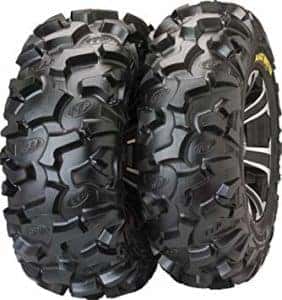 These are some of the best mud-terrain tires on the market. They come with an 8-ply rating and were specifically designed to take on the worst conditions that come your way.
What's unique about these mid tires is that they're non-directional, ensuring the best traction in the muddiest and toughest landscapes. They have tough treading made from a specialized rubber compound for exceptional durability and puncture resistance. They're also made with sidewall armour for the ultimate protection against any possible vulnerabilities.
These tires will outlast the rest and never go flat, no matter the conditions. They are, however, sold separately from the tire wheel. You'll want to make sure that you tae an accurate measurement of your tire wheels before purchasing.
WANDA ATV/UTV Tires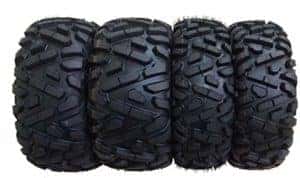 The WANDAs come in a set of four, and they were created to tackle muddy terrain all over the world.
Their 6-ply rating comes from their heavy nylon construction, which protects from all punctures, tears, cuts, and flat tires. Their premium rubber quality provides high mud traction as well as durability and safety.
These tires were designed for your ATV to sport all year-round and in all weather conditions. They were also designed in two different dimensions for a better fit on your front wheels.
With their quality design, the WANDAs won't let you down.
Maxxis M966 Mudzilla Tires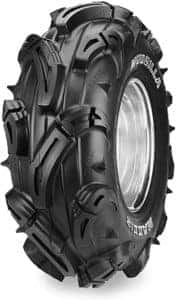 These Mudzillas are a 5-star rated tire. Specially designed for the mud and snow, these tires are as aggressive and as powerful as they come.
Their tremendous tread bars allow for the ultimate traction, and they're made of special compounds that improve their life span. They even have a step-down tread pattern to match the integrity of your lug nuts.
The Maxxis M966 were also constructed with safety, fuel efficiency, and comfort in mind. Their only downside is that they're sold separately from the rims. But, once you try them out, you'll be very happy with your purchase.
Don't Forget to Order the Right Size
Most mud tires on the market come in different sizes to meet the requirements of most ATV manufacturers.
The first thing you'll want to do is take a look at your current measurements and compare them to the manufacturer's specific sizing chart. You'll also want to take a look at an ATV mud tire weight chart and compare those sizes as well.
During your search for the best mud tires for your ATV, we're here to answer any questions you may have. We have a great selection of mud tires in our inventory, and we offer financing to help you get muddy as soon as possible.