The 5 Best Snowmobiles of 2019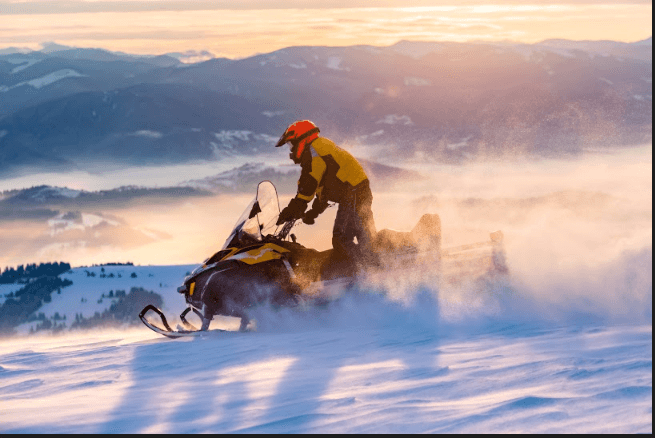 There are over 600,000 registered snowmobiles in Canada alone (not to mention the 1.2 million registered in the US). As the winter months and, thus, the 2019 snowmobiling season draws to a close, we can now review the latest and greatest snowmobiles introduced this year.
Keep reading for information on the 5 best snowmobiles currently on the market!
1. 2019 Yamaha VK 540
Yamaha is a well-known brand in Powersports vehicles, and for good reason. Perhaps most well-known for their motorcycles, they entered the snowmobile business in 1965 as some of the first manufacturers of these machines.
Their new VK 540 model is built with the high-quality specs that you've come to expect from this brand name. With three-speed transmission, ProComfort suspension (perfect for going over bumps, jumps, and anything in between), and awesome fuel capacity for a 2-seater, you're getting your money's worth.
The heated hand grips for the driver, extra storage space underneath the seat, and the option of both manual and electric start-up make this self-proclaimed touring vehicle special.
It also boasts a fan-cooled engine and a "Hi-Output Stator Ring Design" that allow it to boost the power, reduce fuel usage, and power up the hand warmers/new light system/other special add-ons without overheating or failing on you mid-trail.
2. Polaris Indy EVO 2019
If the VK 540 we just went over is the large touring vehicle for two on this list, then the Polaris Indy Evo is almost the opposite. It's slightly smaller than most single-rider cruisers out there, which makes it perfect for smaller adults, teens, and newcomers to riding.
This does mean that it isn't quite as fast or as powerful as other snowmobiles out there, but it fills a gap in the market that people have been looking for for a while: it's easy to ride, versatile, and perfect for the laidback rider.
It's also significantly cheaper than some other models out there, making it an awesome budget option. One downside is that they lowered the suspension quality along with the seat height, which means that larger adults and anyone over 175 pounds won't be able to ride comfortably.
3. Ski-Doo Freeride 850 E-TEC 165
Looking for a single-rider snowmobile that packs a bit more of a powerful punch than the tiny Indy EVO? Enter the Ski-Doo Freeride 800. American Snowmobiler Magazine described this snowmobile as perfect for backcountry riders with an aggressive and powerful engine that can get you through any snow drift and that you can take anywhere on the mountain.
This is a big and powerful machine, but don't underestimate the handling. We all know the dismay of getting on an absolute beast of a snowmobile only to discover that it can barely turn and isn't able to take on fun and windy trails up the mountain.
You won't have that issue with this Ski-Doo model. "Freeride" is very fitting: it's fully equipped with shocks, high-quality KYB suspension, easy throttle control, and wide-but-not-too-wide track mean it handles like a dream wherever you ride it.
4. Polaris 800 Switchback
The Polaris 800 Switchback bridges the gap between the Ski-Doo Freeride and the Yamaha VK 540. It's great for both on and off trail riding, flat and angled riding, tough and easy riding, etc.
We would describe it as "spunky": you can get that quick boost of power you need to get over a random hump, up a steep hill, or take that final jump with no problem.
Those quick bursts of power don't affect your regular riding, though. It's described as well-balanced and smooth riding by riders. Similar to the Ski-Doo Freeride, this model is lauded for its amazing handling.
It's also known for the stability and traction even at top speeds. This is especially impressive for a crossover vehicle. Many crossover vehicles that try and provide benefits for flat-riding and backcountry riding fail on one aspect.
That's not the case with the switchback. The speed, handling, traction, and boosts of power truly make it awesome for both on and off trails.
5. Polaris 800 Titan Adventure 155
Can you tell that Polaris is one of the best-rated snowmobile brands on the market? Polaris can truly do it all: the Indy for newer/smaller riders, the Switchback for everyone, and now the Titan for truly serious riders.
The name "Titan" is well-deserved: this thing is a beast. It's broad, strong, and chunky. It's great for those who are using it to live: gather and transport wood, go hunting, classic fringe living.
But, it has uses for the "regular" person, as well. It can fit two riders, ride for miles with a 14-gallon fuel tank, haul hundreds of pounds of gear like it's nothing, handle fairly well for a monster sled, and even ride over delicate powder with ease.
The storage and power are perfect for long camping trips in the country, or even just to transport things from your separate garage to your home.
Those long rides to camping trips or your secluded cabin won't result in an ache in your backside and legs for days, either. The Titan provides footrests, headed hand warmers, AXYS Chassis rider balance system, and wide seats to give you first-class comfort.
The Best Snowmobiles of 2019: Grab One Before the Season Ends!
These 5 makes and models are the best snowmobiles out there for different reasons. You have the budget, compact, and versatile option with the Indy EVO, the large and in charge Titan, and a few amazing crossover options.
Don't hesitate any longer to buy! Unless you want to buy a sled just to store it immediately, check out our inventory of available snowmobiles, make your choice, and get out on the trails while you still can.