Reasons Not to Do Your Own ATV Repairs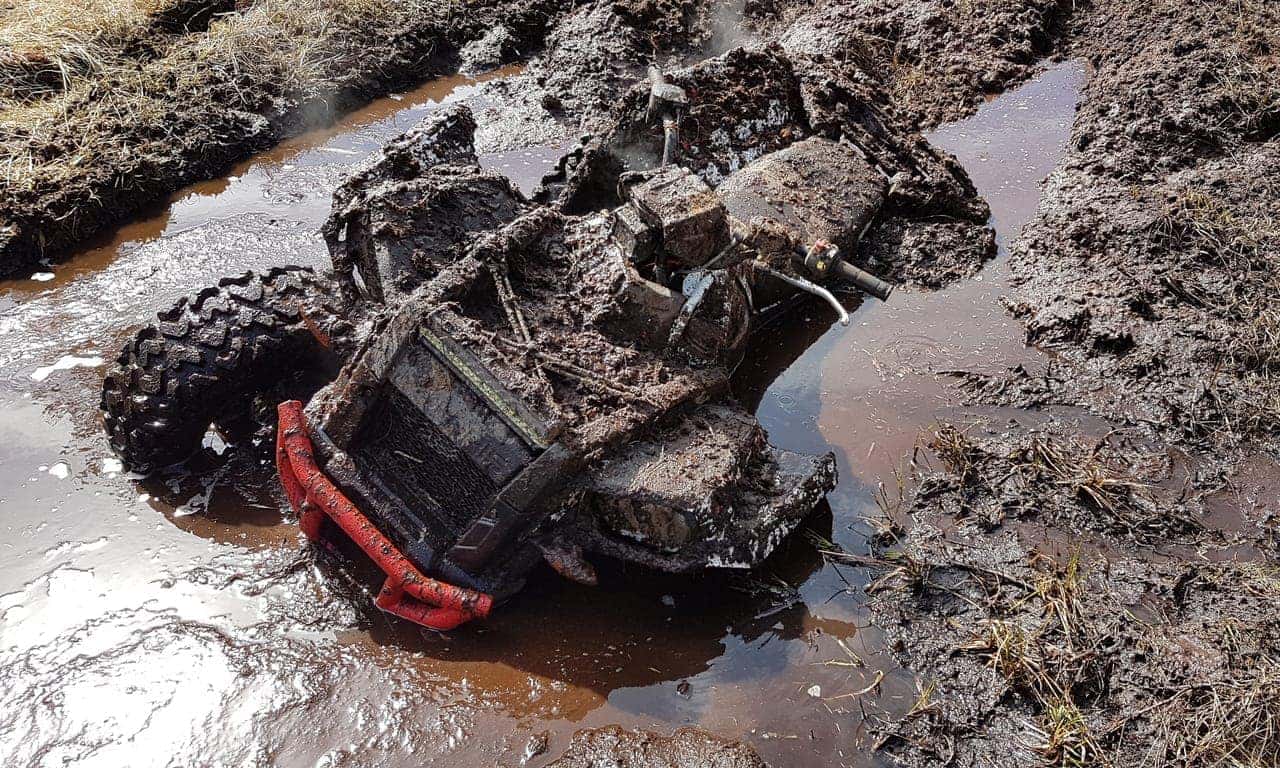 When it comes to ATV repairs and maintenance frequent maintenance can increase ATV performance and lack of it can decrease performance. So yes its extremely important to keep your vehicles maintained, you might also know, you can also save some money doing your own ATV repairs, but you should ask yourself if attempting to do the repair is worth your time and trouble. And, what happens if you do it wrong? If you're not able to do repairs properly on your off-roader, all-terrain vehicle, four-wheeler or UTV so that the machine works the way it's supposed to, you could be doing serious damage and more harm than good.
An improper repair will not only cause problems with your machine causing it to not work right, but you could damage to the ATV's engine, the fuel line, gas tank, pivot bolt, the arm bushings, front hub bearings, or the part you're working on. That can cause an imbalance or breakage in other associated parts of the machine that rely on the part to function properly. You may wind up needing to buy a new engine which your insurance company's insurance coverage will probably not pay for.
Major repairs should nearly always be taken care of by a qualified professional at your dealer's repair shop. Minor repairs and general maintenance are usually fine to do, even for the uninitiated. Some simple ATV projects:
Cleaning and lubing the chain
Checking the engine oil and water levels
Changing spark plugs
Tightening bolts
Replacing lug nuts
Greasing parts
Spraying mud and dirt off the radiator with the garden hose
These are all easy tasks that don't require professional mechanical knowledge, tools, or expertise and can help keep your machine running well and even result in less engine wear.
Even an oil change can be more than the typical owner may not want to handle. Believe it or not, some owners never change the oil! But an example of a major repair you should definitely leave to the professionals would be replacing your CV boots. Yes, of course you can save money by replacing the CV boots yourself. But, unless you know what you're doing, most new ATV owners simply don't have the knowledge or experience to know how to do the job right. This can easily result in numerous unforeseen problems with the operation of the vehicle or an ATV accident and damage to the vehicle.
The constant velocity (CV) boots keep lubricating grease inside the machine's joints and dirt out, until the crack. When a break occurs, the boot needs to be replaced as soon as possible. Once the joint that the CV boot protects is open to the environment, the grease inside becomes a virtual magnet to outside dirt. When dirt mixes with the grease, the metal parts inside the boot will be destroyed in nearly no time at all.
Replacing your CV boots by yourself may save you a little money, but there will be additional expenses you may not have considered. As an example, any time you plan to do any major repairs, you need to purchase a complete manufacturer's service manual. Service manuals are absolutely worth the investment if you plan to do any maintenance or repairs to your ATV.
Replacing a CV boot is not extremely complicated, but if you insist on attempting to replace it yourself, here is the process you will need to follow. The first step is to completely remove the axle shaft from the machine. This requires jacking up the vehicle and then supporting it with jack stands. (Jack stands will be another additional cost you may not have considered.)
Next, the wheel and axle nut need to be removed. And finally, the axle needs to be removed from the differential. Most ATV axle shafts will pop out if you use a crowbar, but others can require a special procedure. Check your manufacturer's service manual for instructions on jacking and removing the axle. (If you need a crowbar and don't have one handy, that will probably be another additional expense.)
Individual CV boots can be purchased separately. However since the other CV boot is probably also probably close to the end of its lifespan, you should probably replace both of them at the same time.
Here's another additional expense you may not have considered. Replacing your CV boot requires another specialized device called a band installation tool. You should be able to buy one of these from your local dealer or online. After the axle is out, just follow the instructions in the service manual.
At this point you may be wondering if the expenses of buying the manufacturer's service manual, the jack stands, the crowbar, a second CV boot, and the band installation tool, along with spending the time, effort, and enduring the frustration of doing so much work is actually worth it.
This is especially true since there's the distinct possibility that something may go wrong. You may over-tighten a nut, break or damage something else in the process of performing the repair that you probably should never have attempted.
On the other hand, taking care of minor chores to keep your ATV running smoothly may be a great idea. Taking a few hours off during the weekend to relax and tinker with your ATV could easily help you relax and take your mind off the pressures from your daily weekday grind.
A simple task like removing and cleaning your ATV's air filter is a relatively simple task. Simply remove the filter, wipe any debris from the outside, and dunk it into the cleaning solution that comes with the filter. After the recommended time, remove the filter, squeeze the cleaning solution out, rinse it with water and allow the filter to dry.
A dirty air filter will lower your gas mileage and cause poor engine performance. Almost anyone can do it, and it doesn't require the purchase of a manual or picking up additional specialized tools that you'll use only one time.
Cleaning and lubricating the chain on your ATV is another necessary chore than can easily be done in just a few minutes. Just remember to apply lubricant to the parts of the chain that mesh with the cogs. Don't grease the outside of the chain or it will be thrown off before it can penetrate the parts of the chain you're trying to grease.
Even filling the tires to the manufacturer's recommended tire pressure can be a challenge if all you have is a regular automobile tire gauge. But you should know that ATVs require the use of a special low-pressure tire gauge that gives accurate readings in the low-pressure ranges that are required in your ATV owner's manual.
It's great to be able to work on your ATV in the comfort and privacy of your home. Doing minor chores to help keep it running smoothly are a great way to relax for an hour or two during the weekend. But remember that major repairs should almost always be taken care of by a qualified professional.
Westshore Marine & Leisure
Take a visit to see our team at Westshore Marine & Leisure soon. We're one of the largest power sports dealers in Manitoba and the Prairies, and we'd love you to come in at take a look at our wide assortment of new and used ATVs, dirt bikes, motorcycles, and even portable generators.
Our family-owned and operated business is located in Manitoba on the north side of Winnipeg. We pride ourselves on giving you the best and most enjoyable customer experience possible. From sales to service, we look forward to providing you soon. Come see why Westshore Marine is the fastest growing Powersport dealer in Manitoba!