A Guide: How to Prepare Your Boat for Winter Storage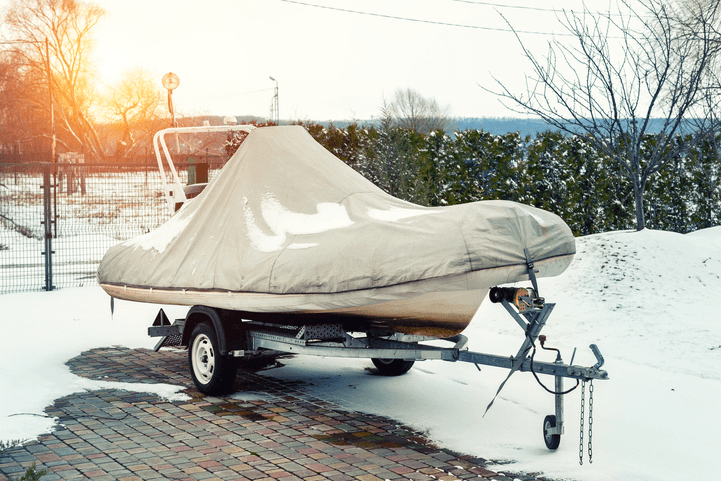 How to Prepare Your Boat for Winter Storage
Did you know that approximately 100 million US citizens go boating every year? Boating is a lucrative industry in America, such that in 2020, people spent a staggering $47 billion on marine services and products.
With winter just around the corner, it is time to prepare your boat for winter storage. However, unlike pulling your boat at the coast and tying it with a wooden pillar, boat owners need to properly prepare their boat before storing it indoors or outdoors, whichever suits them best. Doing so will keep the vessel in pristine condition, protecting it from debris build-up and environmental elements such as snowy storms and mildew. In this article, we will teach you nine winter boat storage tips. So, without further ado, let's begin.
How to Prepare Your Boat for Winter Storage | Winter Boat Storage Tips
Unlike your car, a boat has more exposed components and hidden moving parts, which can corrode over time if not stored properly. This can affect your boat's performance and can even cost you hundreds of dollars in repair and maintenance. Here are ten expert-advised winter boat storage tips:
1.      Remove the Sensitive Materials
A boat isn't only a medium of transportation over the water body but is an extension of your home. This is precisely why you need to remove and store every material before you prepare your boat for winter storage. These items include fire extinguishers, life jackets, flares, electronics, or any other organic material like leather and fabric.
Pro-Tip: Don't forget to check the boat locker.
2. Drain Your Boat
Once you have removed all the belongings, it is time to remove your boat from the water and drain the seacocks, pipes, head, water tanks, and bilge. If you are on a time crunch and want to accelerate the drainage, raise the bow and let the water flow. You can also add antifreeze to the water tanks and bilge to prevent them from freezing. However, don't drain the engine water unless and until you winterize it.
3.      Clean Your Boat
Now that your boat is out of the water, it is time to clean and inspect it. Whether indoors or outdoors, make sure to get rid of any dirt or debris. Once you have cleaned all the nooks and crannies, use a mild soap and freshwater solution to rinse it. You should also wipe off any moisture to ensure no water or dirt residue is left behind.
Furthermore, inspect your boat for any cracks or dents in the gel coat or fiberglass and any leaks or oil spills, and make sure to get it all fixed and cleaned before storing.
4.      Protect the Engine
Use freshwater to flush the engine and cooling system. This will help in removing dirt, salt, and corrosion. Follow the below-mentioned tips to winterize your boat's engine:
·       Now refill the coolant system with antifreeze.
·       Before you replace the fuel filter, ignite the engine for a few minutes to loosen the impurities.
·       Add fogging oil into the spark plug and carburetor holes.
·       To avoid snapping, carefully remove and store the drive belts.
·       Don't forget to refill the engine oil as directed by the owner's manual.
Pro-Tip: Use fogging oil to protect the engine during winter. All you need to do is turn over the cooled engine and spray the fogging oil, following the owner's manual's instructions.
5.      Remove and Charge Battery
A boat with a dead battery is the biggest turn-off during the boating season. Therefore, before storing your boat for winter, disconnect the battery and connect it to a charger. Once the battery has fully charged, store it in a dry and warm place.
6.      Corrosion Protection
One of the biggest enemies of winter boat storage is corrosion. No matter which boat cover you use, salt can still accumulate on the exterior, causing significant damage. Using a premium boating spray is the easiest and most effective way to protect your boat from rust and corrosion.
Don't forget to dust off any dirt or salt build-up before and wipe off the surface using a damp cloth before applying the corrosion prevention spray.
Pro-Tip: If your boat has lead-acid batteries, apply a layer of high-quality, moisture-cured polyurethane paint.
7.      Add a Fuel Stabilizer
Now that you have winterized the boat's engine fill up the gas tank with a mixture of gas and fuel stabilizer. In order to ensure that the additives reach the fuel lines, run the engine for 15 to 20 minutes. Adding a fuel stabilizer will prevent oxidation of the ethanol-based fuel and keep the engine in top condition.
8.      Change the Gear Lube
Located inside the lower unit of your boat, the outboard motor should be drained and lubricated before you winterize your boat. Be sure to check the vent and drain plug and replace them before refilling the outboard motor.
9.      Grease the Moving Parts
Lubricating the control mechanism and steering system is crucial in winterizing your boat. Start by lightly applying the moisture-displacing lubricant on all moving parts, including linkages, latches, and hinges. Also, inspect for seal and fishing line damage.
10.      Cover Your Boat
Regardless of where you store your boat, shrink-wrapping or a boat cover protects the water vessel from environmental elements, mice, insects, and other vermin.
Pro-Tip: To prevent mildew and mold growth, ensure that the boat cover has proper ventilation.
Where Should You Store Your Boat In Winters?
If you are looking for the best place for boat winter storage, you have come to the right place. This section will help you determine the best place to store your vessel.
Before we move on to finding the ideal boat storage facility, know that the decision can vary depending on the type of boat you own and where you live. For example, while large boats cannot be stored inside a garage without being dismantled, small-sized boats can be easily stored in a trailer or an indoor storage unit. Winterize your boat and use this guide to deduce the right winter boat storage option.
Outdoor Boat Storage
If you have a large-sized boat, outdoor storage is the best option. Listed below are the five places where you can store your boat outside in winter:
Boat Lifts
Even though boat lifts are expensive, they prevent waves from crashing onto your boat and keep the hull barnacle-free and clean. Using boat lifts is a convenient solution as it allows you to store your vessel at the dock but out of the water.
Marina Slip
If you live in a warmer region and the temperature doesn't drop below the freezing point, Marina Slip is the ideal place to park your boat for storage. However, make sure to check your boat weekly during the winter season.
Uncovered Storage Unit
Compared to indoor boat storage, putting away your vessel in a fenced-in and secured boatyard is one of the most affordable boat winter storage options.
Covered Storage Unit
Unlike an uncovered storage unit, covered boat storage units provide a roof over your vessel, ensuring protection from environmental elements.
Parking in a Driveway
After you have winterized your boat, use shrink-wrapping or any standard boat cover to cover your vessel and park it in your driveway during the winter months. This is an easy, convenient, and affordable way to store your boat.
Indoor Boat Storage
If you own a medium or small-sized boat or are superstitious and want to keep your water vessel safe indoors, indoor boat storage is the way to go. Here is how you can store your boat safely during the harsh winter season:
Indoor Storage Unit
An indoor self-storage facility is your best bet if you want to keep your boat well-protected throughout the off-boating season.
Garage Storage
Want to keep your boat close to your heart? Move out of your car and park your boat in your garage instead. An in-home garage provides your boat with convenience and security free of cost.
Dry-Stacked Storage
Although expensive, storing your boat in a dry-stacked compartment will keep it protected from the harsh winter elements. A marina will lift your boat using a forklift and stack it with under vessels in a climate-controlled storage facility.
Wrapping It Up!
No two boats are the same, especially if you have customized yours. Therefore, the most important winter boat storage tip is to read the owner's manual to learn and understand the specific needs of your water vessel and treat it accordingly. From cleaning your boat to conducting an oil change, discharging the battery, and filling up the fuel tank, follow every step with precaution. This way, you will not only be able to protect your boat during winter but will be preparing it for the upcoming summer and spring seasons.
We hope this guide helped you learn how to prepare your boat for winter storage and find the ideal place to store your vessel during the off-season. If you are planning to buy a new boat or need help with winterizing your boat, call our professionals at Westshore Marine.