Should I Buy a Used ATV?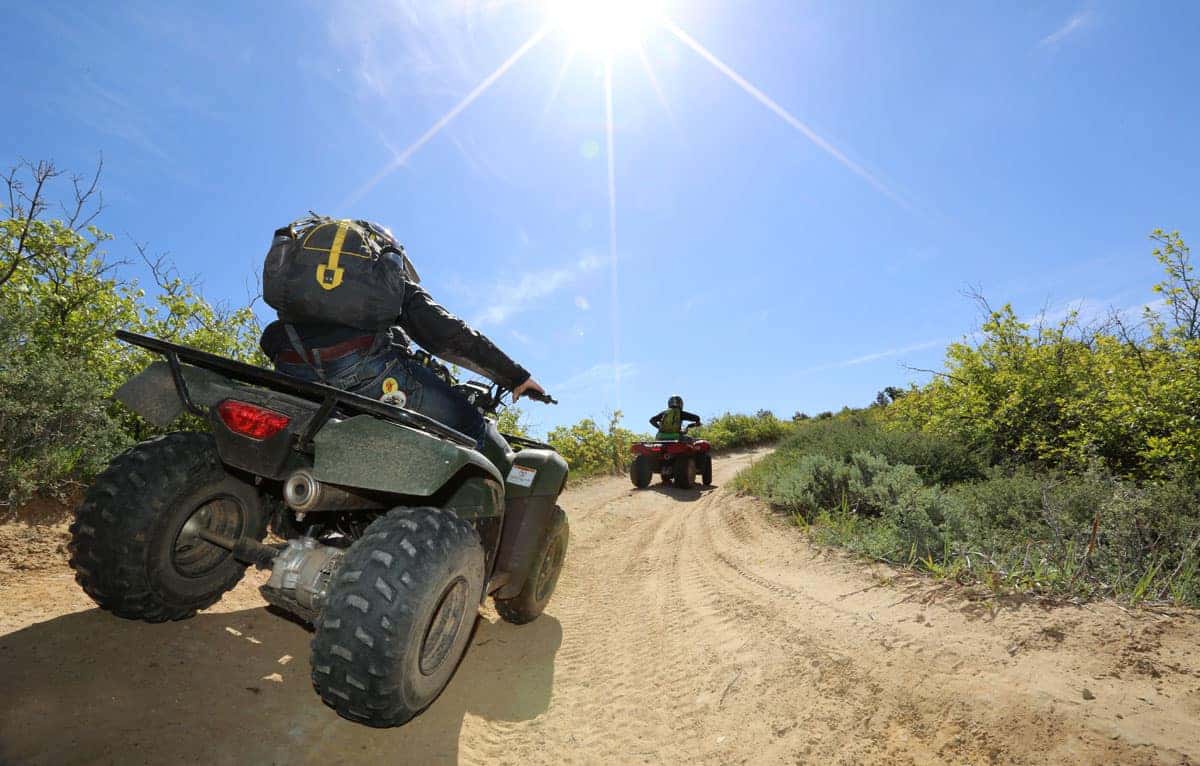 There are several benefits to buying a used ATV, but how do they compare to buying a new model? We weigh the pros and cons to help you make the best decision for your needs and budget.
Are you thinking about purchasing an all-terrain vehicle sometime soon?
If so, you will have the option of buying either a new or used ATV. A new ATV could cost as much as $10,000, while a used one could go for as little as $500.
Because of the big difference in price, you might think that buying a used ATV is a no-brainer. That won't always be the case, however, as there are some things you'll need to consider before going with a used ATV over a new one.
Let's take a look at a few of the reasons why a used one might be a better option for you.
You're Buying an ATV for the First Time
Is the ATV you buy going to be the first ATV you've ever owned? It might be a good idea to start off with a used one before advancing to one that's new later.
This is a good idea because, until you actually own an ATV, you don't know how much you're going to use it. The last thing you want to do is buy a brand new ATV for $10,000, only to realize that you don't enjoy riding your ATV as much as you thought you would.
It's also a good idea because, as you learn to ride around on your ATV, you're going to make a mistake or two that could result in your ATV enduring a few bumps and bruises. You're going to bring the value of a new ATV down in a big way if it gets nicked up, but that won't necessarily be the case with a used one.
In general, a used option is great for ATV beginners who are getting the hang of riding one. It'll allow them to get their bearings on an ATV before moving on to a newer model at a later date.
You Don't Mind an ATV With a Little Wear and Tear on It
When you buy a used ATV, it's going to have a small amount of damage. Even if it was well maintained by its previous owner, it's going to have little signs of use here and there.
There are some people who might not like this. If they're going to pay a few thousand dollars for something, they want it to look like it's brand new.
If you don't mind driving around on an ATV with a little wear and tear on it, you can get a great deal on a used one. Your willingness to overlook minor blemishes will shave quite a bit of money off the price tag of your ATV. The vehicle will still provide you with an excellent ride.
Plus, your ATV is going to get dirty once you start actually riding it around. So whether it's new or used, people aren't going to be able to tell the difference.
It's why purchasing a used ATV might be the best option for you.
You're Prepared to Do a Little Extra Maintenance on Your ATV
ATVs used by others in the past are going to have more wear and tear on their bodies and frames. They're also going to have more wear and tear on the parts located inside of them.
As a result of this, you will need to prepare yourself to do a little bit of extra maintenance on a used ATV as compared to a new one. While you might be able to get away without doing much to a new ATV for the first year or two, you will likely need to be more diligent about caring for a used ATV.
Are you ready to do this? You should take it into account when deciding between new and used ATVs. You don't want to buy a used one without at least considering how much maintenance you might need to do to it.
You're Satisfied With the Way a Used ATV Drives After Taking a Test Drive
Before you buy an ATV, new or used, you should always jump on it and take it for a test drive. The test drive will let you know how individual ATVs drive and what they feel like when you're sitting on them.
You should make an effort to test drive several new and used models to feel the difference between all of them. You might actually find that you like the broken-in feel of a used one rather than the feel you get from a new ATV.
Whatever the case, you should be 100 percent satisfied with the way that an ATV drives before you agree to buy it. You should test it at different speeds and try turning it in all different directions so that you see exactly how it'll perform for you.
You're Purchasing Your Used ATV From a Trusted Dealer
If you've decided that you're definitely going to buy a used ATV, you can buy one through a private owner. You can also pick one up at an auction. But your best bet is to snatch one up from a trusted dealer.
A reputable ATV dealer will work hard to make sure that a used one looks its best before placing it up for sale. They'll also replace any older parts with new ones and do the proper maintenance on the ATV before handing the keys to it over to a new owner.
Best of all, they'll usually offer some kind of limited warranty on the ATV. This will cover you in the event that you experience any problems with your ATV once you start riding around on it regularly.
Start Shopping Around for ATVs Today
Are you still not sure if a used ATV is right for you? You should come and check out a large selection of new and used models to see what they all have to offer.
We would be more than happy to answer any questions you have about ATVs so that you're satisfied with the purchase you make.
Contact us today to start shopping for your ATV.