The Best of the Best: 2020 Yamaha Snowmobiles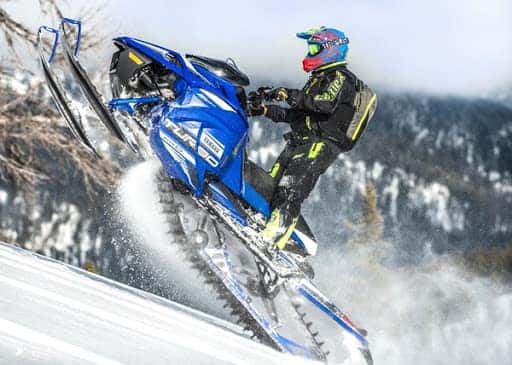 Best of the Best For Yamaha Snowmobiles
Sales of snowmobiles experienced a 6.6% increase worldwide in 2019.
Heavy snowfall and long winters have boosted sales in recent years. The United States alone saw a 3.5% jump in sales. In Canada, a whopping 46,784 brand new snowmobiles sold in the past year.
Zooming ahead in sales is the 2020 Yamaha snowmobiles line-up.
Yamaha has decided to focus its 2020 models on high-performance touring snowmobiles. These will be less focused on traversing mountains and instead racing across vast snowfields and offroad forest trails. If you crave a bit of adventure in the nearby countryside, the 2020 Yamaha snowmobiles are the perfect selection.
In this guide, we'll cover the brand new models of the 2020 line-up and give you the rundown on all the important specifications to help you make your choice!
2020 Yamaha Snowmobiles
The Yamaha snowmobiles are known for their durability, strong engines, and safety features. They're one of the most successful manufacturers of snowmobiles for good reason.
The 2020 models range from made-for-speed blasting off to made-for-work utility. Which snowmobile model you choose will depend upon how you intend to use it. We've broken down the basic specifications of each model and highlighted a few specimakeupal features to help you decide which snowmobile to buy.
Here are our top 5 picks from the 2020 Yamaha snowmobiles selection:
1. Yamaha Sidewinder X-TX SE 146
The Sidewinder X-TX SE 146 excels at off-trail blazing.
It comes standard with a Turbo 4-stroke engine that gives ultra performance. It has an independent double-wishbone front suspension and an uncoupled Versattak 146 for the rear suspension.
Some of its top features include the Tether Switch, which enables the snowmobile to shut down the engine when the driver is not on-board.
2. Yamaha Sno Scoot ES
With a fan-cooled 4-stroke engine, the Yamaha Sno Scoot ES is the perfect gift for a child or teenager.
It features an independent double-wishbone for the front suspension and a slide rail torsion spring for the rear suspension. Hydraulic twin tubes make up both the front and rear shocks.
The steering post is built-in with a riser to accommodate any size of young rider and is ergonomic. It also comes standard with a lightweight Hayes Hydraulic Disc brake to ensure easy and fast braking for youth.
3. Yamaha SR Viper L-TX SE
The Yamaha SR Viper L-TX SE comes with a 4-stroke, 3-cylinder Genesis engine that gives high performance.
It has an independent double-wishbone for the front suspension and a dual shock SR 137 for the rear suspension. Monotube Alum-HP GAS 1.5 makes up the fr,ont, center, and rear shocks.
This model features a brand new stealth control system. The handlebar controls have a switch cluster on the left side for easy toggling of the hand and thumb warmer adjusters. You can toggle information with ease on the multi-function gauge and there's even a reverse gear switch on the left-hand cluster.
4. Yamaha RS Venture
A utility model with a 4-stroke engine, the Yamaha RS Venture is ideal for casual outings on snow trails.
The Yamaha Chip Controlled Throttle (YCCT) comes standard with the RS Venture. This means it has an electronically controlled throttle system. It has three user-selectable modes:
S (Sport) Mode: This gives maximum performance for the toughest terrains.
T (Touring) Mode: This mode brings a smooth low, and mid-range response with improved fuel efficiency.
E (Entry) Mode: This reduces the top speed but provides optimum fuel economy.
5. Yamaha VK Professional II
If the RS Venture is the utility snowmobile, then the Yamaha VK Professional II is the workhorse of the 2020 selection.
This model boasts a large capacity fuel tank able to hold 11.6 gallons. This gives the snowmobile extended range and work capability.
Another key feature is its high capacity cargo rack. Whether you need to bring in camping supplies, move tools to a job site, or haul your caribou kill back home, this snowmobile has you covered.
Things to Know Before You Purchase
There are several factors you should take into consideration before you get a Yamaha snowmobile. Once you analyze these factors, choosing the appropriate model will be easier.
Below we've compiled a list of the top 5 things you should know before buying a new snowmobile:
1. Need
Be sure to consider what you need your snowmobile for.
If you intend to drive it through lots of off-road wilderness, you'll want a snowmobile with the tracks and engine power to handle that. If you plan to stick to well-traveled trails, you won't need the biggest machine available.
2. Riding Style
If you enjoy calm drives to reach your cabin in the woods, you wouldn't buy a snowmobile meant for extreme stunts like making big leaps or sharp turns. Consider how you like to handle your snowmobile before purchasing one.
3. Suspension
Depending upon how you drive your snowmobile, suspension can be of great importance. If you're wanting to speed down curvy trails, you'll want a suspension system designed to keep up.
4. Engine Performance
Some people love to squeeze the throttle to hear the snowmobile engine rev. Others couldn't care less about the engine or how it sounds or how fast it can go.
Make sure the snowmobile you choose has an engine meant for what you have in mind.
5. Accessories
Some snowmobiles are more sparing in their accessories than others.
While most snowmobiles come with a plethora of standard options, there are also a few non-standard options you can select to customize to your specific needs. Be sure to compare models and see what the differences in their additional accessories are.
Work Hard, Play Hard
Though Yamaha has stopped focusing on snowmobiles meant for use in the mountains, it's meeting the market demand for solo and two-seat cruising through snow-covered forests and blasting across frozen lakes.
If you're thinking about buying a snowmobile, then look no further than the 2020 Yamaha snowmobiles. There are multiple models to choose from so that there's something for everyone. Package this along with great Yamaha Financing programs you can be making memories while keeping everything within budget.
At Westshore Marine & Leisure, we offer all types of snowmobiles. If you live in the Arborg, Manitoba area, get in touch with us today to find the perfect snowmobile best suited for you.