8 Amazing Places To Fish Around Manitoba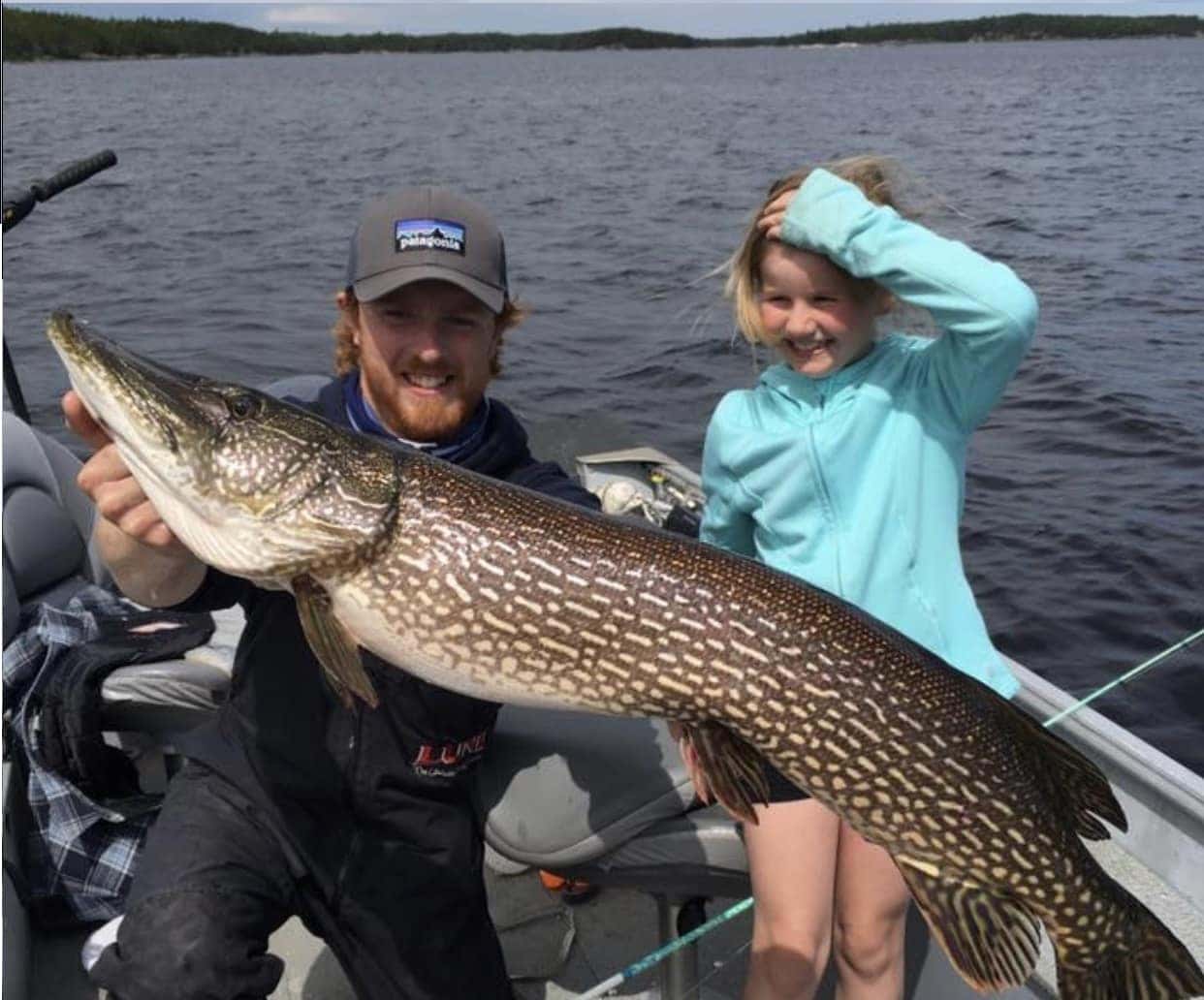 Nothing calms the spirit more than being in nature with some bait and a hook on the deck of a boat. Cast your pole into the water and just wait. Then reel in your line. There's nothing like it.
Whether you're renting a boat, joining a friend or looking for a new boat to captain, the experience is priceless.
And when you're looking for great fishing places, you can find many of them in and around Manitoba. Calm waters, still wilderness and consistent sun during the season.
But with all the fishing places in the region, where do you go? We've narrowed it down to seven of the best places.
8 Spectacular Fishing Spots Around Manitoba
Manitoba is abundant in freshwater lakes, rivers, and streams which makes it a supreme fishing destination. Anglers hook massive pike and colossal lake fish and other species every day.
Whether you like the quiet wilderness found in the East or clear, deep lakes and rushing rivers of the West, Manitoba is sure to impress even the most veteran anglers in these seven spectacular fishing spots.
1. Falcon Lake
Falcon Lake is situated in Whiteshell Provincial Park on the southeast side of Manitoba, Canada. You'll find it about 95 miles east of Winnipeg close to the Ontario border. The lake got its name from poet/songwriter, Pierre Falcon.
Falcon Lake houses many breeds of fish, including Walleye, Northern Pike, Yellow Perch, and of course, Smallmouth Bass.
At Falcon Lake, you'll also see fishing derbies. The big one is the Walleye Masters Cup that takes place in June. There's plenty of lodging, so pack up the family or take your friends to one of the best fishing places in Manitoba.
2. Lake Winnipeg
Located in Manitoba Province, Lake Winnipeg stretches a massive 9000 square miles. On its south end, it's just 34 miles north of Winnipeg.
The biggest lake in southern Canada, it's one of the most undeveloped large watersheds in southern Canada. Now, that's raw, natural beauty!
Although Lake Winnipeg is the third-largest freshwater lake in all of Canada, it's shallow measuring about 39 feet deep. That's with the exception of a 118-foot deep channel located between Lake Winnipeg's northern and southern basins.
On a universal scale, the lake is the 11th largest freshwater lake on the planet. At least this one!
If you're an angler visiting the Manitoba area–or planning to visit, you must experience the massive waters of Lake Winnipeg. Take part in several fishing derbies.
The fact that the Saskatchewan River pours into Winnipeg Lake brings with it trophy-sized Walleyes. But there's not just Walleye to catch. You can also hook Goldeye, Perch, Pike, Sunfish, Drum, Sturgeon, Whitefish and many other fish species.
3. Red River, Lockport
Red River is a famous spot where anglers go trophy fishing. Lockport is right off the Red River and home to a variety of fish species. Reel in and hook Greenback Walleye, Sturgeon, Catfish.
These are the most popular types of Trophy sized fish, and they'll give you a good workout trying to reel them in. But there is also an abundance of other types of fish on the Red River in Lockport.
Venture on your own, go with a small group or sign up for a fishing tour. Whether you want to do it alone or make it a social occasion, you'll have a great time.
4. Lac du Bonnet
Lac du Bonnet is one of the most community-oriented fishing places. It's also one of the largest fishing destinations in the province of Manitoba.
Make new friends while you fish for a wide variety of catch, including Walleye, Perch, Bass, Northern Pike, Sturgeon, Channel Cat and more.
Lac du Bonnet also serves as a prime ice fishing destination during the winter months. You'll also find a bunch of derbies at Lac du Bonnet that includes but are not limited to pro fishing derbies.
These derbies cater to different levels from beginner, youth derbies to the big ones, to the big Ice Fishing Derby that wields $25,000 in prizes.
5. Whitemud River
Flowing into Lake Manitoba is the Whitemud River. This famed fishing hole is known for its abundance of Freshwater Drum. Along the river, you can also catch big Brown Bullheads and Common Carp.
Fishing along the Whitemud River makes a memorable event, especially if you appreciate recreational fishing.
Although you can't eat all of the species that swim in the Whitemud River, reeling in the Freshwater Drum makes it worth the trip. The experience makes for great family stories to tell throughout the generations.
6. Clear Lake – Riding Mountain National Park
Clear Lake is located in Riding Mountain National Park. While the park has many bodies of water along its boundaries, Clear Lake is a must-visit for boating enthusiasts and dedicated anglers.
For Northern Pike, go to the backcountry. Or go fly fishing for Brook Trout. You can always fish for the favorite Walleye many other fishermen come to the region to catch.
7. Aikens Lake
At 295 feet deep, Aikens Lake is the second deepest lake in the Manitoba area. Situated in Atikaki Provincial Wilderness Park the fish thrive here. In the lake, you'll discover several species of fish.
Reel in Trophy Pike, Walleye or Lake Trout. You'll find among many others in Aikens Lake. This is one of the most popular fishing destinations in the province. Stay at Aikens Lake Wilderness Lodge that includes a variety of cabins and lodging choices. Once you stay here you will leave you planning your return trip after you experience the Aikens difference.
8. Gunisao Lake
Gunisao Lake might be one of Manitoba's best-kept secrets for Walleye fishermen. In 2018 Guniseo Lake produced over 70% of Manitoba's Trophy Walleyes, which is roughly 10 times the amount caught in any other lake in Manitoba.
The easiest way to access this lake is by floatplane. The lake is located past the northeast side of Lake Winnipeg.
A day of fishing on this lake you will average approximately 100 fish per day in the boats, according to Budd's Gunisao Lake Lodge. It's truely a once in a lifetime experience. If you want to treat yourself on an amazing fishing adventure contact Budd's today to get flights and accommodations.
Great Manitoba Fishing Places Revisited
Now you know 8 of the best fishing places in the province of Manitoba. Each makes a great fishing adventure for friends and family. Get packing and create some awesome fishing stories!
Westshore Marine provides boating enthusiasts with new and pre-owned boats and the boating parts to make boating trips successful. We also offer customer financing. Check out some customer reviews.