18 Tips for Boating with Toddlers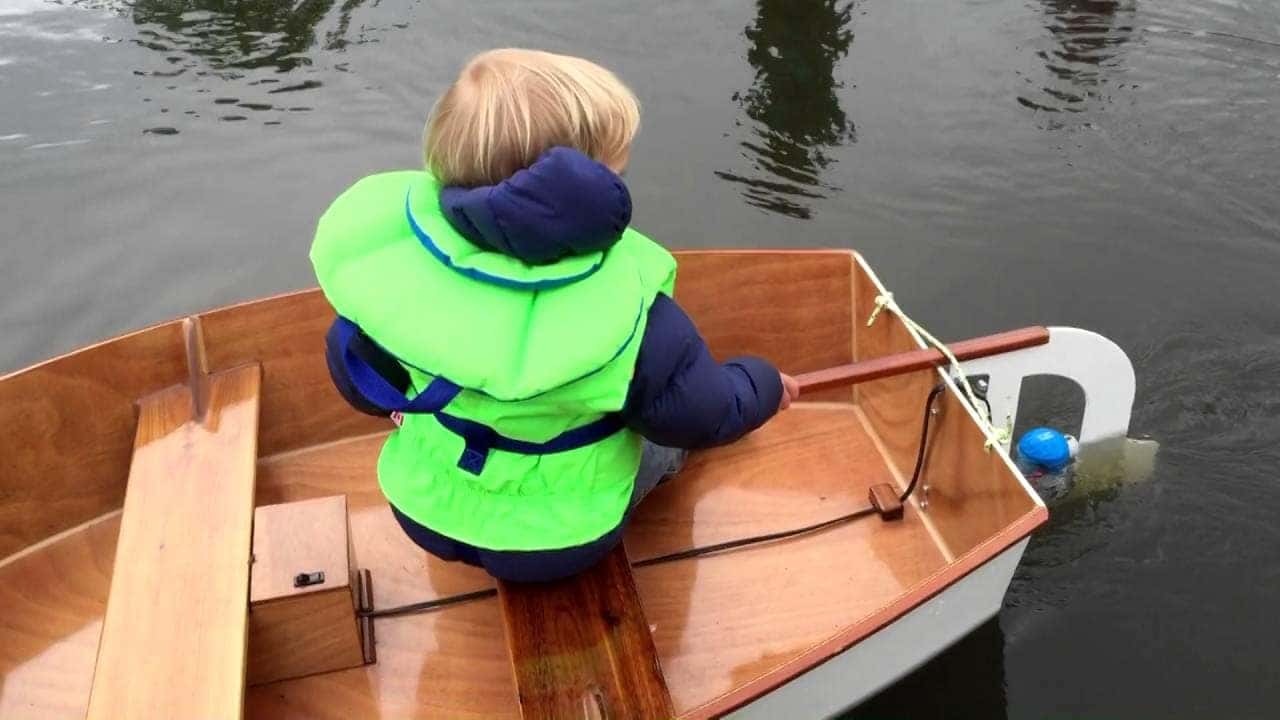 Tips for Boating with Toddlers
Most of us who love boating also love having the chance to experience it with people who are close to us. Taking a friend, a significant other, or even a new little one in the family with you can make boating much more enjoyable and exciting. But taking a baby along comes with certain challenges. However, the rewards can easily be more than worth it!
It doesn't matter if your looking to buy a boat or already have a boat, boating with a toddlers can be challenging if you're not prepared.
Obviously there are inherent dangers involved in taking a baby or toddler on your boat. If you exercise a fair amount of caution and common sense, there's no reason you can't bring a young person along with you on most reasonably-sized motorized boats.
Boating safety is only as safe as you make it, so whether you're taking young children along, a two-year-old along or a baby, or even boating with dogs, these tips should help to put your mind at ease:
1) Have a properly-fitting infant life vest
Never take anyone along on your boat without a floatation device, such as a properly-fitting life vest. This is especially necessary with a tiny person who may not know how to swim and doesn't know the dangers they can face if they fall into open water. The recommendation from the U.S. Coast Guard is that the child should be at least 18 pounds before they can wear one properly. Older kids should be fine, so long as the device is coast guard approved.
The life vest should have straps that go between the legs. It should automatically flip the child heads-up when in the water, and there should be grab handles for an adult to hold onto in case of an emergency.
2) Have a serious talk with your toddler
You should always talk with your toddler about the dangers of boating. Do this well ahead of when you first take them onto your boat. Explain how the gates and rails are not to be played with. They should always stay well away from the sides of the boat, and that they must be seated when the boat is in motion.
3) Choose when you go out carefully
All waterways have good times of the day to go out. With a toddler on board, you should either start off as early as possible or wait until afternoon when most of the other boaters have gone back to their docks. This will make it more comfortable for boat rides with children and toddlers, plus it will be less stressful for you. And for additional water safety, always check the weather forecast to avoid excessively windy conditions or storms.
4) Set up a secure area
Whether you're docking the boat, dropping anchor, or handling an emergency, this is when all adults on board need to lend a hand. There won't be time to care for a small child while helping perform the actions needed to operate the boat. By designating a special safe area, the toddler can be safe without the possibility of them falling or moving around into danger. This will reduce your own stress levels and have a solution ready before a bad situation arises.
5) Be ready for nap time
Always bring along a portable rocker or sleeping device when you're on a boat. It can be securely placed in the secure area and will give you an excellent place to put your baby down when you need to be hands-free.
6) Keep an eye on them all the time
Keep an eye on your toddler 100% of the time. If there's more than one child, then have a second person keep an eye on one while you watch the other. Never assume that someone else is watching your child. It's always necessary to assume that if you aren't watching them, nobody else is either.
7) Have them take swimming lessons
If you're planning on taking a child on your boat, they should be exposed to swimming lessons as soon as possible, even when they're babies. By the time they are two years old, they should be able to swim comfortably to be as safe as possible in the water.
It may be uncommon to think about starting your toddler with swimming lessons at such an early age. Unfortunately, many parents neglect doing this and it can cause problems later. After a few months of regular lessons, your child should have the basic knowledge and skills to keep themselves floating in the water. This will help make it much easier for them to be rescued by an adult in an emergency.
8) Learn how to swim with them
Learn the basics of swimming with a toddler. If they fall into the water, the best way to rescue them is for the adult to use a back stroke while placing the child on the adult's stomach. By swimming this way, you lessen the water resistance against your body and it keeps the child's face out of the water.
The problem with swimming this way is that it's almost impossible when you're wearing a life jacket. So, remember to take the life jacket off before jumping into the water. Otherwise, you will feel heavy and will tire quickly, and your motions will be restricted while swimming with the toddler on your stomach.
9) Keep pontoon gates closed
If you're in a pontoon boat, you know they have certain features that can be hazardous for toddlers. The most obvious one is the gates that are built into the side railings. Keep the gates securely closed at all times when a child is on the boat. If there is even the smallest fault with the gate, have it repaired. And add a lock to the gate latch so that small hands can't open the gate while riding on the boat.
10) Never allow toddlers to lean over the side railings
All pontoon boats have a side railing that runs around the deck. These are usually too high for a toddler to climb over. Make sure the side railings are secure, and block up the bottom sections as small children can often slide through or under the gaps.
11) Always carry babies in your arms
The safest place for a baby on a boat is in your arms while you are safely seated. By keeping your baby held close to you in your lap, there's very little chance they will suffer an injury from falling over or rolling around while the boat is in motion.
Even while the child is in your arms, they should always be wearing an infant life jacket while in the boat, especially while the boat is in motion.
12) Put a splash detection alarm on your toddler
These safety alarm wristbands are designed to set off an alarm immediately when they get wet. This gives you extra peace of mind that in the event your child does fall into the water, the alarm will sound.
13) Be on the lookout for rough water
When your boat is out over larger bodies of water, you can often find yourself at the mercy of rough rater and strong wakes. When the wind picks up, it's time to think about returning back to shore. In the event that your boat is hit by an unexpected large water chop, it can be very unsettling for a toddler. Children can become very unhappy when being tousled around on a boat in the middle of a large body of water.
Remember that when you have a small child with you, you should be more careful than usual. When in doubt, turn around and be safe.
14) Keep toddlers and babies out of the sun
The rays of the sun can feel even hotter than usual when you're on a boat. Be sure that you have your toddler either stay in the shade or wear a floppy hat that covers their neck and ears. This is especially true when the sun is high in the sky during the warmest part of the day.
15) Coat them with sunscreen
Even when you keep your child in the shade, it's a good idea to use a high-factor sunscreen on their exposed skin. Reapply it often. Use a toddler-approved sunscreen lotion with no harsh ingredients that can bother their fragile skin.
Be careful not to use sunscreen on babies under 6 months of age. Pediatricians advise that their skin has not thickened properly and the lotion may do more harm than good. If your infant is under 6 months, keep them covered up and in the shade at all times.
16) Don't forget the porta-potty
Always be prepared for your toddler to need to use the bathroom. Special toddler porta-potties designed to be taken on boats are available or take the one you regularly carry with you when going on a trip.
17) Bring some entertainment
Children can become easily bored, especially when confined in a small space on a boat. So, carry along some things you know your child loves, such as a coloring book or games, bath toys, and activities for them to play.
18) Don't run out of food
It seems that children eat more while being on a boat than almost anywhere else. Bring along plenty of supplies, including snacks and drinks to keep them happy. Pack more than you think you'll need, and add granola bars, sliced fruit and sandwiches to make sure you don't run out.
Although it can often be difficult when going boating with an infant, it won't take you very long to create a routine that makes the entire experience a lot easier. Take short trips first until you've gotten more confident, and before you know it, your toddler will love boating just as much as you do!
Westshore Marine
Check with our team at Westshore Marine & Leisure if you have any questions about taking your infant or toddler out on your boat. We're located in Manitoba on the north side of Winnipeg. As a family owned and operated business, we pride ourselves on giving you and your family the very best customer experience possible. Contact us with any questions for your boating needs
###