10 Reasons to Purchase a Used Snowmobile from a Dealership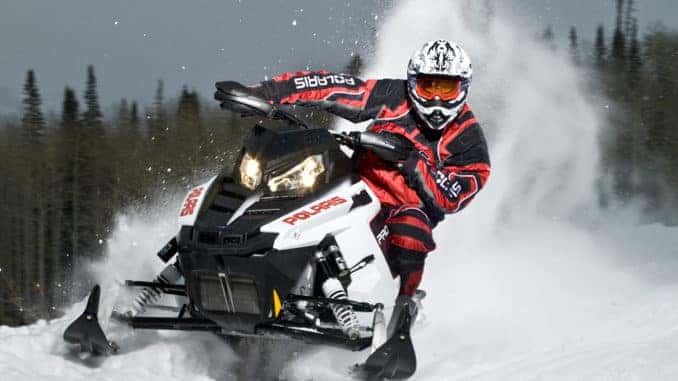 When you're thinking about buying a snowmobile, you first need to decide whether you're going to buy a new machine or one that's been used. There are pros and cons for choosing either one. Next, there's the question of whether to buy one from a dealer or a private individual. Here are 10 great reasons that you should make your choice of purchasing a used snowmobile from a dealership.
1) Dealers have an excellent selection
If you're a beginning rider and aren't quite sure the sport will be for you or not, it's usually advisable to look into purchasing a snowmobile that's used. A dealer will usually have an excellent certified pre-owned selection to choose from. They also will usually warranty your purchase for a number of months. A dealership stakes their reputation on dealing with customers and they try to offer you the best customer service possible.
2) Dealers will give you help
If you have a problem with a purchase from a dealership, you can ask them for help. With a private seller, they'll most likely wash their hands clean of the deal once the snowmobile is sold. They also almost certainly will not give you any mechanical help or other assistance once the deal is completed. Every snowmobile that comes in on trade is rigorously inspected and checked to make sure important snowmobile repairs have been completed prior to sale.
3) The internet can help you decide
Once you begin to consider several different models from a dealership, you can then research your selection over the internet. about which ones are the most popular. The internet has many snowmobiling forums where you can find out which models are the most popular. Spend time with owners of machines like the ones you're considering, and ask them about their experiences.
4) Will you ride only a few months each year?
Another reason to purchase a used machine from a dealer is if you're only planning on enjoying the thrills of riding for just a few months out of the year. If the machine is already broken in, it will cost you a lot less than a new one. Obviously, you don't want to invest a lot of money into a machine that only operates over frozen snow and ice for just two or three months out of the year.
5) A used machine costs less
A used machine will cost less to buy than a new one. Used snowmobiles are nearly always less expensive and more affordable than buying a new one. Saving several thousand dollars by buying a used machine that's certified to be in good condition by a dealership is definitely the way to go.
There won't be any hidden costs with a used machine like shipping and handling fees that you can often find when purchasing one new. These costs can be up to a hundred dollars or more can be added to the total sticker price of a new machine.
6) There's less depreciation
Just like with a used car, there's less depreciation when you buy a snowmobile. All new snowmobiles lose value as soon as you purchase them. And, just like cars, snowmobiles depreciate at a high rate for at least the first year or two. A used snowmobile will depreciate at a much slower rate so there's some argument that a used machine is a much better investment over time than a new one.
7) A dealership warranty
Many used snowmobiles will include a warranty when purchased from a dealership. A certified, pre-owned machine will have gone through a rigorous inspection. They inspect everything from engine compression, track condition, snowmobile slider condition, chaincase and so much more. In some cases, it may even come with an extended warranty when you find it on the dealership's lot.
8) Insurance is lower
Insurance can also be lower for a used snowmobile from a dealership. Just like car insurance, the savings of buying a used snowmobile can be evident each month in the monthly premium that is added to the sticker price.
9) Options are less
Options for your snowmobile can cost less for a used machine. A security lock that keeps the track locked in place could already have been purchased by the former owner and may come with your used snowmobile. A dry box, cover, or many other accessories, possibly custom made, may also be included with the used machine you buy.
10) Shop multiple years
While you can't pick a specific color, trim package, or some other options on a used snowmobile like you can with a new model, you can shop different model years. You can often even purchase a style or model that may no longer be in production.
Think about where you will be riding your new snowmobile. Will it be over groomed trails or off the beaten track in remote places? Talk to friends who own snowmobiles about their expectations about the coming winter season. This way you'll have a solid idea of the type of rides you hope to be taking.
Obviously, if you have the money and really want to buy a new snowmobile, then go for it. There are many models and brands to choose from. And you can try them on for size and choose the one that has the best rating for dependability and safety.
Look for the machine to have the right amount of power. Don't buy one that has more horsepower than you can handle. If you're an experienced rider, you'll know what you should be looking for, but a novice may not.
There are drawbacks to buying a used snowmobile just as there are also drawbacks to buying one that's new. A used snowmobile may have problems you're not aware of and you may not know the full history of the machine. But when you purchase a used snowmobile from a reputable dealer, you have their word they will stand behind it in case you have any problems. And, during the warranty period, they will take care of the machine and make it right for you to enjoy.
Westshore Marine & Leisure
We hope these 10 great reasons for buying a used snowmobile from a dealer will help you enjoy your new machine for many years to come. Our team at Westshore Marine & Leisure is one of the largest power sports dealers in Manitoba and the Prairies. We would love you to come in for a test ride. We'll be glad to show you a great snow sled from our huge selection of new and used snowmobiles, ATVs, dirt bikes, motorcycles, and generators. Come in and give our welcoming team a visit whenever it's convenient.
Our family-owned and operated business is located in Manitoba on the north side of Winnipeg. We pride ourselves on giving you the best and most enjoyable customer experience possible. From sales to service, we look forward to providing you soon. Come see why Westshore Marine is the fastest growing Marine and Powersport dealer in Manitoba!